Aussies hold off Ireland, Scotland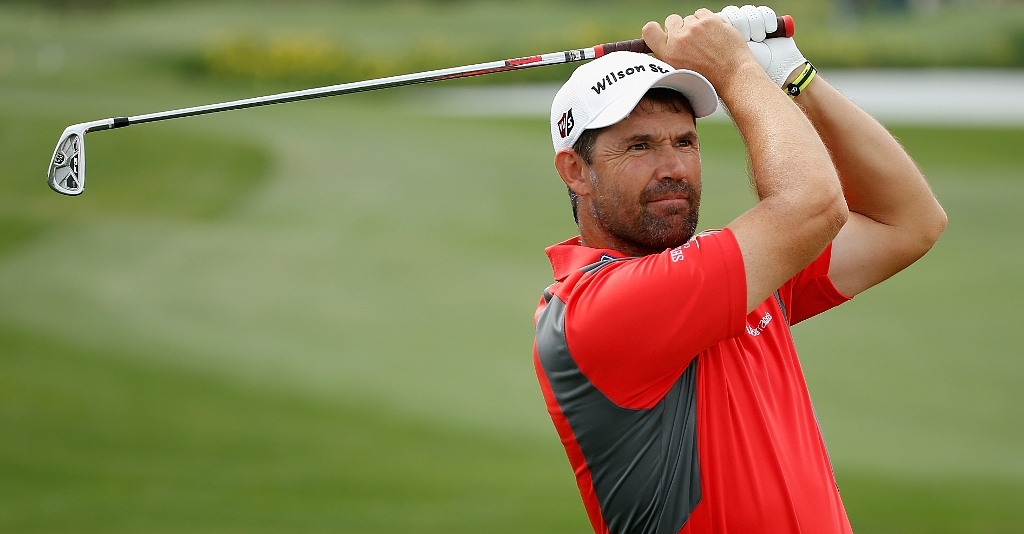 Aussies Brendan Jones and Richard Green have upstaged the stars on day one of the Omega Mission Hills World Cup.
Brendan Jones and Richard Green have upstaged a bevy of stars in the opening round fourballs at the Omega Mission Hills World Cup.
The Australian pairing shot a startling, betterball 11-under 61 to grab a surprise two-shot lead over Ireland and Scotland at the Mission Hills Resort on Hainan Island in China on Thursday.
Four birdies on the way out put Green and Jones in a strong position, but it was on the back nine where they produced the fireworks that put them on top of the World.
Here they posted three further birdies and two sparkling eagles for a stunning inward 29.
Ireland's highly-ranked pre-tournament favourites Rory McIlroy and Graeme McDowell, both US Open champions, made a strong start later in the day, shooting seven birdies and an eagle after Martin Laird of Scotland, playing with Stephen Gallacher as his partner, had twice chipped in at the last three holes to move into a strong position alongside Ireland at 9-under 63.
"We combined very well today," said a delighted Green, who eagled the par four 16th.
"Brendan started fast and built the momentum.
"It was a very, very good day."
Jones added: "It was a lot of fun. As Richard said, I made a few birdies to get the momentum started. I made a good eagle on 12, and then Richard took over.
"He is such an easy guy to play with, because he's in play all the time, and between us, there was always someone in the hole to give the other guy a chance.
"We dove-tailed perfectly. We never doubled up on birdies, and that's the key in this game. You you want to make a lot of birdies, but you don't want to make them on the same hole, and that's what we did."
US Open Champions past and present McDowell and McIlroy could have gone even lower than their nine under round, but both missed putts from inside six feet at the 16th.
Despite that, though, the two Northern Irish icons were pleased with their day's work ahead of the more testing foursomes format coming up on Friday.
"We set a target around eight to ten under par that we thought was going to be a good score out there, and we managed to shoot something around that," said McIlroy.
"The fourballs this week are where you're going to make most of your birdies. The foursomes is more demanding. Both players need to be on their games to shoot a low score in that format."
Like the Australians, Scots Laird and Gallacher did most of their good work on the way in, Laird's pitch hitting the pin and finding the cup for an eagle at the 16th before he splashed in from the bunker at the last for a birdie.
"It was a great way to finish," said Gallacher. "I was saying coming down 14, 15, we had done well but nothing had really worked for us – and then we had that strong finish. With Martin's chip in at 16 and the bunker shot on the last, we have certainly turned things around.
"It's important to stay with the pace early on and see what happens at the weekend."
Last week's Iskandar Johor Open winner Joost Luiten continued his good form alongside Robert-Jan Derksen as the pair combined to give the Netherlands an eight under par 64, which was matched by Matt Kuchar and big bomber Gary Woodland of the United States.
Not all the tournament big guns will be celebrating their first round performances, though.
One of the highly favoured teams coming into the tournament who face a lot of the work to get back on track, are South Africa, whose Charl Schwartzel, the current Masters champion, and Louis Oosthuizen, the 2010 Open champion, could only post a 68 to be fifth from last of the 28 teams.
Defending champions Italy whose Molinari brothers could only shoot a 5-under 67 for joint 19th place might also not be too happy right now.
TOP 10 LEADERBOARD:
Australia -11
Scotland -9
Ireland -9
United States -8
Netherlands -8
Denmark -7
Spain -7
Colombia -7
Germany -7
England -6