..AND HERE'S WHAT STEWART CINK THOUGHT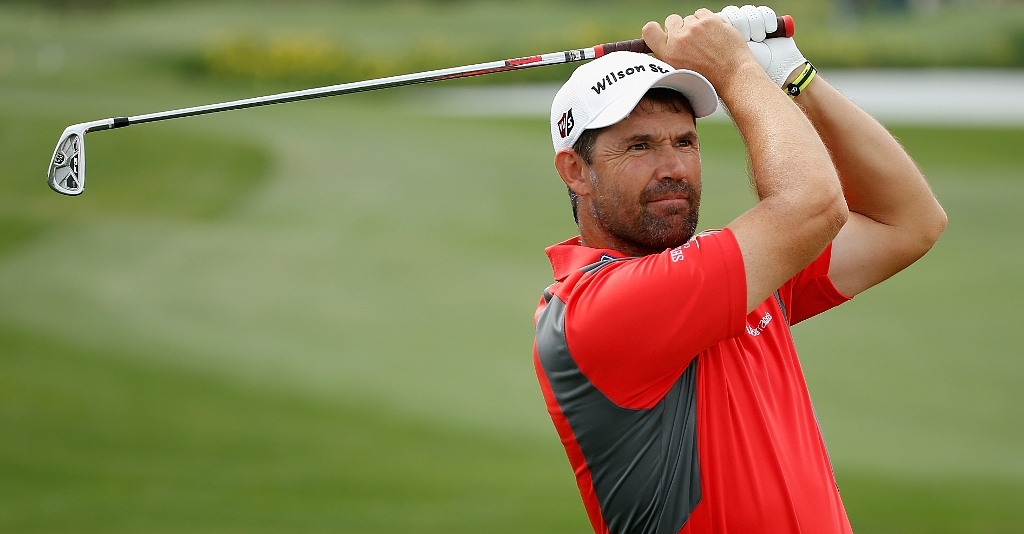 Here's what Stewart Cink told the international media when he was interviewed after his crushing defeat by Tiger Woods.
Here's what Stewart Cink told the international media when he was interviewed after his crushing defeat by Tiger Woods. The WGC's Joan vT Alexander leads off:
JOAN vT ALEXANDER: Thank you, Stewart, for joining us here for a few minutes in the media center at the Accenture Match Play Championship. Tough day out there, but you ought to be really proud of yourself to get to that final match. It's a tough thing to do to begin with, and then to have to play Tiger Woods with where he is right now is pretty tough on top of that.
STEWART CINK: There's no question. I'm very proud of the way I played all week, until today. I'm a little disappointed I didn't throw a little more at Tiger, put some pressure on him. It wasn't that close a match. I think that needs no further explanation.
But overall, yeah, I'm very pleased with making it through and making it through with the players that came through. I look back over the list of guys and, wow, it's pretty much like a list of the Ryder Cup and Presidents Cup from the last several years. So I'm proud of that. I'm taking away a lot of positives from this week, but I'm disappointed about today.
Q. Why is he so good? What creates these miles of separation between him and everybody else?
STEWART CINK: I think he just has this — such a strong sense of belief in himself that he's just never out of it. He's never going to mess up. He's just always in control. He never loses his composure. He gets mad; that's not what I'm referring to. But he never loses his composure. He always stays very poised, and he doesn't very often throw away a shot.
In match play, especially a 36-hole match, you know, if your opponent is not ever really opening the door then you've got to do something spectacular, and I didn't. I just didn't.
Q. You've known him for a long time. Has he always had that quality? Has he gotten better at it?
STEWART CINK: No, he's a lot better now than he has ever been at that. He's really learned how to stay within himself. He regulates himself and his heartbeat. Physiologically he's regulating all the time. It's just really – it's impressive and it's paying off for him.
Q: You make him sound like a machine.
STEWART CINK: I think maybe we ought to slice him open to see what's inside there (laughter). Maybe nuts and bolts.
Q: A couple of years ago it was like, okay, the rest of the TOUR is catching up with Tiger. And there was Retief and Ernie and et cetera, et cetera. Now it looks like he's just taken a big step and nobody else is even close. Is that a fair assessment?
STEWART CINK: That's a fair assessment, yeah. The only thing about that assessment that I'm not sure is fair is if anybody ever really got that close to him a couple of years ago (laughter).
Q: Did you think that eagle putt was going in?
STEWART CINK: I told my caddie before he hit it that it was going in. He doesn't like to be upstaged in any way. Even the minuscule amount that that upstaged him there, him being 8-up, I still thought he was going to make it. He lipped it out, and I thought, hey, come on, at least give me a moment to shine here. And he said, sorry, dude — I don't remember what exactly he said.
Q: He gave you a ribbing about it?
STEWART CINK: Yeah, we were having fun by that point. We're very comfortable with each other. I like playing with Tiger. I've said it in here, I've said it out there, I've said it all over the place. I love playing with him.
He handles himself really well in relation to me and the other guys, if there's more, and he's just gracious. He's a gentleman but he's a killer out there.
Q: You had to make something happen early afternoon to have any chance. Did you see anything late in the morning that was particularly disruptive to you, whether it was 17, whether it was 18? I mean, if you could have kept the margin kind of quasi-decent…
STEWART CINK: No, there was never really any stabbers. It was a gradual thing; I just let it get away. Like second part of the front nine, maybe. I think I lost like three out of four holes or something, and the margin just sort of got it to that point where he was able to play very conservative and I had to sort of start pushing the envelope just a little bit.
I was really disappointed on 18 this morning that I didn't win that hole because I was in perfect shape and just — I had trouble actually today. Anytime that he did make a mistake and show just a little bit of an opening to me, I just didn't take advantage of it. He misses a couple of fairways and I just followed him and missed the fairways.
Q: That second shot on 18, did you pull it?
STEWART CINK: Yeah, I just pulled it. It was an awkward yardage for me, and I had to hit just a little bump 7-iron in there. I just pulled it, you know, and just a bad shot. It wasn't an awfully difficult putt to get close, but it was very fast and a lot of break. To finish like that and to go into an hour break with that on my mind instead of having maybe a little bit of momentum, you know, is just — it was kind of a, sort of a microcosm of the whole day.