America hits back at Sawgrass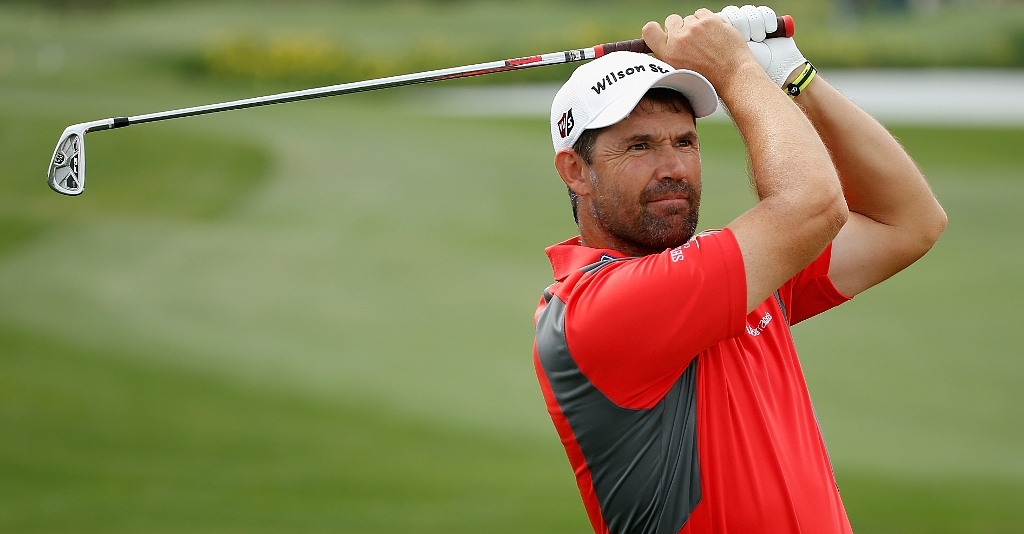 Friday at The Players was the USA's as Brits Ian Poulter and Martin Laird lost the lead to three Americans.
It was America's day at The Players championship on Friday as Brits Ian Poulter and Martin Laird lost the lead and slipped down the leaderboard and Northern Irish hope Roy McIlroy missed the cut.
Three Americans, Zach Johnson, Matt Kuchar and Kevin Na are the new leaders at 8-under and while the current World No 1 has headed home, and might well lose his World crown this weekend, the former World No 1 Tiger Woods was able to rescue himself from the embarrassment of a first-time, second successive cut with an encouraging 68.
Johnson fired a sparkling 66, Kuchar a 69 and Korean-American Na a 69.
Woods, down in joint 100th after a first round 74, may even be able to get back into contention at the weekend.
He did seem headed for the chop early in Friday's second round at storied TPC Sawgrass, but he gritted his teeth and grimly turned things around with four successive birdies from the eighth that took his 36-hole total to 2-under and hoisted him 70 places on the leaderboard and into a tie with a large group that included fellow major winners Martin Kaymer (69), Phil Mickelson (71) and Keegan Bradley (70)
Laird didn't exactly pass Woods on his fall down the leaderboard and at 6-under after a 73, the Scot is only two shots off the pace, but Poulter came close.
The colourful Englishman's stumble and subsequent 76 which sent him tumbling to 3-under, was just one better than Woods and all of five shots away from a top spot he had looked so comfortable in after his opening 65 – a score that was 11 shots better than his disappointing Friday effort.
One consolation for Poulter is that he is in good company for among those tied with him are England's World Nos 2 and 3, Luke Donald and Lee Westwood and American young gun Rickie Fowler (69), the winner of last week's Quail Hollow play-off against McIlroy
Laird looked to be one of the best of the front runners until he came to the famed closing stretch.
His woes began at the long 16th when he inexplicably hit the lake and then intensified at the intimidating short 17th with its Ireland green where his awful tee shot again found the same lake.
Those errors cost him a bogey six and a double-bogey five and things didn't get any better when he chipped well short on the last and bogeyed again to drop back into a tie for fourth place at six under after a 73 .
"That's what this course will do to you," he said ruefully afterwards. "I got a bit greedy with a four iron to the 16th – it was a stupid shot – and I was between clubs at the 17th.
"A nine iron was too much and a wedge not enough, but I didn't hit it real solid and the wind got it. It was a bad shot.
"But as big a car crash as I just had, though, I'm still well in it. I'd happily have taken this position before the start," he added.
Poulter's miserable opening to his round dealt his hopes of the £1million-plus first prize and the new Ferrari he hopes to purchase with it, a huge blow.
He went over the green at the 10th – his first of the day – chipped poorly and three-putted for a double bogey start.
And tt was not long before he made another. The pin was back right on the short 13th, but Poulter went short left into the water.
The Englishman steadied the ship after that and said: "That was not the start I was looking for. I was staring an ugly one in the face, but I'm still in it."
By this time McIlroy was heading back to Europe for the BMW PGA Championship at Wentworth in a fortnight's time.
"There's something about this course I can't quite get to grips with," said the Northern Ireland 23-year-old of Pete Dyes stadium course at Sawgrass
"It's disappointing – I'm not going to lie. I've been playing well for the last 12 months. This is my first missed cut for a year.
"I'll get ready now for the big tournaments coming up."
Wentworth is first, then he will go back Stateside to defend his US Open title.
He is not giving up on Sawgrass, though. He vowed to return next May to try again, saying: "I'm a visual player and I struggle to see the tee shots required there."
In the meantime Donald, who eagled the long 16th, said: "It could have been a special round. I threw in a couple of bad swings, but 69 is not a bad score.
"I am still quietly optimistic. I think this course is only going to get tougher and eight or nine under could be a good score come Sunday."
Westwood said: "I didn't play as well as yesterday, but shot one better – but then that's golf.
"I'm playing all right. I like this course and it suits me. I suppose three under is in touch. Hopefully it will firm up and the greens will get quicker."
Laird was not the only British golfer high up on the leaderboard. London's Brian Davis, also based in the United States, was on six under after a 70.
Graeme McDowell and Padraig Harrington were not so lucky. They had a long wait before discovering that their one-over aggregate was one too many to survive and joined McIroy on the wrong side of the cut.
It was not a good day for the Irish.
The Top 10 leaderboard
(USA unless stated, par 72):
136 Zach Johnson 70 66, Matt Kuchar 68 68, Kevin Na 67 69
137 Harris English 70 67
138 Brian Davis (Eng) 68 70, Charlie Wi (Kor) 71 67, Adam Scott (Aus) 68 70, Martin Laird (Sco) 65 73, Jonathan Byrd 68 70
139 Michael Thompson 68 71, Kevin Stadler 68 71, Bill Haas 68 71, Ben Curtis 68 71, Blake Adams 66 73