Allen thrives as Drummond crashes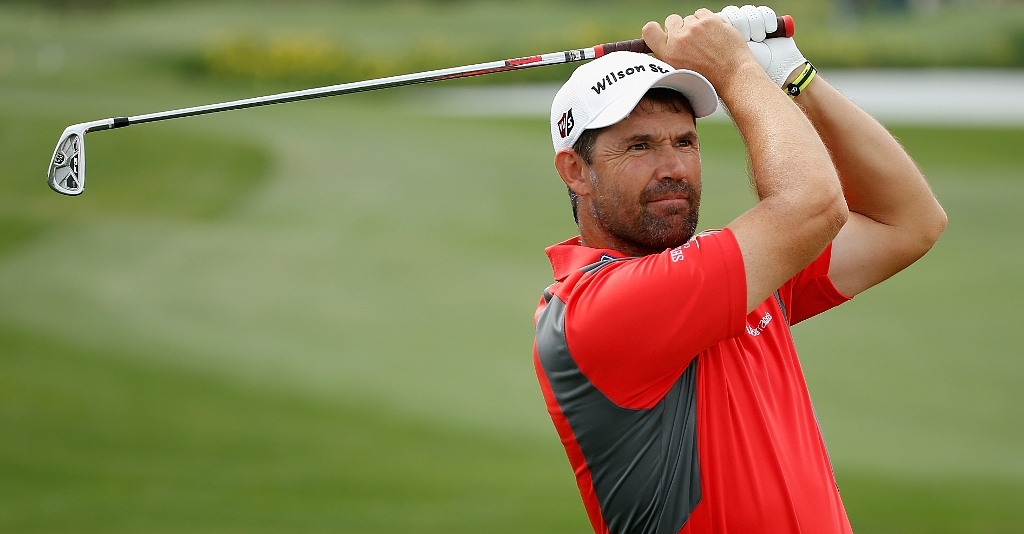 Michael Allen thrived on the 3rd day of the 70th Senior PGA Championship when only six players broke par.
Champions Tour rookie Michael Allen thrived on the 3rd day of the 70th Senior PGA Championship when only six players broke par.
Overnight leader Ross Drummond went the other way, though.
The luckless Scot, the shock leader teeing off in Saturday's third round after posting a record setting 66 on Friday, slumped to a 6-over-par 76 to tumble down the leaderboard and probably out of contention in this the first seniors Major of the sesson.
All this while Allen, a PGA Tour veteran who hasn't won anything in his last 20 years on Tour and is only playing here on a special invitation, was able to put himself in the top spot on the leaderboard on moving Saturday with a best-of-the-day 3-under 67.
Allen's 54-hole 3-under 207 total has given him a lead of just one shot over former Major winners Tom Kite (69) and Jeff Sluman (70) and two over Gil Morgan (7), Larry Mize (71) and Tim Simpson (69).
But more important it has given the 50-year-old US PGA Tour veteran belief in self and instilled the feeling that he good enough to win again in his first sortee into seniors golf.
"These guys are great players and yes, they have beaten me in the past," Allen said, "but maybe it is my turn now when I'm young and with a little more experience than when I first came out (on the PGA Tour). This is as good an opportunity as I'm going to have in a long time."
Allen – and the chasing pack baying at his heels – are well aware that Canterbury Golf Club in Ohio where the event ids being played, is notoriously unforgiving and has the teeth to make winning here a difficult proposition.
Only those players who bring their A Games to the course will have any chance – and Simpson, himself chasing a first title in 19 years, believes "there are at least half a dozen players who can win".
Allen feels that on the strength of his play in his last two rounds he can do it.
"I don't buy into that theory that you've got to be there (playing seniors golf) a lot to win," Allen said.
"I feel like I'm playing very well. I feel like I'm in great shape and I'm ready to, you know, move on. I've been ready for a long time. It's about time that I get on with it."
Kite has been as solid as a rock – until he has come upon Canterbury's last two holes. He has bogeyed both on each of the last two days.
"Pretty sadistic finish, those last couple of holes," he says of them.
"And obviously it has left a bad taste in my mouth. But I really feel like I'm playing well. I really like the way I'm striking the ball. I'm hitting a lot of greens in regulation, so I really feel good about everything."
Sluman, a two-time winner on the Champions Tour last year, is struggling with his driver and says: "If I don't find something between now and tomorrow, it's going to be a tough day for me."
And he, for one, is certainly not underestimating Allen.
"Michael (Allen) is a wonderful player," he told reporters."When I look at his golf game and how solidly he strikes it, you kind of always wondered why he didn't win a bunch of tournaments. It shouldn't be really any surprise (he's leading), because he's such a good ball-striker, that this golf course would suit him very well."
Allen has said often this week that even if he wins her, he is determined to return to the PGA Tour because of all the work he has put in to keep his card aged 50.
"If I go to my grave and don't win (again), I've still had a great time playing golf every day and I've made a great living," Allen has said. "So it's been a win-win no matter what for me. But, yes. it certainly is important for me to win."
ALL THRE THIRD ROUND SCORES
(USA unless stated, par 70):
207 Michael Allen 74 66 67
208 Jeff Sluman 70 68 70, Tom Kite 69 70 69
209 Gil Morgan 71 68 70, Larry Mize 69 69 71, Tim Simpson 70 71 68
210 Bruce Fleisher 71 70 69, Joey Sindelar 69 72 69, Jay Don Blake 70 69 71
211 Bernhard Langer (Ger) 68 70 73, Joe Ozaki (Jpn) 75 67 69, Mark McNulty (Irl) 72 69 70, Chris Starkjohann 71 68 72, Fred Funk 71 71 69, Don Pooley 74 69 68
212 James Mason 71 73 68, Tom Purtzer 66 72 74, Ross Drummond (Sco) 70 66 76, Mark James (Eng) 69 71 72
213 Eduardo Romero (Arg) 73 72 68, Jay Haas 71 74 68
214 Gary Hallberg 69 74 71, Russ Cochran 70 71 73, Scott Hoch 66 72 76, Tom Watson 72 72 70, Keith Fergus 73 69 72, Dan Forsman 70 70 74, Kiyoshi Murota (Jpn) 73 71 70, James Blair 71 72 71
215 Roger Chapman (Eng) 74 68 73, Bill Britton 75 70 70, Mark O'Meara 76 70 69, John Cook 73 69 73, Loren Roberts 73 74 68, John Morse 69 72 74, Walter Hall 72 73 70, Ron Streck 73 74 68, Dave Stockton 70 73 72
216 Gene Jones 75 69 72, John Harris 72 74 70, Bob Gilder 71 74 71, Jeff Roth 74 73 69
217 Costantino Rocca (Ita) 72 75 70, Tom Lehman 75 68 74, Mike Goodes 75 71 71, Wayne Grady (Aus) 71 72 74, Hale Irwin 70 74 73, Bob Tway 75 72 70, Hal Sutton 71 76 70
218 Kirk Hanefeld 75 70 73, Andy Bean 74 72 72, Mike Reid 74 71 73, Greg Norman (Aus) 73 72 73, Lonnie Nielsen 76 69 73, Brad Bryant 73 67 78, Ian Woosnam (Wal) 71 72 75, Bob Cameron (Eng) 72 73 73, Bobby Wadkins 75 71 72
219 Tom Wargo 74 73 72, Mark Wiebe 72 73 74, John Jacobs 70 73 76, Allen Doyle 72 74 73, Robert Gibbons (Gbr) 71 73 75, Bill Longmuir (Sco) 77 70 72
220 Juan Quiros (Spa) 72 75 73, Chip Beck 73 73 74, Vicente Fernandez (Arg) 76 71 73, Tom McKnight 72 73 75
221 Sam Torrance (Sco) 70 71 80, Mike Smith 75 71 75, Dana Quigley 69 75 77
222 Ken Green 72 74 76, Jim White 74 73 75, Ronnie Black 75 71 76
223 Jim Woodward 72 75 76
225 Freddy Gibson 73 74 78
226 Jon Fiedler 72 74 80