Advantage Great Britain & Ireland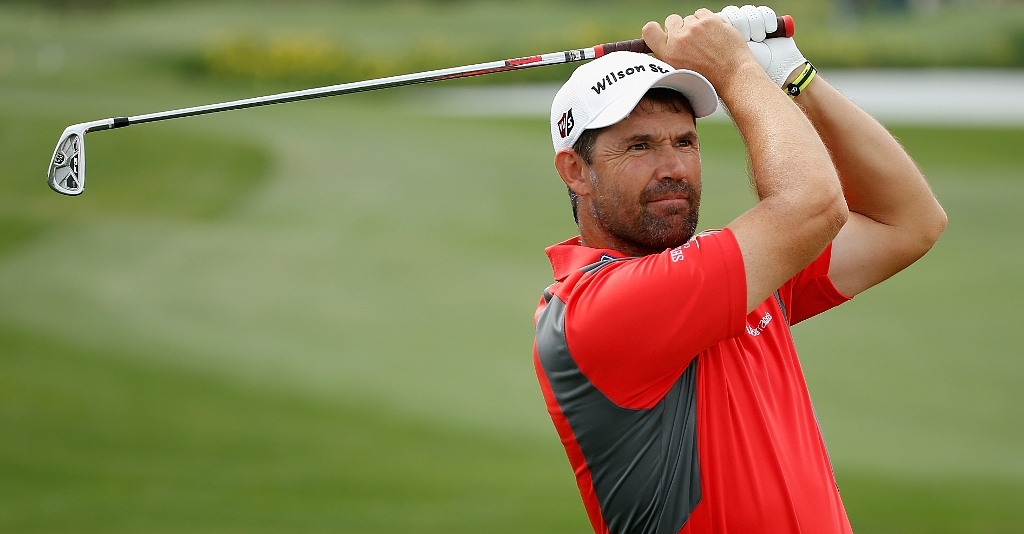 Great Britain & Ireland raced out to a commanding 4-1 lead after the first day of the Seve Vivendi Trophy in Paris on Thursday.
Great Britain & Ireland raced out to a commanding 4-1 lead over Continental Europe after the first day of the Seve Vivendi Trophy in Paris on Thursday.
It was a dream start for captain Paul McGinley's men as they emerged victorious in all but one of the five opening Fourball matches – though he was quick to warn his players not to get too carried away after their positive beginning.
"It's important to pace ourselves," McGinley told www.europeantour.com. "We have had a great start – a brilliant start – but there's a long, long way to go, a lot of points to be played for yet."
Perhaps to the surprise of some, only the Worksop duo of Lee Westwood and Mark Foster failed to come out on top, as they were narrowly beaten by Anders Hansen and Francesco Molinari.
One down with one to play, Westwood looked to have salvaged a half point for his team after rolling in a beautiful 20-footer for birdie on the 18th green at St-Nom-La-Bretèche, only to have Molinari follow suit and give Continental Europe a valuable point on the day.
But the other four points on offer went to Great Britain & Ireland, and some of them in very dominant fashion as well.
Scott Jamieson and Ross Fisher stormed to a 6&4 victory over Peter Hanson and Raphael Jacquelin, while Robert Rock and Ian Poulter comfortably took care of an in-form Thomas Bjorn and Alexander Noren by 5&3.
"I seemed to find a bit of rhythm with the putter after a few holes, and we got around nicely," said Rock.
Poulter added: "It's always nice to play a match play format, the team environment is great. It was great to play with Rocky today – we got off to a nice start, and saw the lines on the greens fairly early.
"Rocky holed a couple of lovely putts, and we both dovetailed pretty nicely for the whole day."
The remaining two matches were closer affairs.
Recent KLM Open winner Simon Dyson and his partner Jamie Donaldson beat Spanish duo Miguel Angel Jimenez and Pablo Larrazabal 2&1, while Open champ Darren Clarke and David Horsey only just edged out Nicolas Colsaerts and Seve Vivendi rookie Matteo Manassero, taking a one-up victory.
"We played really well and gelled really well," said Donaldson. "When it wasn't Dys birdieing it was me birdieing – we gelled perfectly in the end.
"Like Dys said we were very tough to beat. I think we were nine under better ball for no drops for the holes we played."
Despite the dominant start, captain McGinley was quick to point out that there was still a lot of talent waiting to shine in the Continental Europe side.
"It's a very, very strong European team and we certainly will not be underestimating them.
"We played really good golf today, but if we are going to win this, we have to keep on playing to that standard because they are going to come back, there's nothing surer than that."
History tells us he may be right. Continental Europe raced out to a similar 4-1 lead after the first day back in 2005 and ended up losing 16 ½ -11 ½.
European captain Jean van de Velde, meanwhile, had to acknowledge that he was impressed by Great Britain and Ireland.
"I didn't see too many missed putts by them to be frankly honest," he said. "They seemed to find the groove.
"At the end of the day, you can only ask the guy to do their best and try to play their best. There is no doubt that from looking at those numbers, they are going to have to raise their level of play or, equally, maybe Great Britain and Ireland can lower it down a little bit."
Van de Velde has mixed things up slightly for the second round of five Fourball matches on Friday, while McGinley has decided to stick with the exact same combinations that proved so successful on day one.
Dyson and Donaldson face Bjorn and Jacquelin in game one, before Rock and Poulter take on Swedish pair Hanson and Noren.
Jamieson and Fisher will face Colsaerts and Manassero, Foster and Westwood take on Hansen and Molinari and Clarke and Horsey are up against Larrazabal and Jimenez.