A hole-in-one with Larry David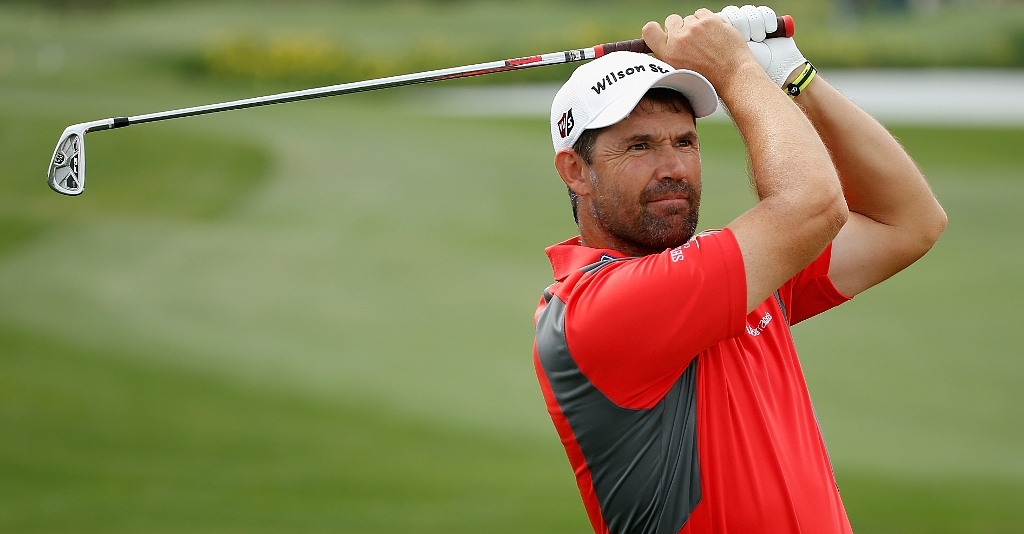 One minute you're a policeman in the UK. The next, you're playing with Larry David and he watches you get a hole-in-one! Read on.
An ex-policeman from the UK scoring his first hole in one… hardly an amazing story is it. Well, it is if we tell you that his playing partner who witnessed the whole thing was none other than Larry David!
So how on earth did the Curb Your Enthusiasm star come to be playing a round of golf with a former copper from Hertfordshire in the first place?
The unlikely story of how Andy Hughes had ended up as the assistant pro at the famed Riviera Country Club was featured on Golf365 back in February.
"Working at the Riv is like watching Entertainment Tonight!" Andy had excitedly told us back then as he'd started rubbing shoulders with the likes of Will Smith, Samuel L Jackson, Justin Timberlake and Hugh Grant.
But if you want an extraordinary story to get even better, why not up the ante by scoring your first hole-in-one in front of one of the most famous men on American TV.
Larry David, of course, is the co-creator of the Seinfeld show and now the star of Curb Your Enthusiasm, the original and brilliantly funny series in which a fictionalized version of Larry stumbles around Hollywood from one misunderstanding to another.
Golf365 are huge fans of the series not least because, unlike almost every other comedy show, it doesn't use golf as some sort of insanely unfunny comedy cliché.
Consequently the situations Larry gets himself into on and around the golf course are more recognisable to most normal golfers (albeit with the dash of David genius that makes the show so funny).
Like when Larry needs to save his favourite 5-wood from the open casket of a man about to be buried. It's not just that he needs to rescue his own club – to do so he must sacrifice his friend Jeff's 5-wood. "You get the exact same one," Jeff demands, "it better have the same feel."
Larry's love of golf also becomes clear on Twitter – although he appears to have given up on it (not a surprise given that his first post read: "What the hell is this thing? I'm suposed to tell you what I'm doing? Why would I tell you what I'm doing? What are YOU doing?")
However before he pulled the plug two of his final four tweets were golf-related:
"So far, so good on my New Year's resolution to watch less Golf Channel and a little more History Channel. It's not an easy sacrifice."
"If I say I'm going to go for a run, but instead play golf and ride in a cart, does that still count as exercise?"
Anyway, back to the Riviera and one added twist was that Andy's ace was the first hole-in-one Larry had ever witnessed.
Golf365 spoke to Andy about his "tell the grandchildren" moment and the state of Larry's game.
Q & A with Andy Hughes:
Golf365: Tell us it's a wind-up!
Andy: I kid you not! I should add that what makes it sweeter for me is that I have been off for a couple of months after surgery on my knee. This was my second round back. Not so sweet, I chose to not pay into the skins game thinking I would give it a couple of weeks!!!!!
Golf365: Okay some specifics first. What hole, the yardage and what club did you hit?
Andy: The 16th hole (my favourite hole on the course) with the pin hidden behind a bunker to the left. It was 156 yards, I took my 7 iron, played a smooth cut and at first I thought it was short.
Golf365: So you didn't see it go in the hole?
Andy: No. I complained thinking I had hit the fringe just over the bunker.
Golf365: What was Larry's reaction? "Pret-ty, pret-ty, pret-ty, pretty good" (one of Larry's catchphrases) perhaps?!
Andy: We all walked up to the hole and another member, Joe Regalbuto, saw my pitch mark just in front of the hole. He put his hands in the air and shouted "We have a ball in the hole!" I shouted "it's my first, it's my first". Larry came over and we had an awkward high five as only true golfers know how. He then told me he had never seen a hole-in-one in person and he was almost as excited as I was. For me it was like an out-of-body experience.
Golf365: Were the drinks on you or on Larry?
Andy: No staff allowed in the members bar… phew!
Golf365: Did you play the final two holes in a giddy haze?
Andy: I finished par, par, must have been because I still had a game to win. Not sure how I did it as I couldn't concentrate on anything apart from what had just happened.
Golf365: Scoring your first hole-in-one in front of Larry David – should you not just quit golf right now and go out on this ridiculous high?!
Andy: Not me, I now want another! It's like a drug, it is an amazing feeling, now I want to see one go in from the tee.
Golf365: So how is Larry's game?
Andy: He is a great golfer but, like all amateurs, works all week and hits the golf course for 18 holes wanting perfection. This can be quite frustrating for Larry. I tease him a bit and tell him he doesn't need a golf lesson, just a sports psychologist (isn't this the truth for all of us). Larry is a true gentleman on the course and has a great respect for the traditions of the game. My favourite Larry comment on the course..: "Is my golf swing disturbing your conversation?"