Webb looks ready to win again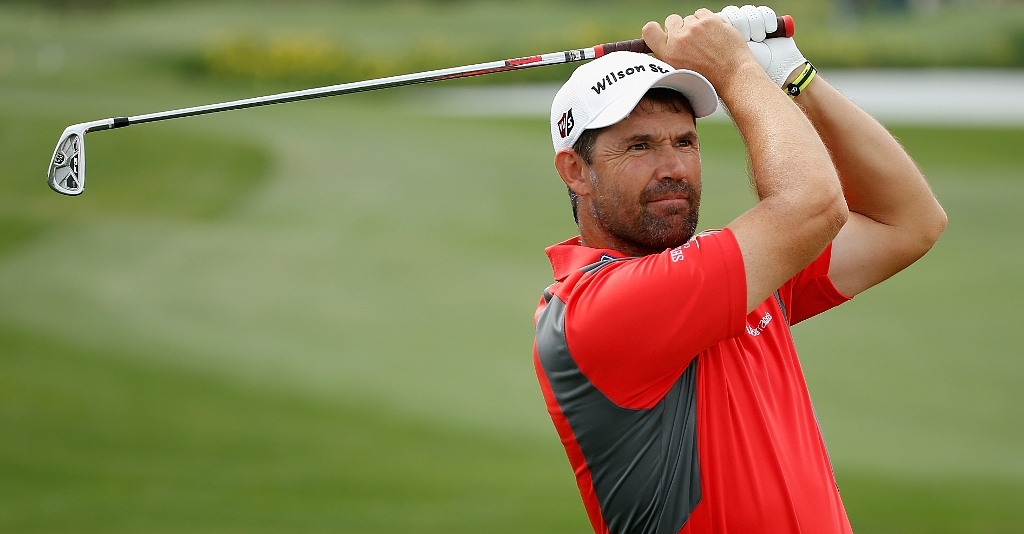 When Steve Stricker says he doesn't care for a course, you know there's a problem.
Stricker has just been confirmed as the nicest guy on the PGA Tour in a study by Golf Digest, who in January 2012 asked players to pick their best and worse courses on tour.
Liberty National, which returns as host venue for The Barclays for the first time since 2009, was voted the worst. In fact, when told that the Tom Kite-Bob Cupp design was back on the roster, one unnamed player is quoted as saying 'I can't believe we're going back there'. Stricker may not have been that man, but he's among a big group of players who've vented their disapproval.
Given the sheer volume of complaints from 2009 – Tiger Woods refused to comment on the course except to smile and label it 'interesting' while nice guy number 30 Paul Goydos rolled out the 'it is what it is' line – it was quite clear that for tournament golf to return to this New Jersey layout, things had to change.
Most issues revolved around the greens, which were both small and heavily undulating and ranked among the toughest to hit on tour with only four of the top 14 managing over 60 per cent. So, 12 of them have been remodeled with surfaces made less severe although it's still fair to expect that only absolute precision will be rewarded with a green in regulation.
Players also found the fairways extremely difficult to find, and the rough far too penal in relation to the size and shape of the targets. Most fairways have accordingly been widened, the rough is down somewhat and the overall length of the course has been trimmed to 7,353 yards, which makes it around average for a par 71.
What Liberty National does have is stunning views across Manhattan, with the Statue Of Liberty in close proximity and the New York skyline an incredible backdrop. But these views come at a price – the exposed nature of the course means wind is very much a factor, although the forecast is for relative calm this week.
The run-up to the tournament has seen the area take a battering from the weather, with some reporting that the course is playing soft and long. This may actually have a positive impact on scoring given the ground's refusal to accept slightly mishit shots in 2009 and it's not a course which plays brutally long even when saturated.
With all of this in mind, it's extremely difficult to gauge the relevance of the 2009 renewal. Heath Slocum was a shock winner who came into the week at 124th in the FedEx Cup and his areas of excellence are in driving the ball straight and putting well, which would look to be a perfectly viable formula here.
But peculiarly, the short-hitter from Louisiana led the field in par-five scoring when winning and his perfect storm may not truly lead us to the correct profile.
One thing we should expect, even they it didn't arrive last week, is violent swings in the FedEx Cup standings. For those unfamiliar, only the top 100 of this 125-strong field will advance to the Deutsche Bank Championship at TPC Boston and Slocum very much shows what can be done having jumped from 124th to first in one week.
A year after his success, Martin Laird sealed a TOUR Championship spot with second to Matt Kuchar while Woods, Kevin Streelman and Andres Romero climbed from outside the top 100 to secure a place in the second event, and that will very much be on the agenda for many come Sunday.
The player who stands out here is Webb Simpson and he's worth a good bet, even if the early 40/1 has rightly been snapped up.
Simpson has been playing well for some time, with seven consecutive cuts made, and by his own admission is costing himself the chance to win with just one bad round in most events.
However, he'll soon find a way to put four together and as a winner of the 2011 Deutsche Bank and the following year's US Open, it's events like this in which he's probably most likely to do so.
Last week saw him close with a stunning 63 to share 11th in the Wyndham Championship and with that event behind him – one which saw him able to stay at home in nearby Charlotte – he'll be raring to go and get that win on the board.
Simpson has incentive beyond winning for the first time since the US Open thus truly validating that triumph. His late surge at Sedgefield saw him climb into the last automatic qualification spot for the Presidents Cup and he'll be desperate to play in that having impressed in Australia last time.
"I'm so excited about making the team again," he said at Firestone three weeks ago.
"There's so much money in these next few events that good finishes will go a long way.
"No matter who you are, maybe minus Matt, Brandt, Tiger and Phil, you've got to keep playing well.
"That's the attitude you've got to have because if you relax and think you're in, guys (standing) 14, 15, they win this week, they're jumping three million. They're going to jump ahead of everybody."
Simpson is among the tour's most focused individuals and having that goal firmly in mind is a definite boost to his chances in my opinion.
In addition to his strong current form and the prospect of making that Presidents Cup team, Simpson excelled here in 2009. As a PGA Tour rookie, he led the field at halfway and although fading to eighth, it was a week which confirmed to many that his outstanding collegiate career could be transferred to the tour.
Interestingly, Simpson was among the few to actually compliment the course that week and as a player who excels around the greens and is among the best on tour at finding those greens if he's missed the fairway, he has the game to succeed now returning to Liberty National as a proven winner.There are three others I considered at the head of the market but while it's easy to envisage a strong week for Jason Day or Matt Kuchar, it's Dustin Johnson who gets my vote.
It's already been a massive week in the life of DJ after he announced his engagement to Wayne Gretzsky's daughter Paulina, and he'll arrive on the first tee with a spring in his step.
This is an event which has been kind to him after he won the 2011 renewal at Plainfield, also in New Jersey, and that rain-affected victory once again confirmed that when conditions are soft he's always among the men to beat.
Last year saw him continue his strong playoffs trend with a share of third at Bethpage as defending champion – again, the course had been hit by rain – and his run of form in the event started here in 2009 when he closed with a stunning 64 to finish 15th.
Johnson actually felt he could've won that week – he said he drove it really poorly for the first three rounds and even in shooting 64 missed four times from inside 10 feet – and the alterations made to the greens since should really help.
DJ has been playing really well lately, finishing second in Canada, 33rd at Firestone and then eighth last time at what may not have been an ideal PGA Championship venue for him in Oak Hill.
Both of those top 10 finishes came as the result of exceptional GIR figures and he actually hit a lot of fairways last time out, proof that when forced to ignore the driver he's more than capable of keeping it in play.
Johnson is hitting more greens and holing more putts than last season and with a proven record on exposed layouts near water and in this event in particular, I fancy him to go very close again.
Like Simpson, he has a Presidents Cup place to play for and as a seven-time PGA Tour winner who will put everything on the line for another title, I'll go win-only.
There are cases to be made for in-form Jim Furyk and the likes of Sergio Garcia this week, but my final three selections are all at bigger prices, starting with Martin Kaymer.
The German has endured an up and down season, failing to capitalise on the momentum he built towards the end of 2012, but looks to be finding his form now.
He's ranked seventh and fifth in the all-around in two of his last three events and closed out the Wyndham Championship with a fine round of 63 to finish 20th, having played well throughout the bag all week without reward.
At the PGA Championship, he again spoke eloquently of how difficult he found being number one in the world and how he's developed since. He now says he can work the ball both ways with ease and that his short game has improved, claiming that it's just a matter of time before everything falls together.
That very much looks to be the case in his recent figures and at 103rd in the FedEx Cup points standings, Kaymer strikes me as the player most likely to kick on and play his way through to the Deutsche Bank and beyond.
In terms of the course, its exposed, tough nature should clearly suit – his sole stateside win came on the banks of Lake Michigan – and will reward his ball-striking if its in the shape it has been for the last month.
At 66/1, I fancy Kaymer could go well and there's even a chance last week's Solheim Cup will provide a timely reminder of what he achieved close to a year ago at Medinah.
And finally, with Slocum's success firmly in mind I'll try a pair of outsiders who are playing much better golf than their odds imply.
First up is Matt Jones, whose re-dedication to golf has reaped huge rewards over the last few months.
Jones has long been highly regarded – his coach at Arizone State once told a colleague that he's the real deal – but results on the course haven't been of the standard predicted.
However, perhaps inspired by Adam Scott's Masters win, he turned his season around at the Memorial Tournament and has produced four top seven finishes in his last seven starts, having managed just four in the preceding three years.
As well as trying harder, Jones puts the rapid improvement down to his putting. Two years ago his clubs were stolen and he says it took until May this year to finally find a putter he felt comfortable with.
That improvement is evident in his stats – he was second in putting average at the Wyndham – and if he can carry it into the playoffs then there's every chance he can achieve what he says is the goal, getting to the TOUR Championship.
Jones hasn't played the course before but was fifth in Puerto Rico last year, an exposed layout designed by Kite, and what he's shown over the last three months is that his game will work anywhere.
Certainly, he's hitting the ball superbly tee-to-green and having led the all-around in two of his last seven starts I'm happy to chance him at a massive price.
Finally, Jonas Blixt could build on his fourth-placed finish in the PGA Championship in nearby New York.
This will be Blixt's second appearance in the event and last year's 46th, at a time when he wasn't yet a winner, offers some promise.
But what's more relevant is the fact that he's won twice on the PGA Tour since and while neither the Frys.com Open nor the Greenbrier Classic were as competitive as this, he could be ready to take the next step in his career.
He certainly appears to have the game for it given how strong he is on and around the greens and as a player with a win and two places from his last eight starts worldwide, who has finished 26th and fourth in his first two majors this summer, I think he's overpriced.
---
Place your tournament bets – and join the Free Bet Club!
---