The great US Open myth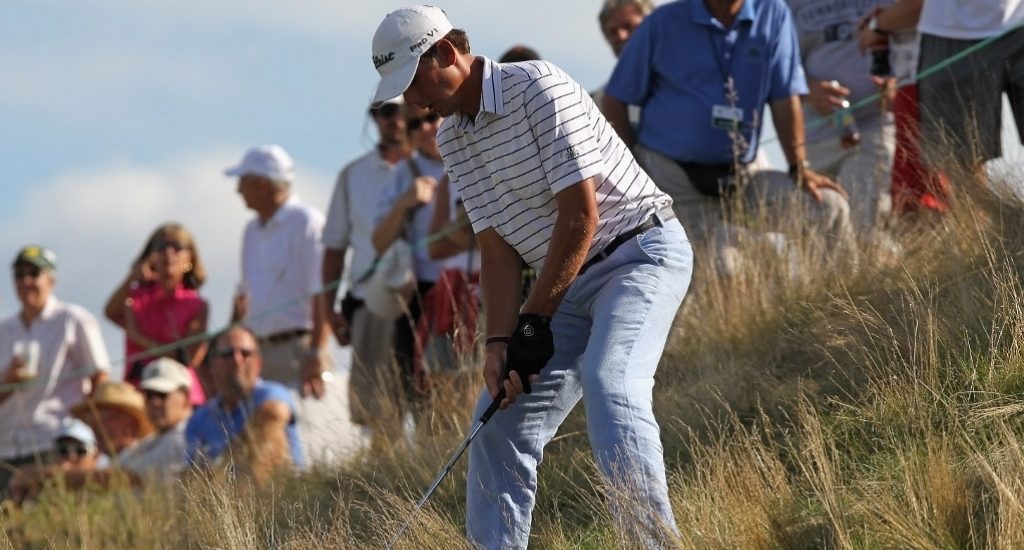 It was inevitable that the pre-US Open scaremongering would begin soon.
And by way of a tweet and a nice, clever app, it was recent Hilton Head winner Wesley Bryan who delivered that tried and trusted classic – a short video of a player dropping a ball into deep, deep rough at this year's course (Erin Hills) with wind battering the mic on his phone to add to the scene of pure hell.
"We're in the fairway here," says Bryan, pointing the camera at his pristine white golf shoes as he strides away from the safety of the short grass. "But if we go one, two paces off……." (drops ball into long rough and then pauses for dramatic effect)…. "stuff's about two-feet tall."
As the video pauses, a title graphic 'Be careful of Erin Hills" is displayed along with a little shock-faced emoji. To accompany the pictures, Bryan has tweeted: "Holy wow! Here's your @usopengolf preview."
Holy wow! Here's your @usopengolf preview %uD83D%uDE33 pic.twitter.com/VDLUdYiF4o

— Wesley Bryan (@wesleybryangolf) May 30, 2017
Well, this is clearly going to be the most brutal US Open course in history. The winning score will be 10-over-par. God forbid anyone who misses a fairway. Let me look at the top of the PGA Tour's Driving Accuracy stats to see the few players who may be able to cope.
Of course, I'm being sarcastic. Why? Because we see these types of videos every year and the carnage is never as bad as predicted.
Here's one from 2016, which gave rise to the headline: 'Justin Thomas reveals horror of Oakmont rough for US Open'.
If you've been brave enough to look, Thomas is seen dropping a ball into the rough and it disappears completely.
But forget my cynicism for a moment and let's pay a little respect to conventional wisdom. All that rich history and the sage words from our elders tells us that steady, laser-like hitters win US Opens and that must have been the case last year at Oakmont given what awaited loose drives.
So let's just remind ourselves of… oh, Dustin Johnson won. The same Dustin Johnson who finished 138th in the Driving Accuracy stats that year. Hmmm, that doesn't quite tally with needing to hit it straight to win a US Open.
Maybe it was just a freaky year. Surely hitting it straight is more important than hitting it long in this event. It's all we've ever been told.
Let's test the theory. If we look at the last 10 years, how many of those winners will have been ranked better for Driving Accuracy than Driving Distance. Seven? Eight? Let's go eight. It is the US Open, right?
Here are the numbers:
2016 Dustin Johnson (Driving Accuracy 18th, Driving Distance 1st)
2015 Jordan Spieth (Driving Accuracy 68th, Driving Distance 59th)
2014 Martin Kaymer (Driving Accuracy 9th, Driving Distance 7th)
2013 Justin Rose (Driving Accuracy 2nd, Driving Distance 15th)
2012 Webb Simpson (Driving Accuracy 14th, Driving Distance 53rd)
2011 Rory McIlroy (Driving Accuracy 26th, Driving Distance 7th)
2010 Graeme McDowell (Driving Accuracy 43rd, Driving Distance 7th)
2009 Lucas Glover (Driving Accuracy 17th, Driving Distance 8th)
2008 Tiger Woods (Driving Accuracy 56th, Driving Distance 2nd)
2007 Angel Cabrera (Driving Accuracy 48th, Driving Distance 2nd)
Conclusion? The myth is busted. The answer is just two. Yes, only twice in the last 10 years has the winner of the US Open ranked better in the Driving Accuracy stats than he has in the Driving Distance stats.
And just look at those Driving Distance figures. Seven of those winners actually ranked inside the top 10 for Driving Distance. And, by contrast, just two champions were in the top 10 for Driving Accuracy.
If you want it by average, it's 25.3 for Driving Accuracy and 16.1 for Driving Distance.
An explanation is needed.
Well, how about this: To get out of thick rough you need to be strong. To be strong suggests you hit the ball a long way too. And, of course, the further down the fairway you've hit it, the more chance you have of hacking out onto or near the green.
In other words, when short hitters find rough at US Open venues, they're in big trouble. They lack the power to get out and are a long way from the green.
There are also all the other key aspects to being a US Open winner such as a sharp short game and a level-headed temperament. That explains why Phil Mickelson has finished runner-up in this event six times despite his wild hitting suggesting he should have an awful record.
Of course, the dream combination is that you hit it BOTH long and straight, something Johnson did last year to be fair.
The PGA Tour helps us there by offering a Total Driving stat which is a combined ranking of both Driving Distance and Driving Accuracy. The ranking of one is simply added to the other.
The top two at the time of writing (midway through the Memorial Tournament) are Rickie Fowler and this year's Masters hero Sergio Garcia. In fifth is former US Open champ Lucas Glover, while Martin Kaymer (2014 US Open winner) is 21st.
This year's venue, Erin Hills, is due to measure in at a lengthy 7,692 yards so my belief is that a big hitter will prevail again.
The greens on the par 72 have shaved run-off areas similar to those at Pinehurst No. 2 where Kaymer won three years ago.
Fowler, who is ranked 27th in Driving Distance (average 299.7 yards) this year, was tied second at Pinehurst No.2 in 2014.
He's certainly not regarded as someone who keeps it in play off the tee and many will view him as more of a Masters winner than a US Open type.
But so many of the recent US Open winners are ultra-talented, big-hitting players with cool temperaments, who do everything well. That would certainly describe Fowler, who also sits 1st in the All-Around stats which measure driving, irons, bunker play, putting, scoring and birdie/eagle ranking.
So, could Fowler be the latest to debunk the myth that you have to be a renowned straight hitter to win the US Open? It may be a shrewd move to try and take the counter-intuitive route again and back him. He'll certainly be on my shortlist at 30/1.
Ed: Think your US Open knowledge is pretty good? Try our quiz and let us know how many you got right in the comments box below or on Twitter.