Taking the high road: From the Himalayas to the LPGA
Flags always fly high in Nepal.
For one thing the country, sometimes referred to as the roof of the world, is perched high among the tallest peaks of the Himalayas.
For another, the Nepalese flag-flying game is strong: they fly them from monuments, between peaks, across valleys, among homes.
There must be millions of tiny prayer flags across the country, the gentle snapping and cracking as they flutter in the breeze is a soothing soundtrack wherever you go.
Today it feels like those flags are flying in celebration for one of their own because today something special is happening for Nepalese sport.
Today, at the Symetra Tour's IOA Championship in California, Pratima Sherpa becomes the first Nepalese golfer to play on a main tour.
*
Pratima's journey in the last three years has been aided by a remarkable collection of people, all started by a journey to the country undertaken by Oliver Horovitz, Miles Ashton and Vladimir Weinstein to write about and film Nepal's golf courses.
In the capital city Kathmandu they played Royal Nepal GC where the members insisted that they meet Pratima, the daughter of a greenkeeper who lives in a hut near the third green.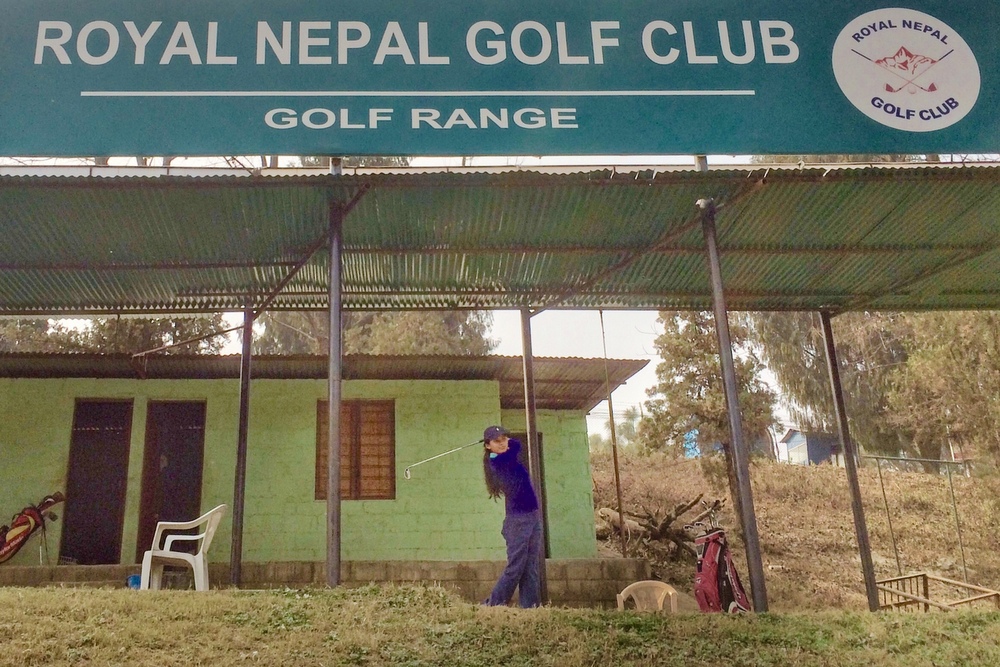 They spent the day on the course with her and a week later, trekking in the mountains, found themselves with an itch they couldn't scratch.
"We wanted to do more than just publish Pratima's story," Vladimir says. "We wanted to help her, whether that meant with a new set of clubs, solid foundations for her career or the support of the international golf community.
"As soon as we landed back in Kathmandu, we returned to Royal Nepal to make a video. Her introduction alone was enough for the world to see her amazing personality, her confidence in the game and that she would make it in due time."
Back in the States Horovitz's article appeared in Golf Digest and the friends set up TeamPratima.com:
Word spread. "It's the global village," says Horovitz. "Golf's global village came together and helped."
The snowball effect was extraordinary. Funds were raised, an ESPN film about her won an Emmy, she travelled to New York to see the premiere at the TriBeCa Film Festival, befriended Tiger Woods (true story), spent a summer in California with the Montano family and that has blossomed – Pratima is now living with them and studying at Santa Barbara City College.
*
Yet it is perhaps more thrilling to consider just how much Pratima's tour debut will impact on her family, friends and compatriots.
Pratima has lived her entire life in that hut by the third green and as a small child fell in love with the game. Her father would fashion clubs from the fallen branches of trees and she'd smack balls she had found in the rough.
In time, club professional Sachin Bhatterai learned about this love of the sport and he encouraged her. He found her real clubs to hit, gave her space on the range, balls to hit, advice when it was needed, persuaded members to fund her progress, all of it achieved with a gentle smile, enthusiasm and pride in her dedication.
Pratima's mother tends the fairways and greens by hand, one of many ladies in brightly coloured saris who hand-pick the grass. Those workers look upon Pratima as one of their own and they shake their heads a little, awed that she is doing what they spend most of their life allowing others to to do.
The caddies at Royal Nepal hang out by the entrance, a rascally bunch who pounce when strangers enter the gates, but whose real character emerges on the fairways, away from the swaggering group bravado. They, too, hold Pratima in high esteem. They joke with, and goad, her, but whisper to visitors: "She is good, sir, very good golfer."
Across the country, at the Himalayas Golf Club, whose remarkable course plunges down a rocky gorge and is overlooked by the Annapurna massif, every group must take caddies and ball-spotters, another mischievous Dickensian-like gang, whose trickster nature is also revealed as a bit of a front in time, their bluster punctured by the mere mention of Pratima.
"You have met her, sir? Oh, wow. Pratima Sherpa very good golfer. Nepal number one. She has played here. We all watch her."
Imagine the nerves, excitement and pride of this small golfing community today. It makes the World Match Play seem a little insignificant in comparison.
The flag of every nation is flown at Symetra Tour events and Pratima, a girl with a dream who is inspiring a nation, watched as Nepal's was raised this week.
"This made me cry," she said. "Love you Nepal."
🔊 Hear from #IOAChamp sponsor exemption Pratima Sherpa on what playing in this week's event means to her and for her native country Nepal 🇳🇵 as the 19-year-old strives to become the first female golf professional from the South Asian nation #Road2LPGA #DriveOn pic.twitter.com/Z9y5mxwRzs

— Symetra Tour (@ROAD2LPGA) March 29, 2019