When Robert Rock toppled Tiger Woods in Abu Dhabi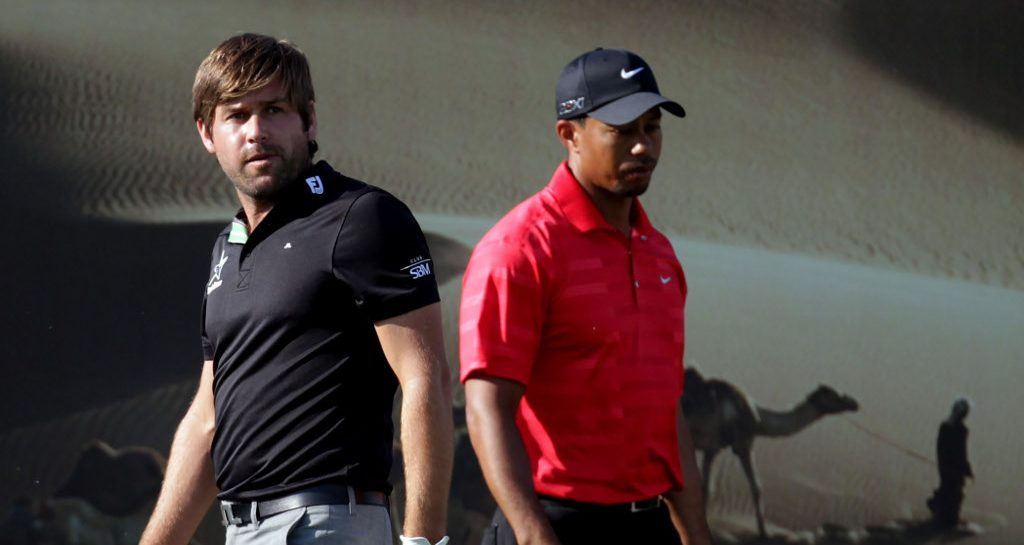 The final round of the 2012 Abu Dhabi HSBC Championship and Tiger Woods had his first 54-hole lead in over two years – victory was inevitable, right? Matt Cooper remembers one of the European Tour's finest final round performances.
Golfers in contention for a title are asked a lot of questions at the end of a round.
Sometimes those questions seek the precise yardage of a particular shot.
Occasionally they require verification of biographical detail.
And every now and again it's far more straightforward. For example, ahead of playing with Tiger Woods in the final group of the final round at the 2012 Abu Dhabi HSBC Championship, Robert Rock was asked:
"Do you expect to be cacking yourself on the first tee tomorrow?"
*
Rock was far from being unknown in early 2012. He'd finished 29th on the 2009 Race to Dubai and won the 2011 Italian Open. Always popular in Europe, owing to a laconic air, Robert Redford-thick hair and a golfing lair called Swingers (the driving range he practised at in Lichfield), his appeal had gone transatlantic in June 2011.
A late call-up to the US Open required a $24,000 fast-track visa followed by a $1,000 cab ride from JFK airport to the tournament. If that introduced Rock to the Americans, his air, hair and lair, plus opening rounds of 70-71 to lie T-8th at halfway, did the rest.
But in Abu Dhabi he was up against Tiger Woods. Admittedly a legend still somewhat cowed by disgrace — he hadn't claimed a win since late 2009 and had spent more time convalescing than playing — but his reawakening was imminent (with the exceptional benefit of hindsight we know as much: Woods would win eight times in his next 32 starts).
They shared a two-shot Saturday night lead over the field and, as everyone in golf knew, Woods wasn't just solid in such positions, he was brutal. He had held or shared 62 54-hole advantages to that point in his career and converted 55 of them.
That's why, when asked the cacking question, Rock laughed and said: "Yeah."
*
Previewing the big day the fairytale differences between the two golfer's backgrounds were unavoidable. "Where were you ten years ago?" Rock was asked.
"Selling Mars bar," he said, "chatting to my mates, watching Tiger win majors."
Tiger, meanwhile, had encountered rocks in the desert before. In 1999 his gallery manhandled a huge boulder out of his swing-path after it was deemed a loose impediment and therefore moveable. Staffordshire Rock, it turned out, was anything but.
Woods made an adventurous birdie at the par-5 second. "It was pretty cool," said Rock later. "Tricky shot from under the tree and then he holed an amazing putt."
Impressed but not rattled, he made birdie there himself.
Woods piled on the pressure with another par-breaker at the third and again Rock responded in kind.
It was just a matter of time though, right? The bogeys would come? In one sense conventional wisdom was right on the money: back-to-back bogeys at four and five. In another sense it got it badly wrong: Woods made both of them.
Time for Rock to crack as the huge opportunity overwhelmed him? Or time to add a third birdie of the day at seven and stretch the advantage? He did the latter.
To put those early holes in perspective consider that Rock was not the only golfer excited by the possibilities in that final group. History's forgotten man was Peter Hanson, who'd smashed a third round 64 before saying: "One of those days when you have the best job in the world."
The Swede was a four-time winner, he'd represented Europe in the 2010 Ryder Cup, he'd do so again at the end of 2012, and was a few weeks shy of finishing third in the Masters.
But faced with a final round showdown alongside Woods he'd stumbled through those first seven holes in 4-over-par. He would end the day with a 78, finishing T-35th, having had one of those days when golf is the worst way to spend five hours imaginable. His opportunity to slay a giant had ended up where most people thought Rock's would as well.
*
Approaching the turn the tension tightened. Rock made bogey at eight and Woods pounced, making birdie at nine. The gap was down to one.
Halfway down the tenth Rock noticed marshals making noise whilst walking on hard ground. When he later prepared to hit his approach and heard the same noise he assumed it was them again. He stood back off the ball and shouted for them to stand still.
"Then I turned round and it was Tiger," he later explained. "Bit embarrassing actually, but he was fine. He just laughed. It was all right."
Moments later Woods made bogey; Rock followed suit at 13; the gap remained one.
"It's difficult playing with Tiger," he said. "You expect almost every shot to threaten the hole. I couldn't afford any lapses in concentration at all. A lot of pressure.
"But then I hit a really good fairway bunker shot on 14 to about ten feet and I thought, if I make this, I fancy my chances."
He drained it and followed suit from the same distance at 16 to re-establish a three-shot lead which Rory McIlroy's final hole birdie cut to just two.
Rock's drive at 18 veered towards trouble. It came up short of water, but was unplayable among stones and plants. He used his leaderboard advantage, accepted the penalty, and found the par-5 green in four.
"Then I had a long lag putt," he said. "I really didn't have a clue how hard I was hitting it. Shaking a bit by then. Pretty nice to see it finish just a few inches away."
"Robert played great today," said Woods. "Couple of iron shots down the stretch there were just beautiful."
And then the story ended as it had begun, with questions.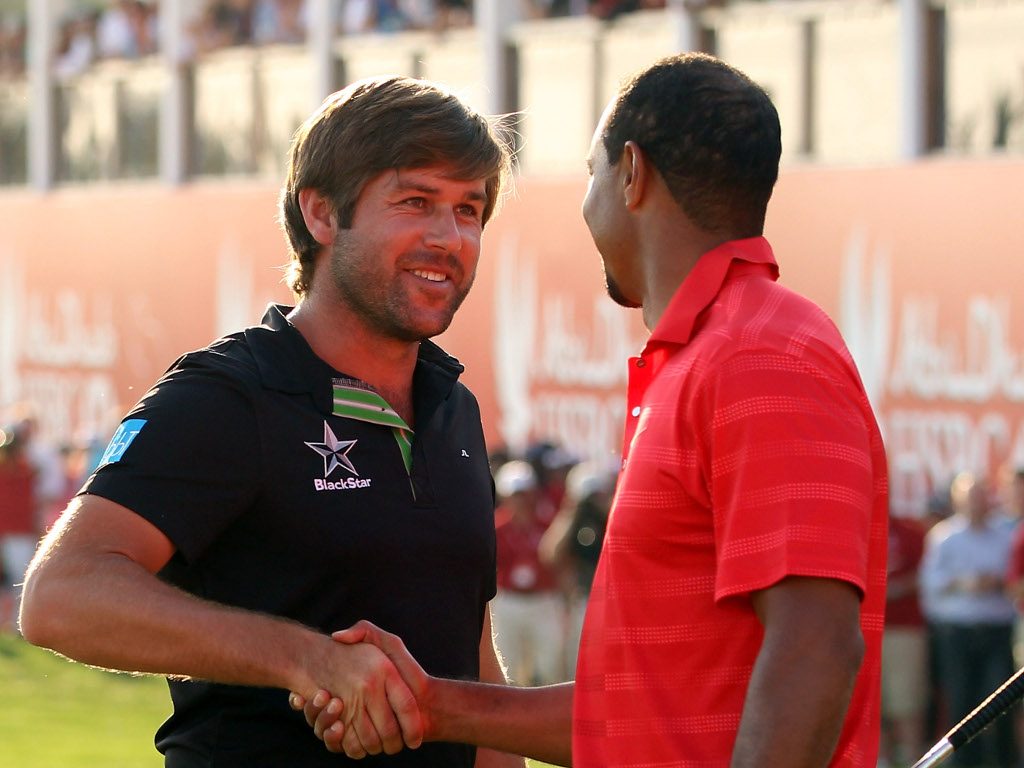 "Is this something that in 20 or 30 years you're going to be sitting in a pub saying, 'I beat Tiger Woods'?"
"I hope so."
"What were you best known for before today?"
"Not much."
On the 29th January 2012 his golfing legacy changed for good however: the day Tiger Woods found himself stuck between a Rock and a tie for sixth place.