Open Golf Diary – Thursday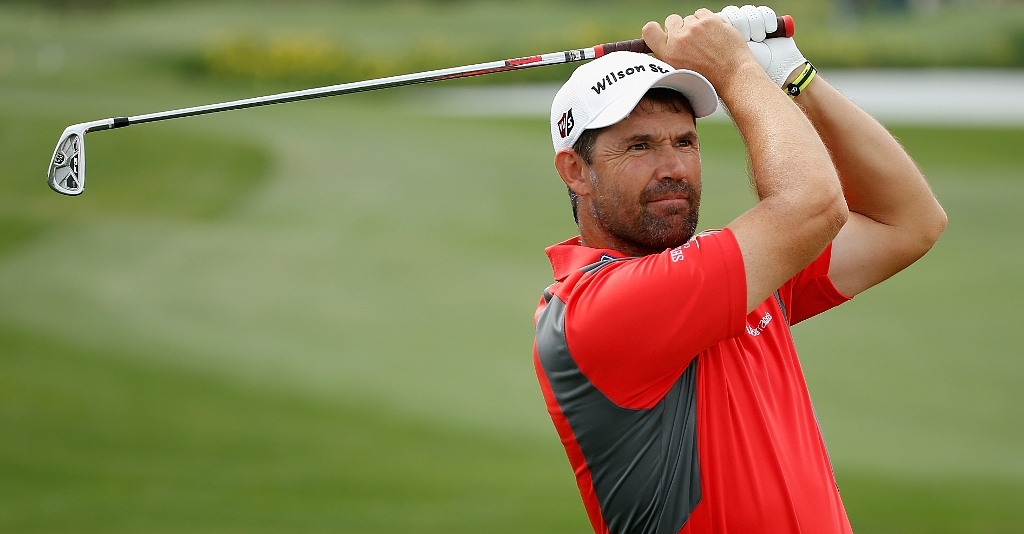 Matt Cooper is at Royal Liverpool all week, reporting on the action for Golf365.
Thursday
Echoes of the past – part two
Yesterday's diary told the story of Ashley Chesters who is following in the footsteps of Sandy Lyle, progressing from Hawkstone Park GC in Shropshire to the Open Championship, a journey Lyle first made exactly 40 years ago.
Chesters was looking pensive on the practice green at 7am this morning, but didn't waste any time looking comfortable on the course. He birdied the first hole and although he had a few stumbles he eventually carded a two-under-par round of 70.
Later in the day, whilst attempting to lob a used pot of milk into a bin I accidentally sprayed a man with the dregs. Feeling remorseful I offered to add the milk to his own coffee and then fell into conversation with him, learning that his name is Keith Mason and he is a local.
He pulled a Dunlop Maxfli from his pocket and revealed that it is the ball Lyle used to win the Brabazon Trophy in 1977 when Keith was his caddie. He didn't have it with him, but Keith also owns the bag Lyle used when winning the Masters in 1988. A neat link to Chesters' great effort earlier in the day.
Tomorrow I shall endeavour to throw condiments at another stranger. I'll let you know what comes of it.
First tee, first tee time
Also in yesterday's diary we discussed the first tee time of the first round. The suggestion was that usually a sprinkling of hardy spectators cling to cups of tea, whilst players wear gloves and hats.
Scrap that this year.
It was warm and sunny at six am and there were also lots of fans in attendance. A lovely break from the norm.
Local hero
John Singleton has captured the imagination of everyone at Royal Liverpool this week and his first tee experience was extraordinary.
Normally a factory worker, the 30-year-old lives a few miles from the course and qualified after a four man play-off at Hillside two weeks ago.
In round one he was followed by a gallery of family and friends who cheered his every move on to and around the first tee. They settled as he was called forward by starter Ivor Robson, he went through his routine and then he prepared to unleash his driver.
And then someone coughed.
The tension rose swiftly. Backsides twitched on seats and nervous looks were shared as Singleton stood back, had a word with his caddie, and returned to his routine.
Given his inexperience at this level a poor shot was on the cards, so full marks to him for smashing the ball straight down the middle.
He played well for ten holes and was cheered along every fairway, but he ran out of steam late in his round and recorded a six-over-par round of 78. "I'm not some big time Charlie who's going to win," he admitted afterwards. "Obviously I want to win, but I'm just here to enjoy myself and soak it all up."
Baffling quote of the day
Inevitably it involves Singo, who was asked what he would have been doing at 1pm on a normal working day. The transcript has confused everybody.
"I'd be on break or something like that," he said, which we understood. Not this bit however: "Or I'd be scabbing syringe on me phone somewhere."
Any guesses are most welcome.
Wednesday
Playground to first tee
In the late 1990s England's Matthew Southgate met another boy in the primary school playground. His name was Dave Tintori and he, like Southgate, loved golf.
A few years later, at senior school, they met John McColl, another golf nut. "All we did was talk golf," says Southgate, who makes his Open debut this week. "We just loved the game and everything about it."
The three of them have remained friends and will experience the week of their golfing lives at Hoylake: Southgate will hit the shots, McColl will carry the bag, Tintori is the coach.
It's a lovely tale and shows that with great skill, a lot of hard work and complete dedication you can achieve your dreams.
Echoes of the past
Forty years ago Shropshire's Sandy Lyle made his Open debut at Royal Lytham & St Anne's. He was 16-years-old and he had to take the week off school to compete.
Eleven years after that first appearance Lyle – who always represented Scotland, despite being born and brought up in the English county – won the claret jug at Royal St George's. It was the first British success in the Open for 16 years and it heralded remarkable major championship success, not only for British golfers, but also Shropshire ones.
Lyle would add a green jacket by the end of the 1980s and the following decade Ian Woosnam would slip his arms inside one too. Like Lyle, Woosnam played his golf in Shropshire, but represented another nation – in his case his native Wales.
The baton was passed on to Peter Baker, then to the talented Michael Welch (who is now his coach) and finally Scott Dummond; all of them Shropshire golfers. None achieved what Lyle and Woosnam did, but they were all skilled performers.
Now it is 24-year-old amateur star Ashley Chesters' turn and like Lyle he hails from Hawkstone Park – in fact his father went to school with Lyle and remembers the future Open champion's trick on the range as a 14-year-old, wowing onlookers with 2-iron stingers.
For young Chesters this week is his first taste of top class championship golf and he earned it by winning last year's European Amateur Championship.
It's a sign of his youth that he is not too concerned by the echoes of the past. "I don't really think of Sandy and Ian," he said on the putting green, ahead of his practice round. "I don't know much about them."
Perhaps he is more swayed by modern stars, such as Chris Wood, who he played a round with and who jokily advised the thin youngster to "get in the gym and build up his muscles".
His preparation for this week came in the form of the European Team Championship, where his England team finished third. Chesters says: "I played all right so I'm quite hopeful of playing well."
That's current form sussed, what about course form? "Don't know about that," he sheepishly admits. "I played here about six years ago in a mixed foursomes."
Sometimes the prep doesn't need to be absolutely perfect.
First out
Nothing beats the first tee at 6.26 on day one of the Open.
It's a bit chilly, maybe a little foggy.
The fans are holding cups of tea and bacon baps.
The players are often wearing woolly hats and gloves.
Then Ivor Robson introduces the first man to tee off in the 2014 Open Championship.
This week it will be England's David Howell and he is thrilled by the the opportunity he's been given.
"It's great. I've played in the first group before, at Troon. It means a four o'clock start but I'm not complaining."
And what club will he hit? "Probably play it safe with a three-wood."
Hamilton clears it up
Remember Todd Hamilton, the shock winner of the Open ten years ago at Troon?
This week he talked about that victory and revealed that what we've always believed was the secret of his success actually wasn't quite as it appeared.
He was asked if he is carrying a hybrid club, as he did in 2004 and which he used for shot around the green as well as into them from distance.
"I don't have any this week," he said. "When I won I carried a 2-iron but then most people thought my hybrid was my 2-iron but that was my 3-wood."
That's that cleared up then.