Golf365 Stories: Big in Japan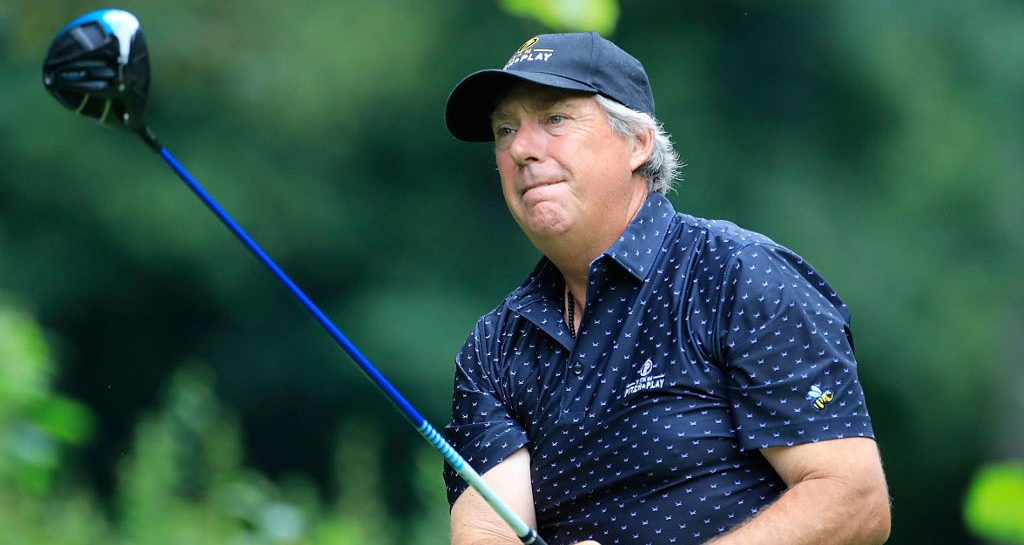 "I don't enjoy the travel," says Barry Lane. "But the golf? Oh, I love that. That's what I love. Playing the game."
In a long and successful career the Englishman has scored success in Germany, Switzerland, Spain, the Czech Republic, Wales, Jamaica, Arizona, Mauritius, Scotland (three times), England (six times) and then, in early November last year, Japan.
And that's just the wins remember. It's safe to say that in order to satisfy his urge to biff golf balls Barry Lane has endured a lot of travel strife.
The most recent win (in Japan) is a case in point. A quick google search of it reveals a wonderfully happy photograph of the Ryder Cup veteran after he sealed the title, but attempting to discover any kind of detail is all but impossible unless you speak Japanese. It begs the question: if it's hard to find information about the win, how difficult is it to enter the tournament itself?
What follows is testimony to the infectiously enthusiastic Lane's love of his sport; the words tumble from his mouth in what is more or less a monologue.
"Good question," the Staysure Tour regular laughs. "How long have you got?!
"First thing, everything is in Japanese so I have a guarantor, a guy called Kimi Hori of my bag company WinWinStyle. Kimi speaks good English and the tour sends everything to him first, which he translates and sends on.
"Once I've got the schedule and see an event I want to play I google the club, find out where it is, look for a hotel within forty minutes and hire a car.
"Then it's time for the red tape. I need an international driving license and then every time I enter the country I have to get a certificate of eligibility and a visa. I can go without a visa and just play, but I can't take any money out of the country if that happens, so I have two passports. I send one to the embassy, but I have to pick it up in person. I can send it, but I have to collect it.
"I spend a lot of time in Sweden so I send it to the Stockholm embassy and always leave for Japan from there.
"From home to Stockholm is a six hour drive so I usually either fly down or hire a car. Sometimes if I've been away on tour I'll do a quick overnight, just depends how tight it is.
"Once I'm over there everything is in Japanese. All the writing and the road signs so I plug own GPS in and away we go.
"I've had the odd mishap. I booked a hotel which I thought was close but turned out to be an hour and 40 minutes away. Another time I thought I was I in a tournament, turned up, they confirmed I was entered, but it transpired my category wasn't good enough. So I flew all the way there, got to the golf course, hung around all week as first reserve, never got in.
"Last season I went to the Q School in March and finished second which gave me eligibility to play plenty, but from my perspective I'm just getting myself the chance to play golf when the Staysure Tour has gaps so I don't play a lot.
"It's going to get tougher as well. As of 2019 only five foreign players will be allowed to play, three the year after and one the year after that if you're not a member of the PGA and I'm not a member.
"They even have a foreign Q School just to get into the final stage. I was 14th in the Order of Merit last year and fifth ranked of the foreigners. The guy behind me in 15th was the sixth ranked international and he had to go to this foreign qualifier. Thailand's Prayad Marksaeng has won five times in each of the last two years, Thaworn (Wiratchant) is playing well there too, and Prayad doesn't play any pro-ams because he speaks no Japanese. That matters for them so they want to address it.
"I love it there. The guys are great. Playing with Jumbo Ozaki, Massy Kuramoto, Tommy Nakajima – they're really great players. The courses are great, the standard is great, the money's great.
"There's plenty of logistical hassle, the down time is sometimes tricky to fill, and it can just be bloody hard work sometimes. Just finding a restaurant can be tricky, but I get through it. It's what I've always done, seeing the world, playing golf. What a wonderful way to live a life."
Dinner last night When in Japan. pic.twitter.com/XJFNOYcw8q

— Barry Lane (@BazLane) October 26, 2018
In the first week of November he was back in Japan for the Fujifilm Senior PGA Championship at Edosaki Country Club.
"You know what? I loved that course the minute I got there. My first thought was: 'This place is beautiful.' It was tree-lined, a really good test, a treat if you drove the ball well.
"I shot 67-72 and hadn't fared well in the second round, but the final day? I told my wife afterwards that it was the most relaxed I've ever been in a tournament. I was in the final group, two shots behind the lead, I shot 64 and I thoroughly enjoyed every second.
"Normally you're so focused, but this time I was looking around, soaking it in, loving everything about the place and what was going on. It seemed almost amazing. I was absolutely over the moon afterwards, a very special feeling."
Very happy to win in Japan.Always Nice to shoot 64 Playing in the last group. pic.twitter.com/gXIygy0rmm

— Barry Lane (@BazLane) November 3, 2018
The Japan Senior Tour's website might be impenetrable to non-Japanese speakers, but the main tour's site can be easily accessed and one curiosity is that it lists every player's blood group.
The reason? There is a widespread belief in Japan that blood type determines personality and they think Type B is the best for golf. Incredibly, although that accounts for only 20% of the Japanese population, seven of the nine most famous Japanese male golfers are B (Isao Aoki, Jumbo, Jet and Joe Ozaki, Shigyeki Matsuyama, Shingo Katayama, Hideki Matsuyama).
But Lane? He's O. Not the perfect golf blood group maybe, but perhaps the one most suited to travel.