Rickie Fowler, Justin Rose and the difficulty of understanding wins
As Rickie Fowler scrambled to complete the sixth PGA Tour title of his career at TPC Scottsdale earlier this month it was easy to think that there was more than a touch of a Ryanair-flight-landing-on-a-blustery-day-in-Italy about it.
Metaphorically, at least, the golfing world was collectively wrapping and re-wrapping rosary beads around jittery fingers, frantically muttering repeated Hail Marys, all the while desperate to launch into an ecstatic round of applause for the pilot when the wheels finally hit the runway.
Next day, with time to reflect, the process of making sense of Fowler's latest triumph began, with the messy question of whether the nature of the win reveals anything about the future at the forefront. "Blimey, won't be backing him down the stretch in a hurry," was a typical response and whilst it's easy to see why such a conclusion is drawn it also asks questions of us as observers.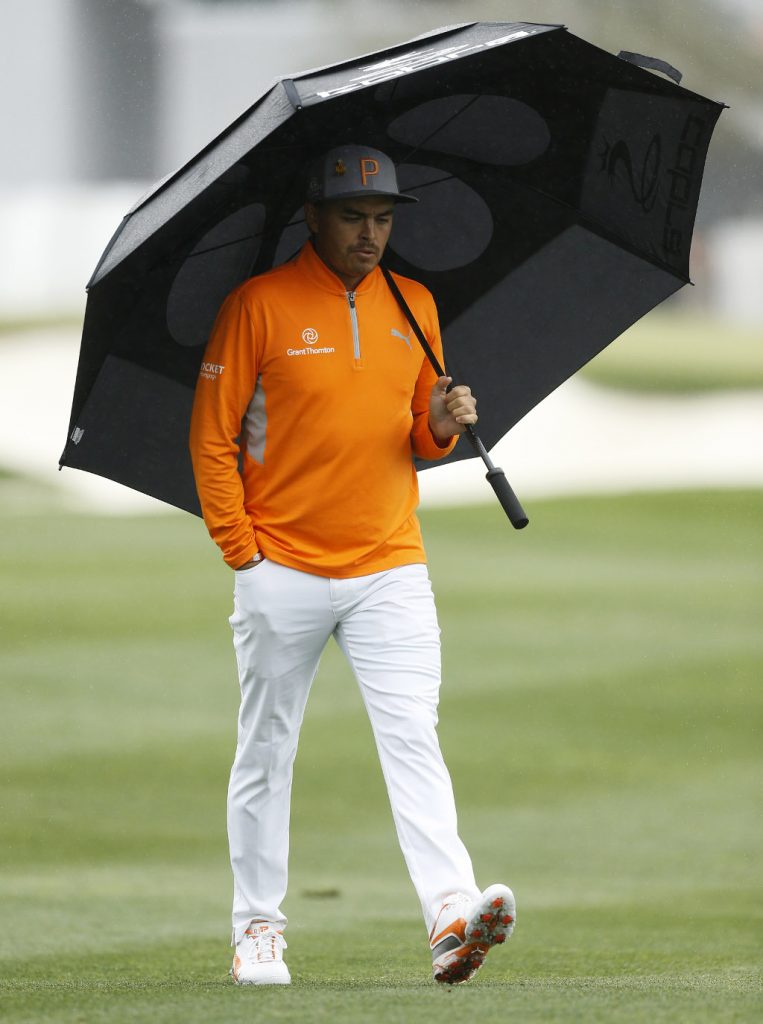 Is it possible that we over-doubt the dodgy conversion and over-praise the apparently brilliant successes? What's more, are we not really, really, really bad at remembering quite how often, and how wrong, we get it? Here are a few examples:
"Stumbled badly – rubbish in contention, always will be."
There has never been a finer example of this hoary old truth that Justin Rose in 2010. He opened the Travelers Championship with rounds of 64-62 to gain a four-shot lead on the field and after 54 holes the gap was still three. However a fourth round 75 left him T9th and confirmed the doubts of many.
When, just seven days later, he was four clear after three rounds of the AT&T National the apparently wise started chuckling, fully expecting a repeat of the week before. Instead Rose earned the victory and no-one went back on themselves to admit: "We got that wrong, we misread what went before."
Winning in the immediate aftermath of a cock-up is actually quite common and Rose provided a cogent reason why. "I learned a lot from losing and it benefited me the follow week," he said. "As soon as I got back into contention I felt very comfortable and confident that I could put that one away."
So far, so interesting, but he went further: "Obviously sometimes you learn these lessons in contention and that's why guys like Tiger are so good as closing out tournaments because they are there so often, they learn and they have the opportunity to put into practice what they have learned soon after. If you are not in contention that much, you learn something, but it can be six months before you're in with that same chance again, and by the time you get a chance to apply it, it's kind of not fresh in your memory any more."
"He always had the look of a major winner, now he's got one he'll win more"
This is a good one to chuck around on the Monday after a major and there has been no more classic example than Adam Scott whose 2013 Masters success was ordained as the moment he would begin his rightful path to multiple major triumphs.
Whilst there is nothing to stop that eventually happening, no-one who said it expected that six years later he would still be stuck on just the one win. Perhaps the key to the giddiness of those predictions lay in the nature of his Augusta win: the fact he nailed a nasty putt on the 72nd hole and then stood firm in a play-off.
The trouble with this "now he'll win plenty" narrative is that there are only ever four majors a year. It's like football fans and managers who say "we're a Premier League club". To accommodate all the clubs about whom that has been said the Premier League would need about 43 clubs in it. Similarly we'd need at least nine majors a year to fulfil all the rashly predicted win totals. What's more, no-one sheepishly admits they got it wrong about the likes of Scott, instead the narrative suggests it's his fault for not kicking-on as we insisted was inevitable.
"When it counted he stood up and took the chance"
If the man who stumbles on the back nine is noted, so too is the man who grasps his opportunity. But do we overplay the significance?
Who wasn't impressed when Danny Willett, standing on the 16th tee at Augusta in 2017 and suddenly aware that the Committee were asking questions of his jacket size, stuffed his tee shot close? Who didn't watch his playing partner Lee Westwood hit a bit of a faffy effort minutes later and draw grand conclusions?
Jack Nicklaus was with us. "What impressed me so much," he wrote a day later, "is that when he realized he was in a position to win, he finished it—and that's the mark of a champion."
Golf is complicated. There are many reasons Willett did not win for another two and a half years, but this is the point: the person who might, in the future, be put off backing Rickie Fowler due to the nature of his win in Phoenix would almost certainly have drawn the completely opposite opinion of Willett – and yet it didn't work out like that. And if you feel Willett's case is compromised by other issues, think of Thomas Pieters who won under the cosh to force Ryder Cup selection, was brilliant at Hazeltine and so was swiftly garlanded with expectations of wins that have simply not followed. Again, it would always be Pieters' fault for not achieving, rather than our fault for getting carried away. Perhaps an apparently confident performance is not as straightforward as we like to imagine?
Conclusion?
Nothing concrete. Merely enough to acknowledge that drawing conclusions is dangerous and we should remember as much.