Golf365 exclusive: Mark Lichtenhein and Niall Horan discuss the future of women's professional golf in Europe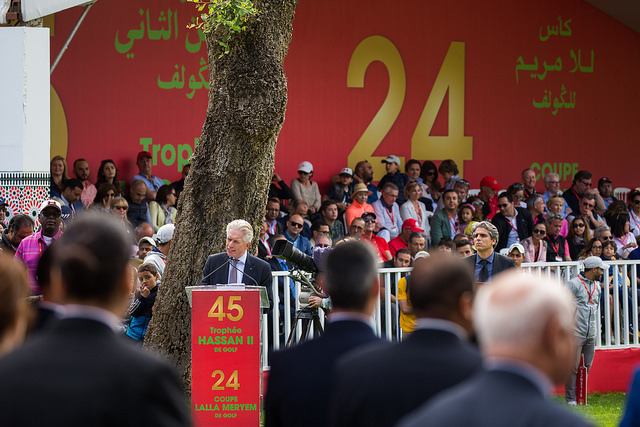 In the classic 1942 film Casablanca resistance fighter Victor Laszlo stands to sing 'La Marseillaise', imploring his fellow citizens to join him and drown out the boorish efforts of their Nazi foes.
It is one of the great moments in cinema and, fictionally at least, it took place a few miles from Royal Golf Dar Es Salam, site of last week's Lalla Meryem Cup and Trophee Hassan II.
What finer location for the Ladies European Tour to start fighting back? Where better for a cry to the wider European golfing scene to stand with it?
That the circuit has struggled in recent years has been established. What is now needed is hope for the future and unity to turn that promise into something substantial.
If it is imperative to be clear-eyed about a situation, to progress it is important to take a step to the side, alter perspective and seek promise.
For example, there is no doubt that women's sport has reached unprecedented levels of media coverage in the last 18 months. England won the Cricket World Cup in front of a packed Lord's, the Rugby World Cup final was broadcast live on a Saturday night, football continues to thrive.
It is also without question that golf has somehow missed this boat. Georgia Hall contended two majors last summer – how did that not feed into that narrative of thrilling British women's sport success?!?!
The flipside to this disappointment is to see the opportunity; to find a way for golf to be a part of it and flourish.
Moody skies as @georgiahall96 makes her way home in R2 of the @RICOHWomensBrit. 9-under and flying high. pic.twitter.com/eyrBsWnrFW

— Matt Cooper (@MattCooperGolf) August 4, 2017
Speaking exclusively to Golf365 last week in Rabat, Ladies European Tour Chairman Mark Lichtenhein was enthusiastic about golf's future within this zeitgeist.
"There's a fantastic tailwind behind women's sport right now, more so than ever before," he said. "It's very important, especially after Olympic participation, that we establish golf as part of that mainstream."
This season there will be an unprecedented four collaborations between men's and women's events. The Moroccan example was the trendsetter and the Oates Vic Open has taken up the baton.
"It's a real template for what can be achieved working together," said Lichtenhein. "We had over 10,000 spectators on the final day with families watching alternate groups. It was striking was how natural it was.
"The format is something we're talking with the European Tour about and hoping to replicate in Europe. We've a couple of projects for 2019 based on variants of it.
For context:

The Oates Vic Open is the ONLY tournament of its kind in the world. The Men's & women's fields compete on the same courses, at the same time, for an equal share of the prize money.

Combined purse of AUD$1.3 million- each competing for a share of AUD $650K https://t.co/Mq54r4JClw

— The Jazzy Golfer (@thejazzygolfer) January 29, 2018
"But we also need to plough our own furrow. We must also differentiate women's sport from men's, and not allow it to become us following exactly what men do. Women's sport is different and the reasons women play sport is different."
The sparsity of the LET schedule has been a worry in the last two seasons.
"We said last year, when the board took over responsibility for the Tour, that there was very little in the pipeline," said Lichtenhein. "We worked very hard with the Australian and South African Tours to build the foundations of a winter schedule.
"I think we did a pretty good job with that southern hemisphere swing and we're looking to build on it next year. The back end of the year, from July to the end of the year is actually not too bad.
"The real challenge is from now until July when we should be playing in northern Europe, where we've lost that confidence we need to rebuild, particularly in the Nordic countries which, ironically, produces 50% of our new talent.
"Our peak year held 28 events pre-financial crisis and we're looking to build back at two to three events per year.
"There is a structural challenge in Europe. Plenty of evidence shows that in America equal funding for men's and women's sport has helped enormously. Australians and South Africans have done something similar, saying that if public money is available it must be equal. In Europe we've not had that, surprisingly perhaps.
"It's a real potential area of growth for European policy making in the next few years and remember the Oates Vic Open is primarily driven by the government so is an example of what can be done."
When news of the LETs struggles hit the press last summer an approach to assist was made by the LPGA and European Tours. Lichtenhein explained: "The board told the LPGA that we couldn't accept the current offer that was on the table."
Does that reflect faith in what has been achieved since last August?
"Obviously the board is encouraged by the steps we've been able to make, although there is still a lot of work to be done. The girls value their independence, their ownership of the company and control of their own destiny, and I think it's not something they're willing to give up.
"But it's not as if we're not already partners with the LPGA, we also work very closely with the European Tour and have those discussions in place for projects next year. We're very open to collaboration but ultimately the terms of this offer were not ones we felt able to recommend to the membership."
So excited to team up with @georgiahall96 at #GolfSixes in May! Hopefully see everyone there 👊🏻🏴󠁧󠁢󠁥󠁮󠁧󠁿 https://t.co/UendOiFT1K

— Charley Hull✌️ (@HullCharley) February 27, 2018

If it is one thing for those inside the Tour to talk a good game, that others from outside also see potential has to be encouraging.
Solo artist and former One Direction member Niall Horan has a passion for the game that has expanded into management of players and tournaments at Modest! Golf and in a Golf Channel interview he expressed his love of the women's game.
His partner Mark McDonnell played in the Lalla Meryem Cup Pro-am last week and told Golf365: "From our perspective we see real opportunities in the ladies game. We've seen huge growth in women's football, there are increasing numbers of girls playing all sport and we've seen lots of interaction on our social media channels. Golf is a genuine part of that.
"In the next 24 months we're looking to develop our position, sign a couple of players and there is potential involvement in an event. We're excited about the future and have two big announcements in the summer."
Horan himself added: "The talent coming through in ladies golf is getting stronger and stronger and it's up to all the key stakeholders in golf to do what they can to help get ladies golf back in the spotlight."
"We at Modest! Golf very much plan to do our bit and help ensure we help support more young girls get into golf."
At the end of Casablanca Victor Lazslo escapes to fight the good fight. His girlfriend Ilsa has her doubts about joining him, but Rick (Humphrey Bogart) insists that she does so.
"If you're not with him," Rick tells her, "you'll regret it."
If European women's golf doesn't find a way of riding the wave of women's sport it will surely regret it – and if European golf doesn't stand with its women touring professionals it, too, might have something to repent.