Golf365 Analysis: Can Tiger Woods win the Masters? What the stats say…
We talk to Fantasymetrics to try and get a deeper read on whether Tiger Woods is in good enough statistical shape to win next week's US Masters.
Can Tiger win the US Masters? It's a straightforward question and the knee-jerk response would be "of course he can". After all, he's won it four times and looks right on track for another Green Jacket bid after finishing runner-up at the Valspar Championship and tied fifth in the Honda Classic on his last two starts.
Woods is healthy again, some of the magic is still there and an amazing comeback story is waiting to be written.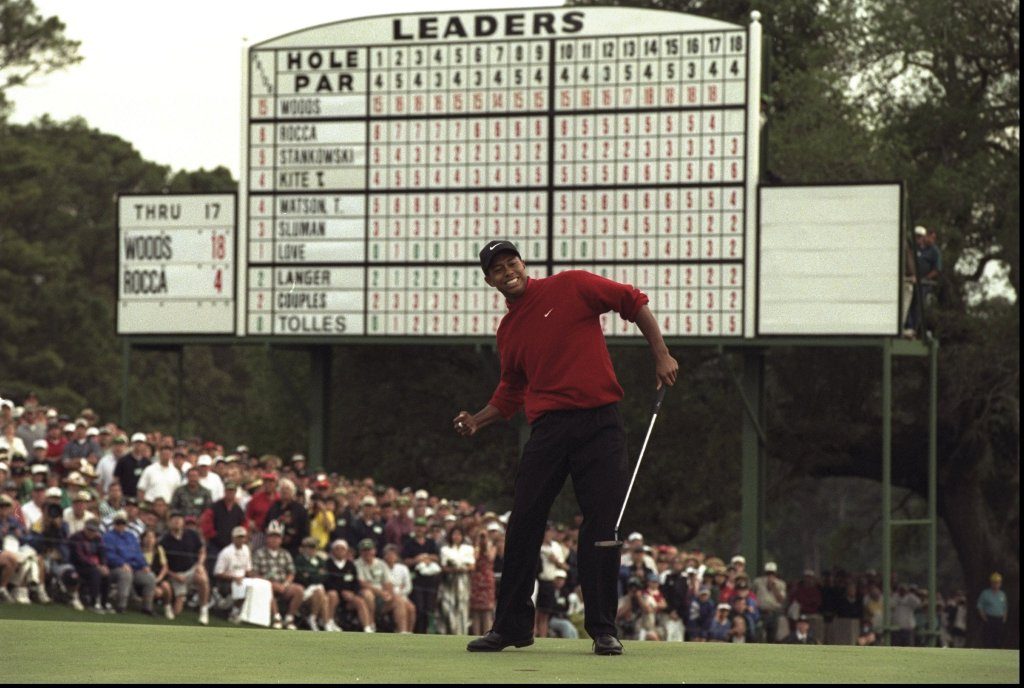 But are the ingredients that have helped Woods bounce back in style ideal for creating a recipe for success at Augusta National in 2018?
To help answer the question, Golf365 spoke to Stephen Richter of FantasyGolfMetrics to drill down further into Woods' latest numbers and past Augusta stats to see if can serve up a fifth Masters and first major title since 2008.
Golf365: Hi Stephen. In an earlier chat you identified some key metrics for success at Augusta National – Greens in Regulation, Scrambling, Putts per Round, 3-Putt Avoidance and Par 5 Performance. From the spreadsheet you've sent, when Tiger last played the Masters in 2015 he hit 63% of GIR, was 57.7% for Scrambling, averaged 28.5 Putts Per Round, 97.2% in 3-Putt Avoidance and -0.75 for Par 5s. A first question, does -0.75 equate to him being 12-under for the 16 par 5s and, if so, I guess that shows he can really cash in on those long holes at 2, 8, 13 and 15?
SR: That's exactly what it means David. It's no surprise that the Par 5s at Augusta are scoring holes and if you can't get it done there then it's likely you're not getting it done at all. Using our Course Snapshot data tool you can see that the average winner at Augusta is approximately 8-under for the week on the Par 5s compared to barely under par for the Par 3s and around 2-under on the Par 4s.
Golf365: 3-Putt Avoidance seems a not very sexy stat but Tiger famously didn't three-putt when he won the 1997 Masters. Interestingly, Woods has 97.2% Three-Putt Avoidance in the last three Masters he's contested (2015, 2013, 2012) so he clearly has great feeling on these super-slick greens.
SR: This has always been one of his most outstanding traits, hearing about incredible streaks of not missing within 3 and 4 feet for entire seasons back in the day. Let's be honest, there's little room for error at Augusta and when you hit a Green in Regulation you can't allow that to be a spot you lose a stroke. Again, according to our Course Snapshot the average winner at Augusta has a three-putt avoidance rate of 96.65%. Now that's actually worse than the average Tour winner (97.22%) but when you look at rData – last time we spoke we defined rData as statistics relative to the field – the average winner at Augusta avoids a 3 Putt 1.87% more than the field compared to only 1.11% for the average Tour event.
Golf365: An obvious follow-up question, what do the stats say about his current putting performance? Has it been key in his big results at the Valspar and Honda?
SR: Absolutely, it has definitely been a strong point for him. Over the past 12 weeks on Tour, Tiger ranks 6th in the Masters field in Strokes Gained Putting and no worse than 20th in any of the distance make percentage categories (ie: <5 Feet, 5-10 Feet, 10-15 Feet, etc)
Golf365: At the Valspar Championship when asked about Augusta National in 2018, Woods replied: "I think they've resurfaced some greens here and there so I'll take a look at those and see if those breaks match my book and I'll get used to playing on bent. I haven't putted on bent in literally years. That's going to be a little bit different." Does that worry you and can you tell us how well Tiger has performed on Bentgrass greens in the past – both at Augusta and overall?
SR: It doesn't worry me at all to be honest. By taking a quick look at our Turf Splits Analyzer we can see that Tiger ranks 4th in the Masters field when comparing careers and actually has a positive variance of .483 Strokes Gained on Bentgrass compared to all other turfs. His measure of 97.2% three-putt avoidance in his last three starts at Augusta that you mentioned is actually an uptick compared to where he has been over the last decade.
Golf365: Five of the last eight Masters winners hit between 73.6 and 76.4% of GIR for the week and the last 10 have averaged at least 66.7%. Do Tiger's current greens in regulation numbers put him in that ball-park?
SR: Unfortunately, this is a spot where Tiger is lacking, but there is a silver lining. In the five events he's played this year our StatSearcher tool is showing he's hit only 59.72% of the greens. However, if you want to consider the Genesis Open an outlier (44.4%) then he has averaged 65.3% his last three starts so he's certainly headed in the right direction.
Golf365: Looking at Scrambling figures of past Masters winners, only Bubba in 2012 averaged less than 63.6%. When looking at Fantasygolfmetrics.com it seems a big reason for Sergio's success was that he improved previous mediocre Scrambling numbers to 66.7% when winning in 2017. Some thought Tiger had the chipping yips for a while but he's now looking sharp again. Do the current numbers back that up?
SR: It certainly does appear he's right where he needs to be. Again, if you remove the poor performance at Riviera, Tiger has gone 66.7%, 70.8%, and 70.4% scrambling in his last three starts. The average winner at Augusta scrambles at 70.09% so that's also in line with where he's been.
Golf365: Tiger is only 96th in Par 5 Average this season. Is that good enough for The Masters or do you put more weight on his past performances on those specific holes (2, 8, 13 and 15) at Augusta National?
SR: I think it's definitely something to consider when handicapping his chances. However, all of these Par 5s are reachable in two and that's not nearly as common at regular Tour events. Coincidentally (or maybe not), his best Par 5 performance of the year came at Bay Hill where each of those 4 Par 5s can be reachable in two.
Golf365: On your player-profile page, is there anything else that might point us towards Tiger playing well at Augusta National?
SR: I'd love to say there's one specific stat there that hasn't been covered by digging into some of our other data tools but everything points to him at least contending at Augusta. If you just compare his "Key Stat Performance" for both Recent Form and Course History you'll see he has as good a shot as anyone in playing well.
Golf365: So far, we've only talked about the basic stats (GIR, Scrambling etc). It's a broader question perhaps but are the Strokes Gained stats saying anything different and do you give greater credence to those? Would using current Strokes Gained stats against Tiger's previous 'regular' GIR, Scrambling stats at Augusta be like comparing apples and pears?
SR: No I definitely think you want to consider those stats more so than the basic "antiquated" stats we've always used. The closest parallel you want to draw are SG-Approach and GIR%. It's not often that a player performing well in SG-Approach has a poor GIR% so we'll be using it in our model for next week. Tiger is actually performing slightly better in the Strokes Gained categories (specifically Approach vs GIR%) than the other basic metrics. I'm sure you knew I couldn't avoid bringing it up, but his Secret Stat (rData) ranking is 13th in the Masters field since the Honda Classic so we definitely have some confidence there.
Golf365: In terms of ownership, will Tiger be off the charts and does he represent a poor-value fantasy investment?
SR: I wouldn't say it will be off the charts (keep in mind, Spieth was only 30% owned when he won in 2015). I think we'll see Tiger in this range but not much more personally. This year is the best year I can remember in terms of players at the top of their game with a chance to win and that should help spread ownership around.
Golf365: Same question with betting. Are his odds (10/1) way too short?
SR: Frankly? Yes. But that's something the betting public always seems to misconstrue. Bookmakers have no interest in being "correct" with their predictions in terms of price to performance. Their goal is to have all the money spread evenly across all bets so that the only thing remaining is the vig/rake. In my mind Tiger is probably more like a 20-25/1 at this point but the amount of money coming in on him is so large it's suppressing the price. He should be one of the favourites, but not THE favourite.
Golf365: Final question, if not Tiger, whose stats (both course and current) suggest they're going to have a big week at Augusta National this year?
SR: I've been putting this out there a bit and it's part data driven but part hunch driven. I think Rickie Fowler has a great chance to contend this year. His Secret Stat (heading into the Houston Open) is 1st in that field and has been trending up for weeks. His putting has been way below his baseline but it has bottomed out and that means the only place to go from there is up. Assuming he gains some confidence with the flat stick heading into the Masters I think he goes under the radar.