FEATURE: Rory McIlroy's story of the season in ten rounds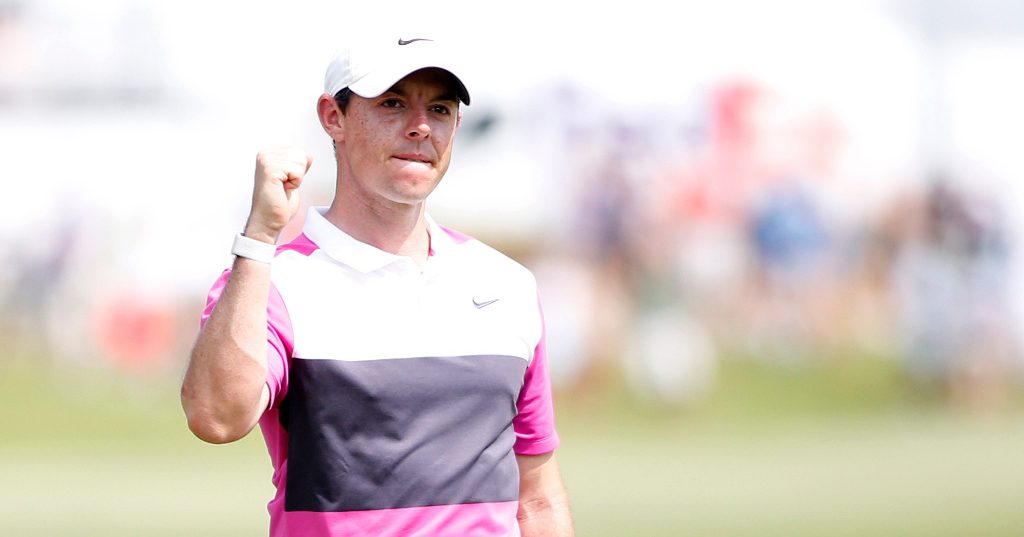 Matt Cooper takes a close look at the performances of world number two Rory McIlroy and picks out the ten rounds which defined his 2019 season on the PGA and European Tours.
"I'll look back at 2019 very fondly," the Northern Irishman said after completing his schedule last week in Dubai. "Probably some of my most consistent golf with four wins and 19 top tens. It's been a learning year, as well. But I'll try not to touch my clubs for rest of the year."
Let's take a closer look at the world number two's performances and picks out the ten rounds which defined his 2019 season on the PGA and European Tours.
63 in the second round of the Genesis Open in February
After opening the season with fourth in the Tournament of Champions, McIlroy was fifth in the Farmers Insurance Open, but only after recovering from a first round 71 that had left him T71st. That was a little excusable because he started on the tougher of the two courses used, but when he opened with 72 at Riviera he languished in a tie for 100th, the first sign of a theme of the year (slow starts). His response (as it typically would be) was electric. A second circuit of 63 lifted him into a tie for eighth.
63 in round one of the WGC Mexico Championship
Nothing stuck-in-the-mud about this start. Instead a second 63 in five rounds to claim the first round lead. "It's probably been 18 months since I've felt this good with the game," he said. In terms of adjusted scores (i.e. relative to the field average), this was his best effort of the year, but the win refused to come as he ended Friday in second and was stuck there for the rest of the week.
65 in round two of the Players Championship
The week before he had burst into second place during round three at the Palmer Invitational and yet again the win wouldn't come. But he opened with a 67 at Sawgrass and added this 65 which earned him a share of the lead. A pair of 70s at the weekend claimed the win. "I'm proud of myself," he said after lifting the trophy. "I needed to show a lot of character and the experiences in the last few weeks, not getting over the line, definitely helped today."
61 to win the Canadian Open
Between Sawgrass and Hamilton there was little but a stern test of his new-found admiration for stoicism. Opening scores of 73 and 72 in the Masters and PGA Championship left him outside the top 40 both times and playing catch up. He was never inside the top 20 at the Wells Fargo and missed the cut at the Memorial. However, a Saturday 64 got him a share of the lead in Canada and this blistering 61 gave him a seven-shot win. "By the 14th tee I wasn't really thinking of winning the tournament," he said afterwards. "I was trying to shoot 59."
65 in the second round at the Open
There was something operatic about Thursday at Royal Portrush. Northern Ireland had waited over 50 years for another Open, it had seen three players fuel the return, one of them was the young prodigy whose golfing life had been played out in the spotlight ever since he hit balls on TV as a toddler and went on to set the course record at Portrush. The sight of him lifting the Claret Jug was destined, surely? Cue Maria Callas. Only she could soundtrack the hapless hack off the first tee that set in motion a horrible first round of 79 which left him T150th. Friday? Marias warmed up the lungs and throat on the front nine and hit the high notes on the back. It was pure Rory. Three parts nonchalant brilliance, one part clumsy mistakes. At the last hole, amid fevered scenes, he needed a chip-in to make the cut. He missed, but gained a new perspective. "It's been an eye-opener for me," he said. "Sometimes you're so far away and you forget about all the people that are cheering you on back home. It definitely hit me like a tonne of bricks today."
"This was a week that I'd been looking forward to for a long time." 😪

An emotional Rory McIlroy speaks to Sky Sports after seemingly missing the cut at #TheOpen, despite shooting a second-round 65 at Royal Portrush. ⛳

Watch The Open Verdict live on Sky Sports The Open now! pic.twitter.com/xfszO4Do7h

— Sky Sports Golf (@SkySportsGolf) July 19, 2019
62 in round three of the WGC St Jude Invitational
"The great thing about golf," he said after this effort, a week after the Open, "it provides opportunities all the time. You miss a cut, you get back on the horse. Not a lot of sports have that luxury." He took a one-shot lead into the final round, but was humbled on Sunday by playing partner Brooks Koepka. It was a round that would resonate nonetheless.
66 final round to win the Tour Championship
Deja vu. Almost. Again he would play Sunday with Koepka, but this time he trailed by one. Double deja vu. A year earlier he played the final round with the eventual winner Tiger Woods. This time he carved a superb 66 to win by three. "I didn't play well at all last year with Tiger in that final group," he said later. "I played terribly. I never took the fight to him. I thought a lot about that. And once I saw I was in the final group with Brooks, it just took me back to Memphis a few weeks ago. It gave me that little bit of extra, not motivation, but I wanted to right some of the wrongs. It was a good opportunity."
Third round 65 at the BMW PGA Championship
There was a time when it looked as if McIlroy would not be playing at Wentworth this year, when hinting that he wouldn't be playing anywhere in Europe after the end of August. When he carded a first round 76 to lie 114th he must have wondered about his decision to backtrack. Given all of that, his response was impressive. A Friday 69 sneaked him into the weekend and on Saturday he motored round in 65 blows on his way to tied ninth.
Third round 67 at the WGC HSBC Champions
The 30-year-old actually opened the tournament with a hat trick of 67s, but it was the third which rated best against the field and it earned him a one-shot 54-hole lead. "I keep saying," he said Saturday evening. "I've been able to take my consistency to another level this season." A fourth 67 would have earned a straightforward win and stayed on-theme. Instead he closed out the win via a Sunday 68 and play-off defeat of defending champion Xander Schauffele.
Opening round of 64 at the DP World Tour Championship
A very good round was made magnificent with what he later called: "The best shot I've hit all year. 291-yard to the pin and I just flushed it." He would add a 65 on Saturday but it was a week of give and take. 74 and 73 on Friday and Sunday saw him finish tied fourth.
Pretty pleased with the way I finished the round today😉 #dptwc pic.twitter.com/cU1kYZtJHt

— Rory McIlroy (@McIlroyRory) November 21, 2019