2017 European Tour review
Matt Cooper looks back on a fantastic year of golf on the European Tour, when new stars emerged, old heroes flourished and formats evolved.
Prologue
The tone for 2017 was actually set in October 2016 when, on the 18th hole of his 80th round of the season Graeme Storm failed to get up-and-down for par and with it failed to retain his card. He was understandably distraught and yet a few weeks later he was handed a reprieve. The Englishman could now enjoy Christmas and New Year, blissfully unaware of what the future held.
January
Rory McIlroy, who spent the holiday period bashing balls on the range sifting through new gear after Nike quit the market, felt a twinge in his back on his seasonal entrance at the South African Open but battled on, blissfully unaware of what the future held.
Despite the tweak, McIlroy impressed and looked all set to win, but then the Storm broke. It turned out that Graeme's renaissance was incomplete: he defeated McIlroy in a play-off.
A week later, Tommy Fleetwood rocked up in Abu Dhabi and, despite having failed to break 72 in ten of his previous 12 laps of the course, carded three 67s to claim a first win in four years. "Been a bit of an upward trend really," he said afterwards, blissfully unaware of what the future held.
February
The Desert Swing ended with Sergio Garcia winning in Dubai. "Being engaged to Angela helps because when I'm comfortable off the course I'm comfortable on it," he said afterwards, blissfully unaware of what the future held.
Golf's digital content arms race turned Accidental Partridge as the PGA Tour filmed a thong-wanging contest (Australians throwing flip-flops). Youth Hostelling with Charley Hoffman next on the agenda.
In Australia the World Super6s Perth became the future of golf. Possibly. Maybe.
March
In a rare, and therefore almost certainly accidental, two fingered salute to Donald Trump, golf transferred a WGC event from one of his courses in Florida to, of all places, Mexico City. "Hope they have kidnapping insurance," said the Petulant of the United States of America.
Dustin Johnson won the tournament and also the WGC's World Match Play which meant he headed to Augusta National as the World No. 1. "The only thing likely to stop him winning a green jacket is doing something stupid like falling down the stairs," thought many, blissfully unaware of what the future held.
The Indian Open was played on a championship length crazy golf course designed by Gary Player. It was not a week in which to wander round the clubhouse jokily chirrupping "the more you practice, the luckier you get" in a South African accent.
April
Dustin Johnson fell down the stairs.
And then, on what would have been Severiano Ballesteros' 60th birthday, Sergio Garcia, trailing playing partner Justin Rose in the final round by two, hooked his tee shot at the 13th into foliage. In the past his demons would have been clawing at him just as the branches and roots now tugged at his clothing.
"When I'm comfortable off the course," he had said in Dubai. "I'm comfortable on it."
He took a penalty drop, hacked out, wedged to six feet, holed for par. Probably the most important par of his life. Exactly 90 minutes later he won the 2017 Masters.
Rory McIlroy and Erica Stoll got married, didn't peddle it to celebrity magazines and didn't make a fuss. Love was in the air. Even Sergio Garcia and Padraig Harrington were joyously reconciled, making it all appear a bit like the closing number of Bugsy Malone (Sergio and Padraig grinning, waving jazz hands, covered in splurge). Everyone said how lovely it was. Except for one man in the Irish Independent who went ape-shit about Rory not flogging some photos.
May
GolfSixes was launched. The potential was there but its natural home is surely Sweden or the Netherlands, where the locals, unlike those in England, would embrace the fun rather than be a bit bad-tempered about it.
In Sicily, Hao Tong Li was mighty close to becoming the first golfer to win a tournament whilst at check-in. Eight shots back after 54 holes he pegged a 66 then boarded the airport shuttle bus. As it prepared to depart he and his luggage were pulled off and he spent the next 20 minutes refreshing his iphone, gasping as the leaders lurched towards the clubhouse like ships crashing into rocks outside the harbour. Ultimately (and wonderfully for fans of the ever-likeable eventual winner Alvaro Quiros) he finished one shot shy of a play-off.
At Wentworth, modern-day home of the catastrophic redesign, the European Tour unveiled a new website, apparently blissfully unaware of what the future held.
June
In this month four years ago, Brooks Koepka, Ben An, Tyrrell Hatton and Dylan Frittelli finished in the top 15 at the Scottish Challenge, little knowing where they would be in 2017: An had a Twitter spat with Grayson Murray, Frittelli claimed his first European Tour title, Hatton was biding his time and Koepka defeated the US Open field by four.
Koepka then offered to fly his brother Chase from a Challenge Tour event in Denmark to Las Vegas for a party. Chase stayed where he was, finished top five and will play on the European Tour in 2018.
It was a strange US Open. The scoring was low and Kevin Na revealed himself an unexpected fan of Dad's Army.
Still enjoying Kevin Na's unlikely Dad's Army closing credits tribute during his US Open video. #They'reDoomedhttps://t.co/kJH75xHYJz pic.twitter.com/LpCqJfIxVa

— Matt Cooper (@MattCooperGolf) June 12, 2017
July
Tommy Fleetwood's first four visits to the Open de France reaped four missed cuts. Deja vu? Not at all. This year? Victoire. The upward trend maintained.
Life moves quickly. In 2008, Chris Wood played The Open with his dad on the bag. This year his own son travelled the fairways, safely tucked in mum Bethany's papoose.
On Friday morning, an 8-year-old boy raced through the streets of Southport, eager to reach Royal Birkdale and begin his search for his hero Beef. Next day a spout-shit-and-stir-it operator on the radio had a pop at Beef, a nasty attack with unnecessary personal remarks. Never, since the days of Lord Haw-Haw, had a radio voice been so out of tune with the prevailing mood. Beef's stock remains high.
Jordan Spieth lifted the Claret Jug and Hao Tong Li enjoyed yet more final round adventures. A month earlier he'd carded an 84 on the last day of the US Open, a final lap 63 at Royal Birkdale claimed solo third.
August
Justin Thomas, who had already shot 59 in a regular event, 63 in a major and played The Open in a tie and cardigan, won the PGA Championship, inspiring the greatest tweet of the year (don't miss the hat tip at the end):
Justin Thomas loves the drama #PGAChamp pic.twitter.com/y86F9sgOUc

— Jimmy Donofrio (@JimmyDonofrio) August 13, 2017
September
Tyrrell Hatton led the European Masters after 18 holes and the British Masters after 36. He won neither. Throughout the weekend of the latter he stomped around Close House, staring furiously at the greens like a toddler who couldn't get his train track to work, blissfully unaware of what the future held.
October
Ross Fisher shot a final round 61 in the Dunhill Links Championship and a week later pegged a last lap 63 in the Italian Open. On both occassions he finished second … and both times behind Tyrrell Hatton.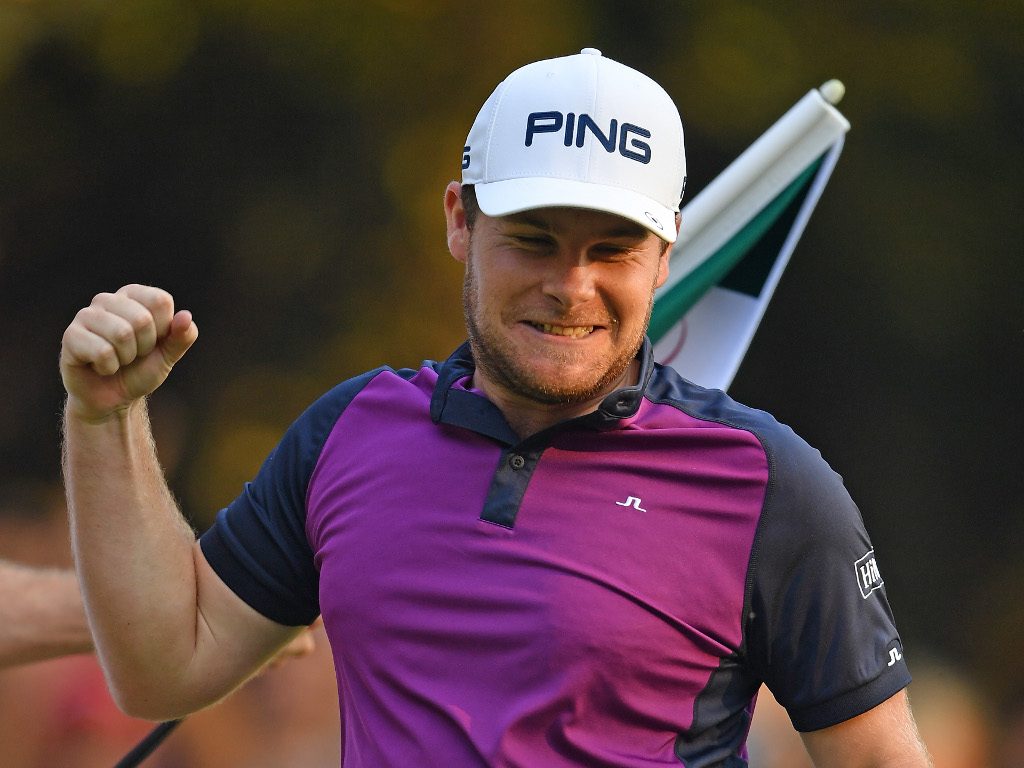 At St Andrews Rory McIlroy closed down a win-less season, one which never recovered from the twinge in his back. He vowed to recuperate, recover and return a stronger force in the majors.
In the final tournament of the regular season, the Andalucia Masters, Wade Ormsby needed an exceptional week to retain his card. His only course experience at Valderrama? 78-80 to miss the cut. He banished the bad memories to finish top five, blissfully unaware of what the future held.
With 11 holes of the WGC-HSBC Champions to play Justin trailed Dustin by eight shots; two hours later Rose had defeated Johnson by two.
November
Rose continued to bloom, this time overcoming a 36-hole nine-shot deficit to win the Turkish Airlines Open. Suddenly the Race to Dubai had been blown wide open.
But ultimately, he was too late and exactly six years after graduating from the Challenge Tour as No. 1, Tommy Fleetwood claimed the Race to Dubai. That very weekend Andrea Pavan, the man he pipped to 2011 second tier success, was starting his journey at Q School, a turbulent passage that would eventually reap a card for 2018.
He was not the only one with reason to think back six years. In 2011, Alvaro Quiros won the DP World Tour Championship. This November? Also back at Q School, not chasing a card, but doing a friend a favour, carrying the bag of Gonzalo Fernandez-Castano.
Jon Rahm won the DP World Tour Championship, adding it to victory in the Irish Open, third in the Mexico Championship and runner-up in the World Match Play. Justifiably adding his name to that of Ricardo Santos and Olivier Edmond as Rookie of the Year? Meh, maybe. There was a strange debate about it.
The very next week the year ended much as it started. Just weeks after playing Valderrama on a knife edge Wade Ormsby kicked off the 2018 season with victory in the Hong Kong Open. Tour golf's capacity to create stories that recur and reverberate, like echoes down a canyon, confirmed yet again by a year in which no-one ever quite knew what the future held.