Serene Sharma sails to five-shot Joburg lead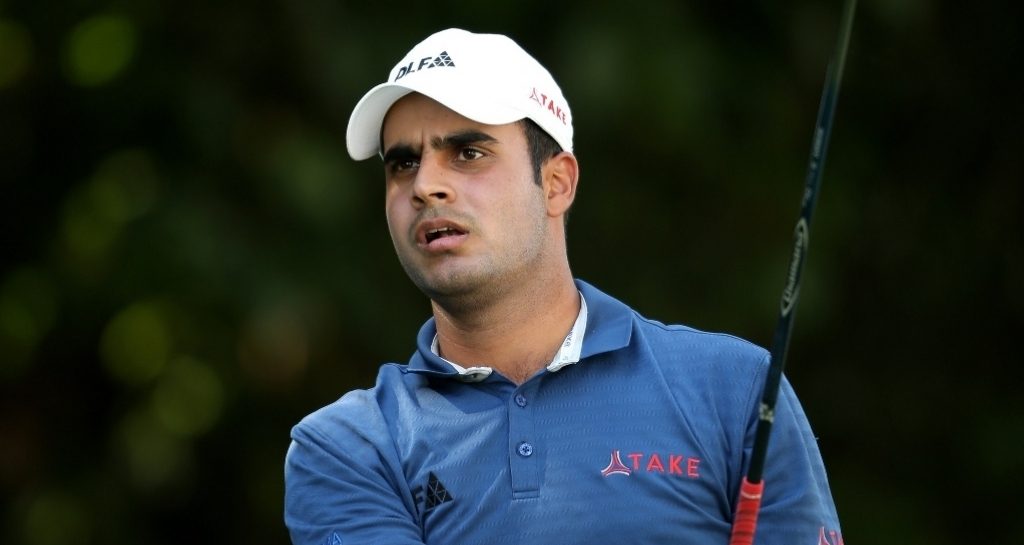 It was as clinical a display as has been seen in the Joburg Open as India's Shubankar Sharma eased his way clear of the chasing pack in the third round on Saturday to take a yawning five-stroke lead into the final round.
The 21-year-old Asian Tour player fired a bogey-free seven-under-par 65 on the Firethorn course at Randpark Golf Club, moving to 20-under-par for the tournament.
Swede Christoffer Blomstrand's brilliant birthday 10-under 62 was only good enough to leave him well adrift. South Africa's Erik van Rooyen shared third with England's James Morrison on 14-under, a further shot back.
"I'm really happy," said Sharma. "I was really pleased with my green-reading, and I hit it pretty close and got off to a very good start. That's very important if you want to shoot low numbers. All in all, my putting's been really good and I hope it keeps going like this."
In good company.

Sharma is 20 under through 54 holes. The last man to do that?@McIlroyRory at the 2015 ODDC (138 events ago). pic.twitter.com/IvBnFhoVLM

— The European Tour (@EuropeanTour) December 9, 2017
It was Sharma's second bogey-free round after his pyrotechnics on Bushwillow at Randpark in the second round, where he carded a brilliant 10-under-par 61 for the lowest round of his rapidly burgeoning career.
He started the third round sedately enough, making a par on the first, but he made his intentions clear with a run of four consecutive birdies after that. Three more birdies – on nine, 13 and 14 – saw the rest of the field rapidly becoming mere specks in his rear-view mirrors.
Finishing off a fine round with a fine sand save…

Impressive stuff @shubhankargolf 👏 pic.twitter.com/sRKbS4d7qd

— The European Tour (@EuropeanTour) December 9, 2017
Blomstrand's 62 was characterised by two eagles, two bogeys and eight birdies. He won the 2016 Zambia Sugar Open on the Sunshine Tour with a closing nine-under-par 63, so he has a propensity for going low.
"It's a really nice birthday present!" he said. "I was really happy with my putter. I was hitting quite good shots in the beginning of my round, and then I holed them as well. It was a good start and I just tried to keep going from there."
Van Rooyen started shakily, bogeying the first and the third, but limiting the damage by making birdie on two. He picked up three more shots on nine, 12 and 15, but he was unlucky not to pick up more with long putts on 10, 11 and 16 going agonisingly close to going in.
"It was a tough day in the wind and I got off to a really poor start," said Van Rooyen. "I had to knuckle down and not let the round slip away from me. I'm pleased I had no bogeys after the third. My two-under could easily have been six or seven if some putts had dropped."
Van Rooyen – and the rest – are going need the putts to drop if they're to chase down Sharma, who is up for the challenge. "I want to stay within myself and play against my course," he said. I have a good lead but you saw some low scores today. Anyone can shoot a seven- or eight-under-par. I need to stay calm and hit the right shots.
"I don't want to change my strategy because I've played solid golf. There's nothing much to change. You can't play it safe because everything is in front of you. I'm going to be aggressive and won't hit any stupid shots."