Stand aside ladies… here come the girls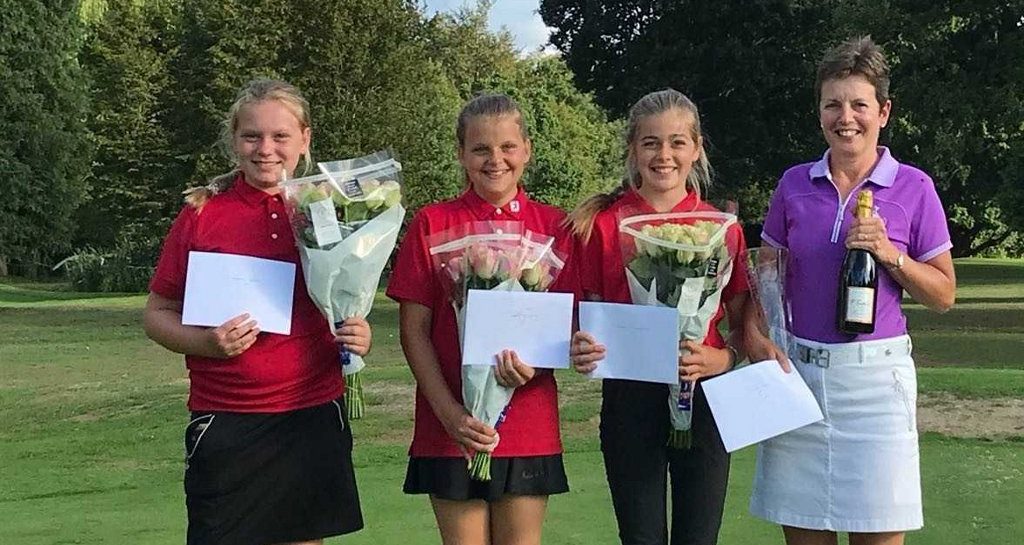 A trio of Stoke Park juniors stunned their elders by winning the team title at the English Women's Par 3 Championship, at Ampfield Golf Club, in Hampshire.
The winning team of 13-handicapper Rachel Mackinlay, aged 12, Jessica Pilgrim, who has a 10 handicap, and 11-year-old Fraya Shiell, who plays off 20, are all part of Stoke Park's hugely successful scholars' programme. Additionally, 13-year-old Pilgrim is a Young Ambassador for England Golf and the Golf Foundation.
Pilgrim's father, Rupert, said: "We knew all three girls would have to play well for them to have a chance at the team prize and that would mean them staying calm and focused for the whole 18 holes.
"Ampfield is a difficult test due to the large number of dense trees that have to be avoided, and the greenside bunkers and water, which catch out any wayward shots.
"The girls didn't start well, with bogeys and double bogeys, but after three poor holes Jessica decided to get the others to relax and talk about the animals around and on the course – and anything else that would take their mind off the pressure.
"At one point a lady took out the flagstick and a duck walked up and stuck its head in the hole. They all relaxed, settled down and found a rhythm, and they started hitting in pars and a birdie.
"The nicest moment of the day came on the 16th hole, where all the competitors who had finished watched Fraya, then Rachel, then Jessica, hit their balls on to the green. A large warm round of applause was heard after each shot and the competing ladies were so very supportive. That is why women's golf is so special."
Indeed, their performance caught the eye of the day's individual victor, Susie Cave, from Blackmoor GC, in Hampshire, who scored a level-par 54 to win the title by a shot, from Mackinlay, who finished tied for second.
She said: "It was just brilliant to see this group of young girls, the future of golf, coming through and winning something. They were in front of us all the way round and they were inspiring to watch."
In the singles' event, Shiell was two-over par to tie for fourth, while Pilgrim was a shot further back, tied seventh.
Voted the number one golf resort in England, in the inaugural Golf World 'Top 100 Resorts in UK & Ireland' ranking in 2017, the historic Stoke Park – one of just two five-AA Red Star golf clubs in England – boasts 27 Harry Colt-designed holes, a thriving golf club with around 850 members and is the European headquarters of the Leadbetter Golf Academy.
Set within 300 acres of mid-19th century Lancelot 'Capability' Brown-landscaped parkland, in Stoke Poges, Bucks, Stoke Park is only 35 minutes from London and seven miles from Heathrow Airport. The historic land on which it stands is recorded in the Domesday Book of 1086 and the celebrated course played host to the PGA Matchplay in 1910 and, even more famously, the golf match between Sean Connery's James Bond and Auric Goldfinger, in the 1964 film, Goldfinger.