Club Med Magna Marbella: The Ultimate Base for Exploring the Costa del Golf
It comes as no surprise that Marbella is known as the golfing capital of Spain – with around 70 championship courses within 100 sq kms, golfers really are spoilt for choice.
Throw into the mix the newly-opened Club Med Magna Marbella, situated at the foot of the majestic Sierra Blanca mountains, just a stone's throw from Marbella's bustling centre, and you have the perfect haven for golfing enthusiasts and luxury seekers alike. 
Visitors to Club Med can take advantage of a fantastic range of facilities to enhance their golfing experience, including: 
On-site driving range

Chipping and putting practice areas 

Golf concierge services with dedicated lockers for equipment storage

Complimentary group lessons

Private lessons with the on-site PGA Pros

Convenient transfers to over 30 prestigious golf courses in the vicinity.
In addition to Golf, Club Med is renowned for its exceptional customer care and all-inclusive experiences. Every moment is tailored to your satisfaction, including gourmet restaurants, entertainment for all ages, and an array of complementary activities to keep you active and entertained.
Golf365 Visit
We had the privilege of experiencing Club Med Magna Marbella for three nights in May 2023. Upon our arrival, we were greeted by Yousef, who acquainted us with the resort's amenities and provided some much-needed refreshments whilst our room was being prepared.
First up on our schedule was to meet with the Golf Concierge, namely Frank Schott and his team of professionals from Golf Premium Infinity (GPI), who oversee the golfing facilities at Club Med Magna Marbella. 
We were welcomed by Frank and Ryane, who introduced us to the extensive range of tailored packages offered by GPI and Club Med, along with the golf courses that can be accessed directly from the resort (Chauffeur included!). During our stay, we opted to play Santa Clara and the renowned Flamingos course at Villa Padierna.
Following our informative session, Frank guided us to the resort's driving range – a fantastic amenity to be included within the hotel grounds. Upon arrival, we were fortunate enough to catch Adrien from GPI conducting a group lesson, a daily complimentary offering available to Club Med guests. Additionally, private lessons catered to individuals or small groups (1-4 people) are available starting at €90 per hour.
Excited by our tour of the resort's driving range, practice bunker and putting green, we reserved a private lesson for the following morning to prepare ourselves for our round at Santa Clara scheduled later that day.
With our golfing itinerary sorted, we retreated to the hotel to enjoy some of Club Med's award-winning hospitality.
That evening we dined at Suenos, the resort's main on-site restaurant. With its inviting and laid-back atmosphere you have the option to sit out on the terrace and enjoy the sea view or relax in the comfortable air-conditioned dining rooms. You have an unlimited choice of international cuisine or local delicacies and can watch the chefs prepare gourmet dishes in front of you. 
The resort's knowledgeable wine experts were on-hand to assist us in choosing the perfect wine to complement our meal. After enjoying several courses, we retired to our room, ready to unwind and get some rest before the full day of golf we had ahead.
The following morning we headed up to the driving range for our private lesson. To our surprise, Frank had arranged for 14-time Ladies European Tour winner Gwladys Nocera to join us and provide tuition alongside GPI's resident pro, Remy. After a warm up and some initial swing analysis, the pair took us through a range of tips, video analysis and practical advice for the course to improve our swing and ball-striking technique. 
Feeling ready for our round after a morning of expert tuition, we filled up at lunch on the Suenos' terrace before heading up to reception to catch our private transfer to Santa Clara.
Santa Clara Golf Marbella
Santa Clara is one of Marbella's most centrally-located courses. Just 10 minutes drive from Club Med, it offers both beauty and convenience. Set amid a backdrop of scenic Mediterranean views, this wonderfully maintained course offers a challenge to players of all levels.
Highlights from the front 9 include the sweeping right to left Hole 2, where one of us (naming no names!) tried and failed an audacious Tiger Line from the tee… and Hole 8, a 500m downhill doglegged Par 5 with stunning sea views as we made our way down the fairway. 
The back 9 proved just as much fun with Hole 17 being our pick of the bunch – possibly because we both hit our best drives of the day before pitching up onto the stunning hilltop green, which offered panoramic views of the course and surrounding mountains. 
After a quick post-round beer in the atmospheric clubhouse, our transfer had arrived to take us back to Club Med. All-in-all, Santa Clara offered a relaxed and highly enjoyable experience, conveniently located close to the centre, and we would highly recommend a visit.
| | |
| --- | --- |
| Course | Santa Clara Golf Marbella |
| Par | 71 |
| Length  | 5,878m |
| Designed by  | Enrique Canales Busquets |
| Opened | 2001 |
| Greens fee | €120 |
| Golf365 Rating | 7.8/10 |

For more information and bookings visit: https://santaclaragolfmarbella.com/en/
After a quick change, we headed downstairs for our evening reservation at The Tierra Gourmet Lounge. This onsite restaurant offers guests something a little different to Suenos, with an à la carte menu that is updated daily, live music and an extensive wine cellar.
Later that evening, we took the short taxi journey into Puerto Buenos; renowned for its affluence and bustling nightlife; it was something we were keen to check out whilst in the area. 
Surrounded by luxury yachts and performance cars we could only dream of, we enjoyed a couple of drinks on the waterfront. As the evening progressed, and with our day of golf behind us, we made our way back to Club Med, ready to embrace a well-deserved rest.
Villa Padierna
The following day we had the pleasure of playing the Flamingos course at the magnificent Villa Padierna; a prestigious hotel and residential estate situated on the outskirts of Marbella. 
Flamingos was the first of three courses to open at the resort in 2001. It is accompanied by Tremores, a compact yet challenging course, and the formidable Alferini, known for its length and difficulty. Together, they offer something for golfers of all skill levels and experience. 
We were accompanied for our round by Golf Premium Infinity's Luc Ching to provide expert tuition as we played; another fantastic service offered by Club Med and the team at GPI.
The estate offers a truly premium golfing experience, from the magnificent clubhouse and well-manicured courses to the beautiful water features and state-of-the-art buggies, Villa Padierna is a sight to behold. 
Despite being easier than its 18-hole counterpart Alferini, Flamingos still offers a fantastic challenge with some tricker holes nicely balanced with more forgiving Par 4s and wide fairways. We found it perfect for our mid to high handicaps, where lower handicappers would likely be more suited to Alferini.
| | |
| --- | --- |
| Course | Villa Padierna (Flamingos) |
| Par | 71 |
| Length  | 5,714m |
| Designed by  | Antonio García |
| Opened | 2001 |
| Greens fee | €95 |
| Golf365 Rating | 8.6/10 |
For more information and bookings visit: https://www.villapadierna.es/en/
The Club Med Experience
Although it's the perfect destination for a golfing retreat, Club Med Magna Marbella offers much more than a first-class golfing experience. Within the sprawling 14-hectare resort, it provides a plethora of activities and experiences. With five swimming areas and countless other sporting facilities including archery, tennis, and basketball, and even daily hiking trips into the mountains, boredom is simply not an option.
The Andalusian-style rooms, featuring 485 accommodations, exude vibrant colours and offer spectacular views of the sea, mountains, and Marbella town. Whether you seek superior, deluxe, suites, or interconnected family rooms, Club Med has you covered.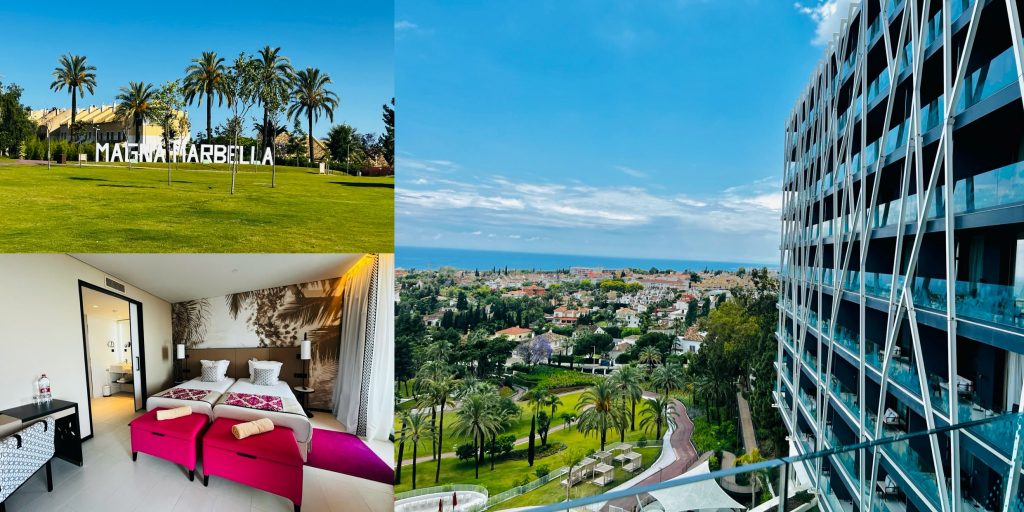 Families are also in for a treat at Club Med Magna Marbella. The Family FunZone offers a dedicated space with a playground, water park, mini-golf, and a thrilling zipline. A diverse program of activities caters to children and teens, encompassing Andalusian music, flamenco, painting, and an array of sports. The youngest guests are also well taken care of with a dedicated baby corner.
Additionally, Club Med hosts garden parties on its sprawling lawn, serving barbecued cuisine, tapas, and fresh seafood while providing live entertainment to keep the party atmosphere alive.
For those seeking relaxation, the Zen Oasis awaits. Exclusively for adults, it offers a tranquil escape, complete with a rejuvenating Turkish bath and 14 exquisite treatment cabins at the Club Med Spa by Cinq Mondes.
Club Med embraces sustainability initiatives, utilising rainwater for garden irrigation and relying on solar panels for hot water generation. The "Bye Bye Plastic" program ensures a plastic-free environment throughout your stay.
To find out more and book your stay, visit: https://www.clubmed.co.uk/r/magna-marbella/y 
Key Facts:
Malaga Airport is conveniently located just 45 minutes away.

Marbella basks in an average of 320 days of sunshine each year.

Club Med Magna features five distinctive bathing areas, each with its unique theme, catering to exercise, kids' activities, and serene relaxation.

The resort offers 485 well-appointed rooms, ranging from Deluxe and Suites to interconnected options for families.