Golf365 Challenge Tour Blog: The sights and sounds of Pont Royal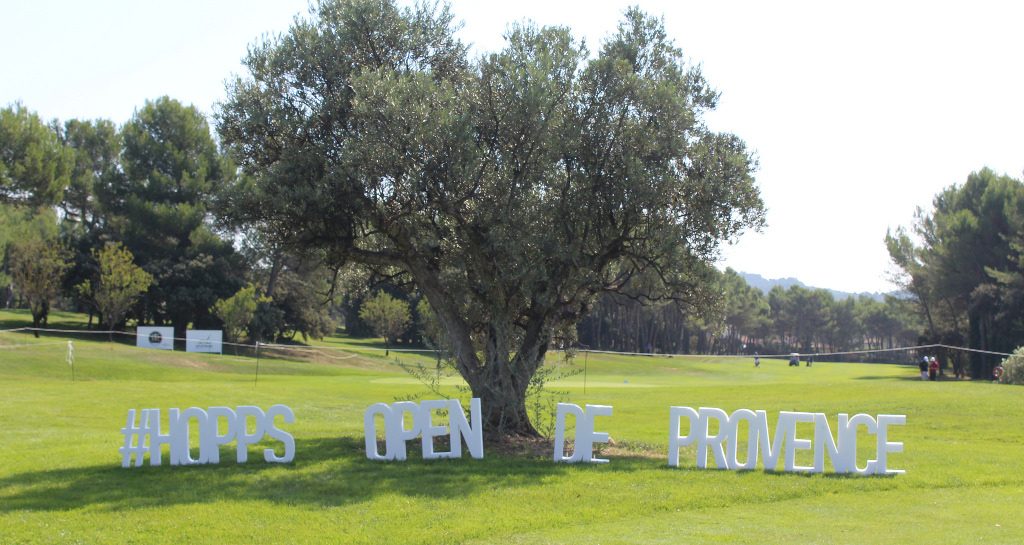 Golf365's Dave Bowers is writing a series of blogs focusing on what goes into hosting and competing in a Challenge Tour event. Here is his latest offering…
Not for the greenkeeper and his team a relaxing day's viewing of professional golf here at Pont Royal, host to the Hopps Open de Provence.
I was reliably informed – naturally I was too busy to see it for myself – that as the sun rose, pairs of golf buggies were driving slowly up opposite sides of the fairway, with a hosepipe stretched between them, improvising, in order to remove moisture.
Improvisation it may have been but it did the job and a couple of hours after the first tee shot was played, with the temperature approaching 30 degrees – it read 32 in my car mid-afternoon – it was hard to believe there was any moisture anywhere, as players, officials and spectators alike downed enough mineral water to sink the flagship of the French navy.
Certainly, weather-wise, those who headed out on to the course early had the most benign of the day's conditions. Later tee-times suffered the high of the day's heat and, also, in the afternoon, a rising wind. It was only a strong breeze, but it makes a difference to this course, which, on a very benign day would be a short one for the pros.
To counteract the lack of length officials here chose some pin positions which would be described in very graphic terms by we hackers. Tucked in on a small promontory behind an expanse of water – leaving a choice of landing it and keeping it on an area of around six square yards; or take the easy way out and aim for the centre of the large green and put faith in the putter. Risk and reward – that's what it's all about here at Pont Royal, this week.
It didn't faze Road to Ras Al Khaimah leader Joachim B Hansen, who continued to display the form which has led him to the top of the rankings. After the first day he led by one shot on an impressive -7, with five players on -6.
At 28, Hansen is in the mid-age-range of golfers here. It was interesting to see pros – and a few amateurs – from both ends of the spectrum plying their trade here. Some displayed the tell-tale signs of grey hair borne of living out of a suitcase or answering the same member's questions about the roll-up every week for the last 10 years …
Others looked as if they were taking their first steps in a career which could culminate in an appearance in a Ryder Cup. Indeed, one young man – I won't name him to save him embarrassment – looked as if he needed a note from his head teacher just to get time out to play. To his credit, he was displaying a piece of very natty headwear.
Much to the delight of the organisers there was a decent-sized crowd here for the first day of a Challenge Tour event. Public car parks were full from quite early on necessitating travelling in from the nearby villages, or, as the French seem to do, just pull up on the verge and walk in …
Ah, the French. I'm an unabashed Francophile and am immersing myself in the lifestyle while I'm here. This morning for breakfast we visited a local patisserie for a quick pastry and coffee, sitting down next to a local tradesman, a lady wielding five large baguettes in a menacing manner, and a gun-carrying gendarme, whom we recognised from the police presence at the golf club. All human life is here … and everybody nods amicably and says 'bonjour'.
Provence is wonderful – but I'm sure you don't need me to tell you that. The climate here is perfect for late-season Tour events such as this, and, if they so wished, post-round, the pros could venture into the village on the domaine, with its bars and restaurants, or enjoy a relaxing dip in one of the pools.
If they were feeling more energetic they could even head into Marseille for a nightclub, but why be a city boy, when you can relax in the ambience of a typical Provencal village on offer here at Pont Royal? I stayed here, with a relaxing glass of beer, watching an equally relaxing, colourful sunset over the nearby Alpilles (Little Alps). Red sky at night, Joachim's delight …
**************************
In all the classic American cop films the hero will be shown, at some stage, nursing a glass of bourbon in a dark bar, wondering where his life went off the rails.
After the first round here, I thought I may have wandered on to the set of such a film noir …had the bar not been well lit, and had the solitary figure at the end of the bar been carrying the weight of the world on his shoulders instead of wearing a relaxed smile.
For Sam Spade, read Kent's Alfie Plant, for this was he … And he wasn't so much nursing his Coke Zero, as downing it in one. It was, he admitted, hot out there today. But he was sitting here while his name was alongside the figure -6 on the leaderboard outside. Second after the first round? He was happy with that.
If the name's familiar so it should be, for Alfie was the winner of the silver medal, as the leading amateur, in the 2017 Open Championship. Now 26 and a pro, he's looking to fight his way on to the European Tour proper. And while victory here would pocket him a welcome 32,000 euros, he has more pressing matters on his mind.
Next week he starts qualifying school, for the second time, as he goes in search of the elusive Tour card. It's one of the most nerve-wracking experiences a golf pro can endure,so he could have been forgiven for nursing a whisky – yet, instead, the affable and likeable Alfie rejects my offer of something stronger in favour of another soft drink, and insists he's actually looking forward to Q School.
He knows a life-changing moment could be just days away and he's embracing the prospect. That's the mental strength that separates these guys from we hackers.I leave him looking far from lonely with a promise to meet up again in the clubhouse tomorrow and offer my best wishes for the second round.
"What a nice fella," I say to my friend as we sit on the terrace overlooking the course. He was. And, over the past two days, I've come to think that of a lot of these guys. I'm actually going to be genuinely upset to see some of them pack their bags after missing the cut.
Check out the leaderboard at the Hopps Open de Provence here.
DAVE BOWERS
Dave's previous blogs:
Even preparation is a Royal Challenge
All roads are leading to Pont Royal
A golfer named Ballesteros