Go back in time with our interactive tour of the Open
View Full Course Guide
McIlroy making swift progress
Rory McIlroy has enjoyed a whirlwind first two seasons as a pro but admits he is a long way from the finished article.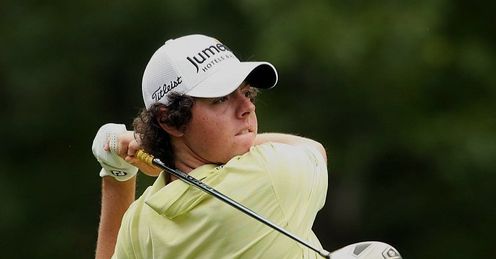 Northern Ireland's Rory McIlroy has enjoyed a whirlwind first two seasons as a professional but even he admits he is a long way from the finished article.
Having already had a glittering career as an amateur, he won the Silver Medal at the 2007 Open at Carnoustie for finishing as the leading player outside the paid ranks.
His mind was virtually made up about turning pro and having delayed the decision long enough to play in the Walker Cup he made the move in September that year.
It is safe to say he has not looked back since. After a couple of disappointing near-misses he finally secured his maiden European Tour victory at the prestigious Dubai Desert Classic this February.
That catapulted him into the world's top 20 where he has remained ever since.
Nine-time major winner Gary Player has singled out McIlroy as the player to assume Tiger Woods' mantle as the world's number one golfer.
However, for the time being the 20-year-old is still trying to find out for himself just how good he might be.
"It is a very nice compliment that one of the all-time greatest players has seen my potential and said maybe one day this guy can go and beat Tiger Woods," said McIlroy, who famously carded a course record 61 around the famous Royal Portrush Golf Club in County Antrim four years ago.
"I know I have got the potential, I just need to go out and practise hard and improve every aspect of my game.
"If I do that maybe one day I'll be able to challenge him (Woods) or be able to beat him regularly but that is a long way off."
While Woods may be the man McIlroy wants to depose at the top of the game he will not be matching the current world number one and 14-time major winner step for step off the course.
The American's dedication to fitness often has him working out early in the morning and late at night. McIlroy is lucky if he sees the inside of a gym from one month to the next.
"The only reason I would go to the gym is to prevent injury. I'm very flexible and I don't have any weaknesses in my body.
"I do a lot of stability work and sometimes that does not involve going to the gym but just doing exercise in your hotel room."
Having grown up on links golf courses in Northern Ireland, McIlroy fancies his chances in this month's Open at Turnberry, especially after his tie for 10th in last month's weather-affected US Open.
He has been trying to fine-tune his game with that in mind but accepts - as is often the case with the Open Championship - a great deal will be decided by the weather.
"If it's very windy and the conditions are not so good you have to have good control of your ball flight and be able to hit it high and low and move it both ways," he said.
"I've already played Turnberry recently and it's in great shape and I really like the look of the golf course so it should be a good week.
"I'm probably going to play Turnberry again the Monday of Loch Lomond so that will be it.
"I do play a lot of links golf when I'm home anyway as I have Portrush and County Down.
"The major thing on links golf courses is the shots around the greens, because you have so many tight run-offs and you have got so many chip-and-runs and you could be putting from 10 yards off the green.
"I think you only get a real feel for it the actual week that you're there."
McIlroy will certainly go into the Open full of confidence; since his breakthrough win in Dubai he has finished outside the top 20 only once in eight events - and those include two majors
"I have been very consistent. I've had a lot of top 10s and I've had a few top fives with a win in there, as well," he added.
"Hopefully I can keep that up. I feel as if I should be a contender. I know if I play well I have the game to be up there.
"I proved that to myself at the US Open; it was my first top 10 at a major and it gives me a lot of confidence.
"I'm looking to go out and try to win every event that I play and obviously that's pretty difficult apart from one person on the planet (Woods).
"But I feel as if my game is in really good shape."
Enjoyed this article?
Follow Dave on Twitter
Latest Video
Photo

Galleries

Pictures from the action on the final day at St Andrews. Go to Gallery

Pictures from the action on day three at St Andrews. Go to Gallery

Pictures from the third round of the 138th Open Championship at the Turnberry Golf Club. Go to Gallery