Leaderboard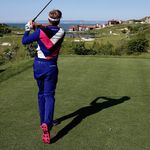 Play in the US Open - everyone can
Last updated: 15th June 2011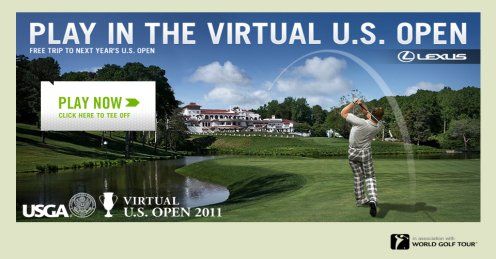 Even if you haven't qualified for this week's US Open and you don't have a single-digit handicap, there is still a way you can play in the US Open at Congressional Country Club.
And that's in the Virtual US Open, an on-line computer game the USGA are offering free of charge.
The game is set at Congressional Country Club in Maryland, the same course where World No 1 Luke Donald and most of the World's finest golfers will be teeing off on Thursday.
The game was built with more than 100,000 high-definition photos of the course and satellite navigation. It's as authentic as you can get.
Furthermore, its free.
All you have to do is go to USOpen.com, sign up and start playing on your computer's browser.
Qualifying started on May 12 and will conclude this week when the top 156 scores (and ties) during the three-week qualifying run will advance to the Open.
This will will be a tense 18-hole contest that qualifiers must play in on Monday or Tuesday after the conclusion of the genuine US Open. The champion will be crowned the following day - virtually, of course.
"We got the fans closer to the Open course than they've ever been before with with video material featuring flyovers etc.and we thought, how can we make it better?" a USGA spokesman said when explaining the reasoning behind the game
"We felt we could get their fans even closer to the US Open if we came out with a video game that featured actual course photography.
That was back in 2009 - and it worked
"That was the genesis," the spokesman said.
"We thought, if we're doing all 18 holes, why don't we put them together and make a virtual US Open?"
That's where World Golf Tour, the online golf video game producer, came in.
"The guys at World Golf Tour are very talented; they took 100,000 shots of the course.
"We helped them build the virtual course. They have GPS coordinates, they can give you aerial views of your ball as it passes through the air over the course. I'm already completely addicted to the game."
The first step was a nine-hole skills challenge featuring several key shots from the Championship course. You can still play the skills challenge at US Open.com.
Many thousands of gamers have already tried it out.
One unique thing about the game is that you have to play Congressional using the skill level of an average golfer, the better to appreciate just how tough the course is and just how good these Tour pros are.
"You're not going to burn a Bubba Watson-like drive 320 yards," Withers said.
"You're hitting your driver about 225 yards, your hybrid club around 205 yards. If you played Tiger Woods EA Sports, which we worked with to integrate USGA rules in its 2010 version, you can shoot 10 under par pretty quickly. This game is set up so that you're hitting clubs similar to how an 18-handicapper would play."
So when Withers tells you that he shot 83 on his first tour of the virtual Congressional, it's actually a better score than you think. You're probably not going to shoot 63 here. The whole purpose of this project is to engage more players and viewers in the Open.
"With Augusta National, everyone knows Amen Corner and the back nine because it's the same course every year," Withers said. "We have different course every year for the Open, and we wanted fans to learn the course as much as possible over May and June."
Qualifying for the virtual Open begins May 12 and runs through to this weekend.
Withers expects 1,000 players or more to reach the final.
Qualifiers will have two days to complete their final round. There will be digital leaderboards and a scoreboard that shows where you stand. The winner will receive a trophy and be invited to attend the real 2012 US Open at the Olympic Golf Club in San Francisco
Enjoyed this article?
Follow Dave on Twitter
Photo

Galleries

All the best images from the final day of action at Augusta. Go to Gallery

Some pictures from day two of the 2013 US Masters at Augusta. Go to Gallery

All the best pictures from the first day of action at Augusta. Go to Gallery
Neville Leck Blog
"When Adam Scott won at iconic Augusta National on Sunday, he not only took possession of his first Major, he also c..."
Courses

Bulgaria will march boldly into the world of professional golf this week when it hosts the 50th Volvo World Golf Championship.

TPC Four Seasons, home of this week's Byron Nelson Championship, is considered the recreational centre piece of Las Colinas .
Gear

Ping have launched a new putter with an industry-first, new face they believe will produce unmatched distance control.

A shoe that combines the best of old world style with modern world comfort and technology.
Golf365 Mailbox
George says: "...this is it gents - time to start thinking about the ashes as test match cricket resumes at lords. really would..."
Golf Lessons
Looking For The Perfect Pitch? Visit The Swing Doctor!