Leaderboard
Nelson Mandela Championship - R1

| Player | Score | H |
| --- | --- | --- |
| D Brooks | -8 | 18 |
| F Calmels | -7 | 18 |
| E Dubois | -6 | 18 |
| R Wattel | -6 | 18 |
| J Sjoholm | -5 | 18 |
| R Cairns | -5 | 18 |
| A Saddier | -4 | 18 |
| J Ahlers | -4 | 18 |
| V Riu | -4 | 18 |
| E Goya | -4 | 18 |
Finchem stance worries Monty
Last updated: 26th February 2013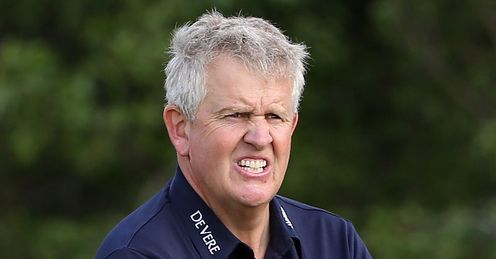 Colin Montgomerie has warned against an untenable situation developing if the PGA Tour opposes a proposed ban on anchored putters.
Commissioner Tim Finchem said on Sunday that the PGA Tour doesn't support the ban currently being proposed by both the The U.S. Golf Association and Royal&Ancient Golf Club, set to take effect in 2016, because there wasn't enough evidence to show that long or belly putters provide a competitive advantage.
The USGA and R&A announced the proposed rule change on 28 November and offered a 90-day comment period.
While Finchem did say that the PGA Tour was not yet ready to ignore the ban and do its own thing, his words are a cause for concern.
Montgomerie told Sky Sports: "The R&A and USGA have served the game of golf for a long, long time and long may that continue. But this has opened up a whole new can of worms.
"It's a very dangerous situation we are getting ourselves into and I do hope they can sort this out very, very quickly. I thought, as we all did, that the rules of golf were set by the R&A and the USGA.
"Tim Finchem has obviously thought otherwise. Whether the European Tour think that or not has to be debated too."
Montgomerie added: "I think we should go with what the R&A and USGA feel. Whether the long putter should have been banned 20 years ago or not, it should be banned now.
"We should abide by that. To now go against that and say 'my players aren't going to go by that' then what happens when you come to USGA events or the British Open?
"Does that mean you have to use a different club? Does that mean other rules can change as well? We want to play as one under the same rules."
Finchem has stated that of his 15-strong Player Advisory Council, all but two were opposed to the ban.
"An awful lot of amateurs today use anchoring and a number of players on the PGA Tour who have grown up with a focus on perfecting the anchoring method, if you will, did so after the USGA on multiple occasions approved the method years ago," he said.
"For us to join in supporting a ban we think as a direction is unfair to both groups of individuals. On this issue we think if they were to move forward they would be making a mistake."
Photo

Galleries

Ian Botham, Allan Lamb, Mark Boucher and company in action at the Alfred Dunhill Links Championship. Go to Gallery

A pictorial of the fourth round of the US PGA Championship at Oak Hill in Rochester, New York. Go to Gallery

A pictorial of the third round of the US PGA Championship at Oak Hill in Rochester, New York. Go to Gallery
Neville Leck Blog
"Rory McIlroy and Charl Schwartzel each finally turned the corner on Sunday when both broke their year-long winless ..."
Courses

which this week hosts the Nelson Mandela Championship for the first time, boasts two unique Championship golf courses.

the annual venue for the Nedbank Golf Challenge is ranked in the top 60 in the world and in the top two in South Africa.
Golf Lessons
Looking For The Perfect Pitch? Visit The Swing Doctor!