Leaderboard
Volvo China Open - R1

| Player | Score | H |
| --- | --- | --- |
| R Jacquelin | -6 | 14 |
| A Quiros | -5 | 18 |
| S Dyson | -5 | 18 |
| T Hatton | -4 | 18 |
| A Otaegui | -4 | 18 |
| D Horsey | -4 | 18 |
| M Hoey | -4 | 14 |
| I Poulter | -3 | 18 |
| S Khan | -3 | 18 |
| J Quesne | -3 | 18 |
Spitting with anger!
By Dave Tindall Last updated: 26th February 2010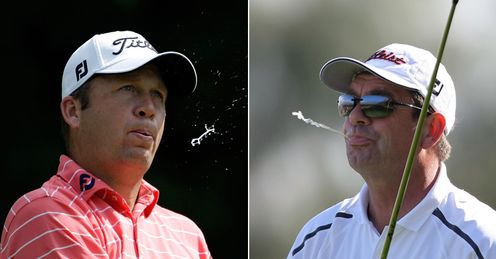 It's become a common sight.
A golfer is shown stood by the tee or green waiting to play his next shot but just before the coverage cuts back to the studio he lets go a venemous discharge of spit.
What happens next appears to depend on where you live.
In the UK, there will be an appalled reaction from the anchor, even an apology to viewers. In the US, discussion will simply focus on the shot ahead or current state of the leaderboard.
So what's going on here? Does the UK have more prudish presenters?
Probably not but that isn't the point away. The general feeling on these shores is that spitting looks terrible when done by a golfer who is hardly generating loads of the stuff simply by walking.
In fact, it would be more unusual for our TV presenters NOT to mention it when it's done so brazenly.
The other general concensus is that it appears to be, shall we say, an American disease.
What baffles many UK golf fans is that it's not just the American young bucks (i.e. Dustin Johnson, whose phlegm levels were clearly set to high during his win at Pebble Beach) who are guilty but also some of the well-to-do veterans such as 'Gentleman' Jim Furyk.
Tiger Woods is a serial spitter too, prompting well-known cricket commentator Jack Bannister to tell Talksport viewers last week: "Tiger's speech lasted 13 minutes and I think it's the longest time I've seen him go without spitting."
In short, it's become an issue. In fact, the Sky Sports Golf team have been inundated with so many e-mails on the subject that it led the show's presenter Robert Lee to declare: "Let's start a campaign to stamp it out."
Says Lee: "If enough letters were written to the PGA Tour maybe it would bring enough attention to it and something could get done because it's vile. But the Americans just don't seem bothered about it. It doesn't seem to register."
Lee's Sky Sports colleague Mark Roe - also a former European Tour winner - is particularly outspoken on the matter.
"It's an absolutely disgraceful habit," says Roe. "I saw Dustin Johnson spit on the first tee at Riviera before he hit his tee shot and it was disgusting.
"The problem is they keep sticking chewing tobacco into the side of their mouths, I guess it's a country thing over there. It's something the Swedes used to do on the European Tour but to the credit of the Swedes they weren't very often seen spitting on camera.
"It's got to be stamped out. It needs to become a fineable offence on both the PGA Tour and the European Tour. It should start with a $1,500 fine and then it should be doubled every time they are seen spitting."
Over the top?
Plenty of UK golf fans would agree with Roe and Lee but what would they make of such comments on the other side of the Atlantic?
To help find out, Golf365 asked three US journalists about whether their countrymen were guilty and why more Americans didn't take offence in the same way as us Brits.
Here's how they responded.
Geoff Shackelford (US blogger): I think more Americans are disgusted by it than you may realize. But remember, this is a nation that pretty much looks past any kind of questionable behavior until we just can't handle it or the entire system collapses, and I guess spitting is way down the priority list behind slow play, club tossing and other golfing atrocities. Though we did draw the line when Sergio spat in the cup. Somehow that got people's attention, probably because of the germ transfer possibilities more than the sheer tackiness of the gesture.
Stephanie Wei (US blogger): I asked a bunch of Canadian Tour players that question a few years ago. I was at the CanTour championship to caddy for my friend, Andres Gonzales, and I noticed how all the players spit - it didn't matter if they dipped, chewed or smoked cigarettes, many didn't do either. I was baffled and thought it was gross. I started watching closer on the PGA Tour and it seems to be that golfers across the board spit. So I laughed when I got your email because it's a phenomenon I've wondered about. Do European Tour players not spit? (I'm pretty sure Sergio Garcia does. Didn't he spit in the cup at Augusta last year?) Anyway, I think they do it because it's like a nervous tick. Perhaps they watch some of the old golfers and then develop the habit. When I asked some of the CanTour players about it, they said it was "to be tough" or "intimidation". Okay, so they were being a little facetious. This might sound crazy, but I really think it's just a (disgusting) habit they develop and it's cathartic for them to spit. Maybe it relaxes them or helps them deal with their emotions. It's gross, but hey, whatever works."
Rob Bolton (Freelance Contributor to PGATour.com and Rotoworld.com): I hadn't even noticed. In my opinion, I feel that your TV guys had nothing else to talk about. Honestly, that they were commenting on spitting seems silly. That said, if all of the Euros were smoking throughout their rounds - an activity for which many Americans directly associate citizens of your continent partaking on a much wider scale than here (not golf specifically) - I'm sure the talking heads in the U.S. would gripe about that. I've watched a fair share of U.S. sports in my day and can't recall a single argument from talking heads complaining about spitting. The only times it's even mentioned is when guys have excess chewing tobacco in their mouths and/or have some trouble with it. But even then, it's usually blooper-reel stuff. Tiger's cursing and club-throwing is more of a problem with viewers (and more likely onlookers) than any saliva-challenged histrionics.
There are various angles in those three responses. Firstly, it's interesting that two of the answers make mention of Sergio's Augusta antics thus (gently) pointing out that it goes on with players from other nations too.
But there's also a feeling that it's low down on the list of crimes and hence any campaigns should be focused on the 'real' issues - slow play, club-throwing etc.
I once watched Ryan Moore unleash spit after spit after spit when preparing to hit a shot at Carnoustie and two thoughts crossed my mind (well three if you count the one about him coming across like Bob Carolgees on acid):
1) That it came across almost as part of his pre-shot routine, a way of punctuating his thoughts and movements (Stephanie Wei's comments appear to back that idea up).
2) It made him look gross. Why would an otherwise pretty hip golfer whose individual style is admired in the UK not think he was tarnishing his image a little?
Both seemed to come under the category of cultural difference and that was my conclusion as I snuck down into a hollow and discretely discharged some of my own (look, I'd been walking at quite a pace and, erm, am a hay fever sufferer).
The idea that it's a cultural difference was also hinted at in the movies when mass spitting was parodied in one of the Naked Gun films. During the scene at a baseball match a back-stop let's go with some spit, followed by the pitcher, the batter, the umpire and finally the whole crowd! Clearly the American makers of the film realised they were tapping into something which viewers would find all too familiar.
However, although in the UK it's very much (but possibly unfairly) associated with American golfers, perhaps the real cultural difference is in the way spitting is perceived.
In the U.S. spitting goes over their heads; in the UK it hits us straight in the face.
As Rob Bolton points out: "I have a feeling that baseball in the U.S. has numbed our general feelings. Those fellas are always spitting, scratching, picking, etc."
So does any of this matter? Will UK viewers get used to it too in time? Is spitting not just a natural physical necessity? Or should Tiger and co be reprimanded?
Simon Holmes from Sky Sports Golf Night agrees that some players do it as an unconscious habit and the activity of spitting takes on a different meaning.
But he points out a more serious implication.
Says Holmes: "In a sport where image is being sold as a commodity and sponsors are attaching a financial value to that commodity then governing bodies should advise players that indiscrete spitting damages the image (as it clearly does) and penalties should be in place to motivate players to be more conscious of their actions."
And he sees an easy solution for the build-up of saliva which needs to be expelled: "In golf a player can move into a position on the course (rough/trees etc) and solve the problem discretely. I don't think there is any excuse for spitting on the green/near the fringes or in any area which could be deemed in play."
Roe is even more forthright but, if you're reading this in America, his views are not uncommon.
"Tiger has been seen doing it and for the world number one to be seen doing that on a golf course is not good for the image of the game.
"It's not something we want to see. On a football pitch perhaps, but on a golf course? Never.
"What they need to realise is these images are beamed all over the world and all the kids are watching these top sportsmen.
"How would you feel if you took your 14-year-old son out for a knock at the weekend and he suddenly started spitting on the green? I'd take him back to the clubhouse and tell him I'd never drive him to the golf club again.
"He might just reply: 'Well dad, I saw Tiger doing it... I saw Dustin Johnson doing it. Why can't I do it?'
"I ask the simple question: how would Dustin Johnson feel if somebody walked into his house and spat on his carpet?"
So what do you think? Let us know your thoughts below.
Photo

Galleries

Some choice images from the final round of the Masters at Augusta, as Bubba Watson pulled of a superb repeat victory. Go to Gallery

The movers and shakers at the third round of the US Masters at Augusta National. Go to Gallery

Selected images from second-round action at the 78th US Masters at Augusta National. Go to Gallery
Neville Leck Blog
"The embrace a gleeful Sergio Garcia gave his German caddy after his first victory in 2013 at the Thailand Open on S..."
Courses

Nestling on the banks of the Mississippi, TPC Louisiana, scene of the Zurich Classic, is one of Pete Dye's best.

Quail Hollow Club, which next week hosts the Wells Fargo Championship, is one of the finest in Southeast USA.
Golf Lessons
Looking For The Perfect Pitch? Visit The Swing Doctor!