Leaderboard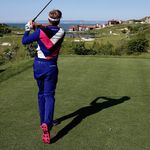 Swing Shirt - what's this?
Last updated: 19th October 2012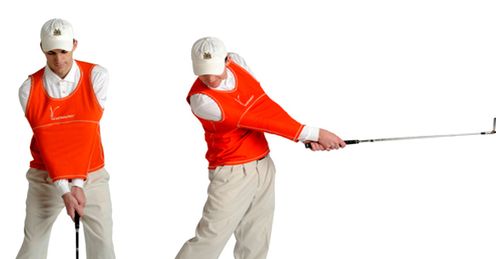 One of the most effective new, golf training aids to hit the market in the USA is The Swing Shirt.
The Swing shirt?
Yes, as you can see from the pictures above, this brain child of low handicap golfer Ray Rapcavage, has only one sleeve which in essence, forces the wearer during his swing to keep his elbows connected and close to the body as was recommended many years ago by the legendary Ben Hogan in is his famous book, 'Five lesson: The Modern Fundamentals of Golf
One of the USA's most highly respected golf instructors, Jimmy Ballard, who has full endorsed 'The Swing Shirt' as a training aid, explains the shirt's concept like this:
"You're always looking to teach feel, to find something someone can feel," Ballard recently toldGolf Digest.
"You remember in Hogan's 'Five Lessons,' when he tied the elbows down? That's what this shirt does. It gives you the same sensation. You feel the elbows more down and together. It doesn't let your arms run away from you. It pulls your arms in, which is the feeling you want.
"Hogan was always talking about keeping the elbows on the body and then just moving to right and moving to the left. That's what the shirt does. It teaches that triangle.
Ballard is so impressed with The Swing Shirt, he says that he's "not going to start any juniors any more without putting this on them."
Rapcavage, the founder of the training Shirt, says he came upon the idea by accident. This when he went out into his garden to hit some lob wedges one day and promptly shanked three in a row, he last shot hitting his house.
"It felt like everything was out of sync," he said.
Then out of the blue he decided to both of his arms into a single sleeve of his shirt - "almost like a strait jacket," he explained - and then started hitting lob wedge shots.
"It was stunning. I hit 20 perfect shots in a row, each time with the same exact result. Everything was operating as one unit."
Rapcavage next decided to design a one-sleeved shirt for his own personal use before, buoyed by it results he introduced it to his golfing buddies.
"Almost everyone who put it on hit the ball exponentially better," Rapcavage remembers and indeed, it was so successful that he toyed with the idea of going into business with his special shirt.
Before he did this, however, he decided he should first get the opinion of a respected swing coach and Ballard was recommended by friends and colleagues as being an expert whose verdict could be trusted.
After a little badgering, Rapcavage eventually got the respected instructor to take a look at his 'Swing Shirt'.
A skeptical Ballard was initially reluctant to meet with Rapcavage, but after a little badgering, he eventually agreed to take a look at the shirt and immediately liked what he saw.
"I've been in this business for 52 years," Ballard said. "I've seen everything and I'd never seen anything I liked. I liked this right away and told Ray that.
It let you feel that (swing) triangle in both directions. It's so simple and easy."
The Golf Swing Shirt can be purchased through its website for $59.95 and is available in orange, black or white. It also is available at various pro shops.
The Swing Shirt is available comes in eight sizes and in three colours, orange, black and white, in some pro shops, but if it hasn't reached your shop or district at this time, you can purchase it at prices ranging from between $49.95 to $59.95 from the official Swing Shirt website by clicking here
Enjoyed this article?
Follow Dave on Twitter
Photo

Galleries

All the best images from the final day of action at Augusta. Go to Gallery

Some pictures from day two of the 2013 US Masters at Augusta. Go to Gallery

All the best pictures from the first day of action at Augusta. Go to Gallery
Neville Leck Blog
"When Adam Scott won at iconic Augusta National on Sunday, he not only took possession of his first Major, he also c..."
Courses

As the famous Club's website quite correctly boasts, entering Wentworth "is like entering another world".

Colonial CC, home of the Crowne Plaza Invitational, is the brain-child of a man who was obsessed with bent grass greens.
Gear

PING's innovative iPING putter app is now available as a free download on the Google Play store for the Samsung Galaxy S III.

Ping have launched a new putter with an industry-first, new face they believe will produce unmatched distance control.
Golf365 Mailbox
George says: "...And thats what sepearates the men from the boys. if not anderson taking wickets then broad. if not steyn then ..."
Golf Lessons
Looking For The Perfect Pitch? Visit The Swing Doctor!