Leaderboard
Maybank Malaysian Open - R2

| Player | Score | H |
| --- | --- | --- |
| L Westwood | -13 | 18 |
| A Lascuna | -9 | 18 |
| N Colsaerts | -9 | 18 |
| D Willett | -8 | 18 |
| A Sullivan | -7 | 18 |
| J Quesne | -7 | 18 |
| E De La Riva | -7 | 12 |
| R Santos | -6 | 18 |
| M Kawamura | -6 | 18 |
| G Mulroy | -5 | 18 |
What Rory and Tiger said
By Neville Leck Last updated: 31st January 2013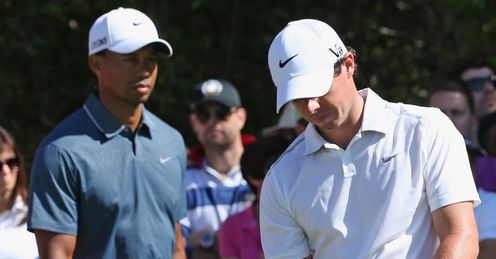 Rory McIlroy and Tiger Woods, the world numbers one and three respectively, were not too happy after their Abu Dhabi disasters.
And I don't expect that their multi-million dollar sponsor, Nike, were either.
McIlroy's discontent followed what can only be described as a worst possible start to the 2013 season.
He posted back-to-back, three-over rounds of 75 to finish all of 14 shots off the halfway pace set by Justin Rose. This was partly because he looked rusty and unfocused in his first tournament of the year, and partly because he had a hard time finding the fairways with his new Nike driver and was just as bad at finding the hole with the his new Nike putter. His rounds were a blend of crazy, exciting and entertaining, just like when you visit sports betting sites.
Tiger, in the meantime, shot a level-par 72 in the first round to better McIlroy by three shots, but as a player who has won 14 majors and over 100 events world wide, he could hardly have been satisfied at finding himself five shots behind first round leader Rose and well down a leaderboard that had scores of players out in front of him with under-par starts.
But that wasn't the worst of it for the American big gun, for while he felt his game was getting better as the tournament progressed and he was hopeful he could make the cut, he too had to swallow the bitter pill of missing the cut after a seemingly controversial two-shot penalty on the 5th hole took his second round score to 75 and put him 11 shots off the lead and sent him packing.
This after both he and his partner, Martin Kaymer, agreed he could take relief when his ball was embedded, only to learn after the round that he was to be penalised by two shots.
The ball, indeed, was embedded but the crucial point is that it was embedded in sand from where there is no relief (Rule 25/2).
But to hear what the two king pins of golf had to say about their Abu Dhabi disasters, here is the full text of the Q&As the press conducted with them after their early exits.
RORY MCILROY:
RORY McILROY: (Today was) Pretty much the same as yesterday. When you don't hit fairways on this golf course, you can't score. I didn't putt well again, so they were the two areas of the game where nothing was really on today. One of those things. I've got a few weeks off now to work at it and try and get my game in decent shape for the US (Tour).
Q. What's the story with the putter?
RORY McILROY: I just felt that the greens that I've been practicing on in Florida are a lot faster than these. The putter, the Nike putter is great on that. But here, (on slower greens) it was too light - so, really, it's just a weight issue more than anything else. I can feel the head of this one I used today was a little bit better. On fast greens, the other one works fine.
Q. Certainly everything else about you is Nike, so that now (the second putter) isn't; is that allowed in the contract?
RORY McILROY: I'm not here to talk about my contract. I'm here to talk about my golf, and today it wasn't so good.
Q. And work to do with that golf, so you've got some time to work again?
RORY McILROY: Yeah, I have. I've got four weeks to work at it and get ready for the Match Play.
I knew it was going to be a tough week with everything going on, but I was just looking forward to getting to the golf course and getting back to what I do and what I'm comfortable with.
It just didn't work out like that. I hit the ball really well last week in practise in Dubai and just sort of gradually got worse this week for some reason. But I'm going to spend the weekend here and practise and work at it with Michael a little bit.
Q. How disappointing is it to not be here for the weekend competing?
RORY McILROY: It's very disappointing. You know, you really want to get off to a nice start at the start of the season, but I've got to realise that it is only the start of the season and there's a lot of work to be done, a lot of golf left, and I said to the guys yesterday on the way back, as long as I feel like my game is in good shape heading into Augusta, that's all I'm worried about.
Q. Was it a tough decision to change putter for today?
RORY McILROY: I just wanted to try it because I felt like I didn't get anything to the hole yesterday. I just felt like it was a little light for these greens. The greens aren't particularly quick here so I just feel like the one I put in today was a little bit heavier and felt like I could get the ball to the hole.
Q. How do you explain what's happened?
RORY McILROY: I don't know, I just didn't-- all aspects of my game were off. I didn't drive the ball well. My iron play wasn't anywhere near the standard that it usually is for me. I'm just struggling with my swing a little bit. Feel like I'm spinning out of it a lot hitting out of the heel quite a lot. Just need to put in a bit of work on the range.
Q. You know the rules, people will be questioning the new clubs and saying do they suit you and everything like this; how big a factor at all?
RORY McILROY: I mean, it's the first week out. I wouldn't look too much into that. If anything, it's more the Indian and the arrow at this point. So a few hours on the range tomorrow and Sunday, and a bit of work with Michael and try and clear a few things up.
Q. I notice you changed putter today. Tell us about that decision and whether it's been a long-term one or not?
RORY McILROY: It was just for these greens this week. I felt like the greens were pretty slow out there. The Nike putter that I used yesterday is a little light, a little lighter, and it was just a weight issue more than anything else. I feel like the one I used today was a little heavier and I was able to get the ball to the hole.
Even when I got the ball to the hole, it still didn't go in. The change was to no avail.
Q. You've got four weeks now before you play again and obviously you'll be working on your game, but also testing the kit a bit more and making some tweaks to it?
RORY McILROY: For sure, I've got to work on a few things. Really happy with the ball and the wedges. Putter is good on fast greens that I've practised on, and I just need to-- probably just need to find a driver that I'm comfortable with, because I didn't drive the ball at all well. I feel like that's a big advantage for me is driving the ball.
Q. Just very briefly, were you involved at all in the Tiger incident?
RORY McILROY: No, not at all. I know he called Martin over. It was an embedded ball, but you know, through the green doesn't mean sand-- I mean, I wouldn't have known, that either.
Yeah, it's tough for Tiger and tough for the tournament I guess, to not have him for the weekend.TIGER WOODS
Q. Can you tell us what happened?
TIGER WOODS: I thought my ball was embedded, so I called Martin (Kaymer) over. He agreed. But Andy (McFee, a rules official) ruled that I had broken an infraction there and I consequently got a two-shot penalty.
Q. You didn't get a chance to look at the incident; you're just taking Andy's word that the incident was correct?
TIGER WOODS: Andy feels the way he feels about it, then I broke the rules.
Q. Is it a different ruling on the PGA TOUR or is it the same?
TIGER WOODS: I don't know, I'll be honest with you, I don't know. Andy said that the ball wasn't embedded because it was sandy-based. As I said, I called Martin over to verify it, and we both agreed it was. We thought it was embedded. But evidently it wasn't.
(NB): The ball was embedded but because it was embedded in sand, there is no relief (Rule 25/2).
Q. Do you know if somebody rang in to identify it as an issue?
TIGER WOODS: I don't know.
Q. How disappointing, battled away so bravely to make the cut, how disappointing to miss the cut in this fashion?
TIGER WOODS: It's tough because I didn't get off to a very good start today and I fought and got it back. I was right there and I felt that if I had close to even par, I had a chance going into the weekend, being only eight back. Evidently, it (11 shots back) wasn't enough.
Q. What a disappointing way to end the first couple of days. Are you annoyed at yourself for that?
TIGER WOODS: No, that's why I called Martin over, is to make sure - we thought it was embedded. So I had a player come over and verify it, and evidently I broke a rule. Consequently, I get two shots.
Q. What most concerns you about the way you played over the first two days?
TIGER WOODS: I didn't hit it particularly well. I putted great but just didn't hit it very good. I was struggling with that. I fought hard. I fought hard today. Got off to a bad start and I battled back and got it to where I thought I could play the weekend, and thought I might have a chance, just post two low rounds. But now I won't be able to do that.
Q. In terms of the way you're expected to play when you teed off here......?
TIGER WOODS: Obviously you want to be in the lead, so I'm not in the lead. I have some work to do, and next week I'm playing at Torrey (Pines), and obviously it will be different weather there this year, so I'm going to go back to get ready.
Photo

Galleries

Some choice images from the final round of the Masters at Augusta, as Bubba Watson pulled of a superb repeat victory. Go to Gallery

The movers and shakers at the third round of the US Masters at Augusta National. Go to Gallery

Selected images from second-round action at the 78th US Masters at Augusta National. Go to Gallery
Neville Leck Blog
"The embrace a gleeful Sergio Garcia gave his German caddy after his first victory in 2013 at the Thailand Open on S..."
Courses

Harbour Town Golf Links where this week's RBC Heritage tournament will take place, is a players' favourite.

It would be no exaggeration to describe the Kuala Lumpur G&CC as one of Asia's towering beacons of its kind.
Golf Lessons
Looking For The Perfect Pitch? Visit The Swing Doctor!