Leaderboard
BMW PGA Championship - R1

| Player | Score | H |
| --- | --- | --- |
| P Price | + | |
| G Storm | + | |
| A Dodt | + | |
| C Lee | + | |
| R Gonzalez | + | |
| R Coles | + | |
| S Chowrasia | + | |
| O Fisher | + | |
| T Lewis | + | |
| A Noren | + | |
Royal Lytham & St Annes
Last updated: 16th July 2012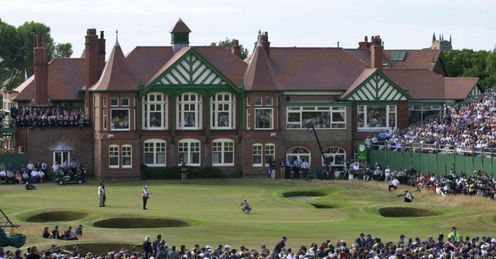 Royal Lytham and St Annes Golf Club where this week's Open Championship is to be played is one of the great links courses of the World.
It is not for nothing that this storied old English club on the Lancashire coast has already staged 10 Open Championships, four Women's British Opens, two Ryder Cups and several of other high profile events like The Amateur and the Senior British Open
In 2015 it will host the Walker Cup between the best amateurs of Great Britian and Ireland and the United States of America.
It was founded in 1886, but its present course was constructed in 1897.
It's clubhouse, which houses an oustanding dining room overlooking the 18th green, includes an excellent pro-shop, a high-class changeroom, and a great colletion of historically significant pictures and artifacts, one of the artifacts being the golf club with which the legendary American Bobby Jones struck what have been ranked as two of the greatest shots ever played in Open History on his way to his triumph at Royal Lythyam in 1926 when the first of its 10 Open Championships was played there.
Another golf club on display in the 112-year-old Royal Lytham clubhouse is one of the woods Gene Sarazen used to to win the 1935 Masters. The little American was much-liked and respected by members of Royal Lytham.
OPEN WINNERS AT ROYAL LYTHAM
Here are all the winners of the 10 Open Championships and the four Women's British Opens that have been played at Royal Lytham (see under year, player, score and winners purse):
2001 David Duval - 69 73 65 67=274 (-10); £600,000
1996 Tom Lehman 67 67 64 73=271 (-13) £200,000
1988 Seve Ballesteros 67 71 70 65=273 (-11) £80,000
1979 Seve Ballesteros 73 65 75 70=283 (-1) £15,000
1974 Gary Player 69 68 75 70=282 (-2) £5,500
1969 Tony Jacklin 68 70 70 72=280 (-4) £4,250
1963 Bob Charles 68 72 66 71=277 (-7) £1,500
1958 Peter Thomson 66 72 67 73=278 (-6) £1,000
1952 Bobby Locke 69 71 74 73=287 (-1) £300
1926 Bobby Jones 72 72 73 74=291 Amateur (£75)
The Women's British Open:
2009 Catriona Matthew 285 (-3) £335,000
2006 Sherri Steinhauer 281 (-7) £305,440
2003 Annika Sörenstam 78 (-10) £254,880
1998 Sherri Steinhauer 292 (+4) £98,162
THE COURSE
The layout of Royal Lytham & St Annes is pretty much the same as the one laid out by its original creator George Lowe, the Club's first Professional, more than a century ago.
There have been some changes, though.
These were made in 1919 when the club asked Harry Colt, the leading Course Designer of the time, to make recommendations that would improve a course that day in and out plays to a par 71, but will play as a par 70 during this week's Open
Colt did this over the next four years by repositioning some of the Greens and Tees, adding numerous bunkers and lengthening the course which has continuing to get longer over the years.
During the past half century its length off the championship tees has grown from 6.836 yards in 1963 to 7118 yards in 2012.
It is by no means one of the games most beautiful golf course, surrounded as it is by suburban housing and flanked by a railway line, but it has a charm of its own, offering a stern, but fair challenge.
It is also an unconventional Links Course in that it is not situated alongside the sea as is St Andrews, the home of golf.
Lytham and St Annes is close enough, though, to give the sea breeze a say in how the course plays and quoting Bernard Darwin, the leading golf writer of the thirties, the Club on its official website says: 'a beast of a Course, but a just beast'.
Darwin adds: "None could fail to be impressed by its difficulties, which sets a golfer just about as ruthless as an examination as any Course of my acquaintance.
"Hit your ball to the right place and the way to the hole is open to you, but hit your ball to the wrong place and every kind of punishment, whether immediate or ultimate, will ensue'.
Mark James, a former European Ryder Cup captain, has said of the course: "Lytham was set up magnificently in 2001 (for the Open Championship), perfect for the world's premier golfing event. I do not think they could have prepared that Course better.
"It was a perfect combination of width of fairways, length of rough and pace and quality of greens. It should be used as a model for future Opens.
"Everyone who knows Lytham knew that it would be the one Course where Tiger Woods would not have a big advantage because of the distance he hits, as there are relatively few holes where you can carry the trouble. Tiger could not tame it".
Royal Lytham is seen by most as a Course on which is it hard to scramble a good score.
This partly because there are some 206 bunkers scattered about on the Fairways and around the Greens so while it is not be the longest course you'll see to be used in the majors, it is one where careful thought and accurate shots are required if it is to negotiated without too many calamities.
HOLE BY HOLE TOUR:
To get a better idea of the course and its major features you can make a hole by hole tour of it on the club's official site by clicking here.
GREEN FEES
Due to the course restrictions while it was being prepared for this week's Open, there have been no available tee times since the 1st of May, but they will become available again from July 31
Please note that:
- Green Fees include lunch which is served from 11.30am to 5pm in the Clubhouse, and..
- Normal golf attire is acceptable in the clubhouse, but no head gear, golf shoes or outerwear are allowed upstairs.
Winter fees 2012/2013(1st Oct 2012 - 31st Mar 2013):
Weekday Rate: 18 holes - £123.00 gross; 36 holes - £184.00 gross
Summer fees (1st April 2012 - 30th September 2012):
Weekday Rate: 18 holes - £165.00; 36 holes - £247.00
Weekend Rate: Saturday 18 holes £247.00; Sunday 18 holes - £165.00.
PRO SHOP
Eddie Birchenough, who has been the Professional at Royal Lytham since 1987, can boast of having an impressively stocked shop which carries a wide range of international brands of equipment and apparel and he and his assistants can offer a full range of coaching.
Trolleys can be hired from the Pro Shop and the Club has two buggies for hire by disabled visitors.
A limited number of caddies are available, but only by prior arrangement with the Pro Shop (telephone number 01253 720094).
For further information about the club's Buggy Policy please contact the Pro shop well in advance of your visit.
CONTACT THE CLUB:
Royal Lytham & St Annes Golf Club,
Links Gate,
Lytham St. Annes,
Lancashire,
FY8 3LQ
Tel: +44 (0)1253 724206
Email: bookings@royallytham.org
Enjoyed this article?
Follow Dave on Twitter
Photo

Galleries

All the best images from the final day of action at Augusta. Go to Gallery

Some pictures from day two of the 2013 US Masters at Augusta. Go to Gallery

All the best pictures from the first day of action at Augusta. Go to Gallery
Neville Leck Blog
"When Adam Scott won at iconic Augusta National on Sunday, he not only took possession of his first Major, he also c..."
Courses

As the famous Club's website quite correctly boasts, entering Wentworth "is like entering another world".

Colonial CC, home of the Crowne Plaza Invitational, is the brain-child of a man who was obsessed with bent grass greens.
Gear

PING's innovative iPING putter app is now available as a free download on the Google Play store for the Samsung Galaxy S III.

Ping have launched a new putter with an industry-first, new face they believe will produce unmatched distance control.
Golf365 Mailbox
George says: "...And thats what sepearates the men from the boys. if not anderson taking wickets then broad. if not steyn then ..."
Golf Lessons
Looking For The Perfect Pitch? Visit The Swing Doctor!