Leaderboard
Volvo China Open - R1

| Player | Score | H |
| --- | --- | --- |
| R Jacquelin | -6 | 14 |
| A Quiros | -5 | 18 |
| S Dyson | -5 | 18 |
| T Hatton | -4 | 18 |
| A Otaegui | -4 | 18 |
| D Horsey | -4 | 18 |
| M Hoey | -4 | 14 |
| I Poulter | -3 | 18 |
| S Khan | -3 | 18 |
| J Quesne | -3 | 18 |
Mission Hills Golf Club
By Neville Leck Last updated: 30th October 2012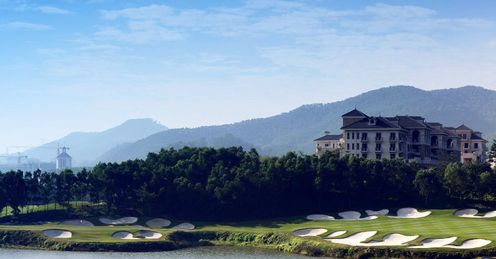 The Mission Hills Golf Club, which nestles among the rolling hills and natural lakes outside of Shenzhen in Southern China, and where this week's WGC-HSBC Champions is to be played for the first time, is easily the largest Golf Club in the world, boasting an incredible twelve 18-hole courses designed by a plethora of golfing superstars.
Jack Nicklaus, the greatest golfer of the 20th century and with 18 titles, still the winner of the most majors, was the architect of the first course at Mission Hills - the world-renowned 7323-yard, par 72, 'World Cup' course where the 41st World Cup was played in 1995
But it is Jose Maria Olazabal's course, a previous host of the WGC-World Cup, which is this week's venue for the WGC - HSBC Champions, almost certainly , because is is now the most challenging and, at close to 7,320 yards, the longest of all the Mission Hill courses.
THE OLAZABAL COURSE
Olazabal's design philosophy behind it was to create a beautiful, unique, harmonious and playable course for all golfers, but which would also be a stern challenge for the best professionals when played off the championship tees.
Numerous majestic vistas of untouched jungle and natural flowing streams create outstanding backdrops throughout the golf course.
The signature square tees, along with undulating concave paspalum fairways, are two distinguishing features of this true championship course.
The course features 150 sand bunkers which contain numerous contoured fingers, thick grassy vertical lips and deep 'bowled' bottoms.
Golfers will often be faced with an option on how to play each hole - take the safe and conservative route, or the risk/reward route that may result in anything from an eagle to a double bogey.
HOLE-BY HOLE - IN A NUTSHELL
Hole No 1 - 447 Yards Par 4
The opening hole features a downhill tee shot to a wide landing area with bunkers right. Favor the left side and receive a strong kick towards the center of the fairway. The second shot demands accuracy with a well bunkered green, especially the right side, which falls off severely. This is a strong opening hole to an equally strong course.
Hole No 2 - 175 Yards Par 3
This downhill Par 3 will play substantially shorter than its length would indicate. The green is well bunkered and offers little room for error except for short shots.
Hole No 3 - 548 Yards Par 5
The downhill tee shot will temp players to carry the bunker complex inside the left turn. If executed, balls will receive an enormous kick forward, bringing the option of going at the green in two. The green is slightly raised with deep bunkering left and an open channel cutting diagonally across the front about 30 yards short of the green. Risk/reward opportunity certainly is within grasp.
Hole No 4 - 441 Yards Par 4
Slightly uphill with a right to left dogleg, this hole will play moderately long. The landing area is wide but well bunkered and the green will accept run-up shots only to the left side. It will be necessary to hit two good shots here.
Hole No 5 - 176 Yards Par 3
High atop a hillside, this medium length Par 3 plays to a green site surrounded by bunkers and perched high above a steep drop-off yielding a spectacular view to the world of golf beyond. The back left pin placements can be attacked by feeding the ball from the center but too much roll will cause the ball to be sucked into a contained low off the green.
Hole No 6 - 476 Yards Par 4
Perhaps the most difficult Par 4, the demanding tee shot here requires a long, straight shot into a rather narrow fairway protected by bunkers left and out of bounds right. The green site offers adequate bailout right and ample run-up opportunity but this hole will certainly hold up as tough. The backdrop is quite spectacular.
Hole No 7 - 566 Yards Par 5
A double dogleg Par 5 that stays left to right around a long series of bunkers and then turning back left and dropping down to a green site with substantial bunkering, cross -bunkers will keep second shots honest and fairway is provided for balls that leak left. The green site is located at an angle with plenty of bunkering including a small pot at the front. The backdrop to the hole is stunning with high-vegetated slopes towering above.
Hole No 8 - 214 Yards Par 3
From super elevated tees, this long Par 3 plays to a very large green site with bailout room left but protected by a series of sinister, deep bunkers right. This hole, smartly played left will play quite fair but miss-hits right will be severely punished.
Hole No 9 - 573 Yards Par 5
Spectacular from the tee, this long Par 5 plays first to a narrow heavily bunkered landing area with little room for error but, because it is downhill, will be able to be played for position. As the hole proceeds, it then plays uphill to a green site with strong bunkering left. Second shots will need to favor the right side but such shots bring a forested slope precariously into play.
Hole No 10 - 404 Yards Par 4
Wicked, wild bunkering runs up the left side on this short but uphill hole. An accurate tee shot that flirts with the left edge will set up the easiest approach. Plenty of bailout is provided left of the green for those who do not wish to attack the right pins.
Hole No 11 - 568 Yards Par 5
A downhill, risk/reward double dogleg Par 5 that can be played conservatively or aggressively. Bold tee shots will bite off the right side but vegetation and a stream will swallow balls that leak too far right. The stream then cuts in front of the green creating differing lay-up possibilities. The green is protected left by bunkers and a pond. Played aggressively, the chance to shine or wreck is all too strong.
Hole No 12 - 457 Yards Par 4
Uphill and turning quickly left, this hole offers plenty of opportunity for long hitters to take it left over bunkers to cut off considerable distance into the green. The best angle is from the left as the slightly elevated green is well protected to the right. A beautiful backdrop of hillside vegetation frames this strong Par 4.
Hole No 13 - 241 Yards Par 3
Long and demanding, this Par 3 is surrounded by a very large area of turf and the green is the largest on the course. The front of the green is protected by a very deep, single bunker, which sets up a nice roll onto the green.
Hole No 14 - 401 Yards Par 4
Doglegging right, this short hole is easily negotiated if tee shots are kept to the left avoiding a long series of bunkers up the right side. The green is well protected but will accept shots that run up from the center. Very intimidating from the tee, this hole will play easier than it appears.
Hole No 15 - 580 Yards Par 5
The signature hole of the course turns strongly right to left around an enormous reservoir and features a wild display of bunkering along the inside of the turn from the landing area, all the way to the green. Keep your tee shot right and use the slope to kick to the center. Long hitters will be tempted to go at the green in two by clearing almost the entire water surface. Second shots should be played to a large landing area beyond a deep open channel. From there, only a small wedge shot can be played to the green. Conservative play will yield good scores here. Attack only if you are willing to pay the price!
Hole No 16 - 432 Yards Par 4
This tee shot is somewhat demanding as the landing area is up on a narrow plateau with deep bunkers left. Keep it right towards the target bunker and let the ball feed to the left. Long tee shots will receive even more forward roll towards the green, which is protected by a good show of bunkers. Back left pins can be attacked by feeding the ball from the center of the green.
Hole No 17 - 197 Yards Par 3
This demanding Par 3 plays to a slightly raised green with bunkers surrounding. The right side does allow for missed shots but the fairway falls away quite quickly, leaving delicate chipping, sometimes over the front right bunker. 3 is certainly a good score here.
Hole No 18 - 460 Yards Par 4
Perhaps the most difficult finishing hole in the entire Mission Hills complex! With water from tee to green, the hole is visually intimidating and long enough to challenge the best of players both off the tee and onto the green. Huge rock walls support the edge of the fairway and the enormous clubhouse facility serves as a looming backdrop to this hole. The green is perched above water and allows little bailout right as greenside bunkers will capture errant shots leaving difficult shots onto the green. Par is a great score here!
THE OTHER COURSES
- The Jack Nicklaus course, the venue for the 41st World Cup of Golf in 1995, is a masterpiece revered throughout the world as the most magnificent golfing course in Asia. It was the first course in China to be endorsed by the US PGA Tour for major professional competitions. The signature 16th hole is renowned as a classic in course architecture
- The Greg Norman course is 7,214 yards long and is the perfect combination of golf course style and nature...
- The Annika Sorenstam Course has spectacular views of the natural terrain and mountains which rise more than 100 meters above the golf course...
- The Ernie Els Course gives you the lush look of dense trees, wide swaths of manicured turf - and has been set up for night play
- The Vijay Singh Course introduces a 150-yard beach bunker...
- The Nick Faldo Course is a gem that is destined to become one of Asia's premier tournament venue...
- The David Duval Course features numerous water hazards, deep ground cover and a mixture of long, short and multi-angled dogleg holes...
- The Jumbo Ozaki Course takes advantage of dramatic terrain by playing largely through single corridor valleys...
- The David Leadbetter Course is an especially challenging one where a golfer must be able to use every club in his bag if he is to play it well.
MISSION HILLS CLUBHOUSES
Shenzhen Clubhouse
This 300,000 square foot complex is Mission Hills' original clubhouse.
Overlooking Jack Nicklaus' famous World Cup Course and the Els Course, the Mission Hills Shenzhen Clubhouse is the nerve center of the entire Mission Hills complex, acting as the main transportation hub for the free shuttle buses that service the half-dozen other clubhouses.
It is connected to Mission Hills' 5-star Resort & Spa, and is also in close proximity to the resort's main administrative building and residential communities.
The owners of the club have gone to a great deal of trouble to ensure that its members and guests enjoy the highest quality wining, dining and recreation in the opulent surroundings of its palatial 300,000 sq ft Clubhouse.
The international cuisine and fine wines and liquors served up at its eight restaurants, bars and cafes are of the highest quality; outstanding master chefs ensuring that you are served delicious Japanese, Cantonese, Asian and Western meals at all times
These establishments include:
- The Imperial Court restaurant
- The Piano Bar
- The Valley Cafe
- The Cafe Royale
- The Mountain Cafe
- The Members' Lounge
- The Majestic Court Restaurant
- The Sasaki Japanese Restaurant
The clubhouse also contains:
- Asia's largest golf shop where golf cars, carts and golf equipment can be hired
- Asia's largest spa, located in our luxurious Shenzhen Club, Dongguan Club, Country Club and Dongguan Luxury Spa Hotel and together occupy a space of over 12,000 sq m, provide state-of-the-art treatment services and facilities. Professional therapists offer Chinese Healing Therapy, Hair Styling, Nail Services, Facial Therapy Body Scrubs, Therapy Body Wrap Therapy, Traditional Massage Therapy, Cosmopolitan Massage Therapy, and Tui Na, Cupping, Acupuncture (Zhen Fa) and Moxibustion (Jiu Fa) healing techniques.
Dongguan Clubhouse:
Perhaps the second most important clubhouse of this amazing golfing complex is the Dongguan Clubhouse, which is set within the Dongguan Forest Park and is surrounded by the region's rolling hills and natural landscapes,
A majestic backdrop to the 18th hole of the Olazabal course, the Dongguan Clubhouse features Asia's largest spa facility, a golf pro shop with a global collection of premium goods, as well as a variety of lounges and restaurants serving western and eastern cuisine.
It also houses the Mission Hills Kids Gallery - a children's activity center and day care.
In addition, the complex houses an exhibition center with a variety of function rooms, conference halls, media facilities and an auditorium, making it a popular venue for everything from international golf tournaments and summits, to large-scale exhibitions and cultural performances.
Along with the Olazabal course, the Dongguan complex serves five of Mission Hills' 12 courses, including those by Annika Sorenstam, Greg Norman, David Duval and David Leadbetter. It also offers a driving range and a putting green for members and their guests.
OTHER FACILITIES:
Other facilities offered by the club include:
- Six spectacular undercover driving ranges that incorporate pitching and putting practice greens
- A David Leadbetter Teaching Academy where eight highly-trained professionals from a variety of countries are available to give lessons
- A Country Club, set in elegant surroundings and catering for a wide range of sports and leisure activities including weight training, archery, snooker, cycling, table tennis, basketball and badminton. It also contains the largest outdoor Kids' Club in China and the Broadway night club
MEMBERSHIP:
This elite, private members club with it's total investment of some 10 billion Hong Kong Dollars, offers four main classes of membership.
They range form its Charter Diamond Membership that will cost you 1,980,000 Chinese Renminbi (about US$317,000), through its less expensive Gold (RMB 730,00/$117,000) and Emerald (RMB468,000/$75,000) memberships to it's Ruby Class which at 318,000 Renminbi (about $50,000) is it's least expensive class, but which also offers a lot less privileges than the full house Charter Diamond class which gives it's holders everything golfing giant Mission Hills has to offer, including access to all of its 12 signature courses.
HOW TO GET THERE
From Hong Kong Lok Ma Chau to Mission Hills, the ride only takes around 30 minutes. Shuttle bus services run from Mondays to Sundays, 6:00 am - 9:00 pm at 20 minute intervals. A car park is available to all members.
WHO TO CONTACT
- Postal address: Hong Kong Office, 29th Floor, 9 Queen's Road Central, Hong Kong
- Street Address: No. 1 Mission Hills Road, Shenzhen, China, Postal Code: 518110
- Telephone: Shenzhen: (86 755) 2802 0888 or Hong Kong: (852) 2122 1616
- Fax: Shenzhen: (86 755) 2801 1111 or Hong Kong: (852) 2869 9632
- E-mail: info@missionhillsgroup.com
- Reservation Hotline: reservation@missionhillsgroup.com
- David Leadbetter Golf Academy: golfacademy@missionhills.com.hk
- Mission Hills Properties: properties@missionhillsgroup.com
- Mission Hills Spa: spa@missionhillsgroup.com
- Golf Shop: info@missionhillsgroup.com
Photo

Galleries

Some choice images from the final round of the Masters at Augusta, as Bubba Watson pulled of a superb repeat victory. Go to Gallery

The movers and shakers at the third round of the US Masters at Augusta National. Go to Gallery

Selected images from second-round action at the 78th US Masters at Augusta National. Go to Gallery
Neville Leck Blog
"The embrace a gleeful Sergio Garcia gave his German caddy after his first victory in 2013 at the Thailand Open on S..."
Courses

Nestling on the banks of the Mississippi, TPC Louisiana, scene of the Zurich Classic, is one of Pete Dye's best.

Quail Hollow Club, which next week hosts the Wells Fargo Championship, is one of the finest in Southeast USA.
Golf Lessons
Looking For The Perfect Pitch? Visit The Swing Doctor!