Leaderboard
Maybank Malaysian Open - R4

| Player | Score | H |
| --- | --- | --- |
| L Westwood | -18 | 18 |
| B Wiesberger | -11 | 18 |
| L Oosthuizen | -11 | 18 |
| N Colsaerts | -11 | 18 |
| D Willett | -10 | 18 |
| P Larrazabal | -10 | 18 |
| J Quesne | -10 | 18 |
| T Pieters | -9 | 18 |
| R Karlberg | -9 | 18 |
| A Lahiri | -8 | 18 |
Hong Kong GC
By Neville Leck Last updated: 8th December 2013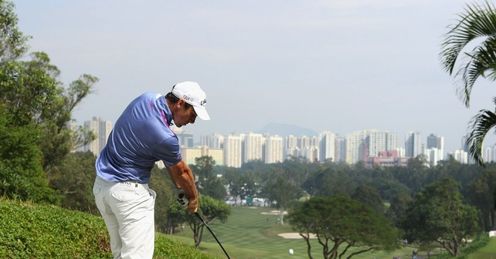 Related Links:
href=http://www.golf365.com/courses/0,17901,9792,00.html>More course reviews
Storied Hong Kong GC, currently the permanent home of this past week's Hong Kong Open, is more than 100 years old and easily China's oldest golf establishment.
HISTORY
The club, known for most of its long life as Royal Hong Kong Golf Club, was formed on Friday 10th May, 1889, by "thirteen golfing enthusiasts".
Initially they had a great deal of trouble finding sufficient land in a land-hungry region, but eventually they were given permission to play at Happy Valley, a tract of land used for football, polo, hockey and military parades.
This meant they had to take their turn with the other activities - and were not permitted to construct such things as bunkers, tee boxes and greens.
They overcome these obstacles to some extend by using nets for bunkers and granite setts for the holes.
By 1891, membership had grown to over 100 and a small shed was built as a clubhouse where refreshments were served and players were able to socialise after a round.
By 1896 the "crowded conditions" led to the committee deciding that the ladies could only play on a "very restricted basis".
The pressure on starting times eventually became so great that the captain and club officials were forced to find an additional location at Deep Water Bay, which, besides providing an area for a small 9-hole course, also provided perfect bathing.
But there were drawbacks.
At that time Deep Water Bay was only accessible by launch from Victoria Harbour.
A Clubhouse was erected at Happy Valley in 1898 by which time members were making their way to the course in boats or on ponies which they rode over Wong Nei Chong Gap, whilst the caddies walked, carrying their clubs and picnic baskets.
In 1904 football and the other activities that had previously taken place at Happy Valley were drastically cut and the area was turned over almost exclusively to the Golf Club, except on Wednesdays and Saturdays when football and cricket were played.
Ladies were now even allowed to play on a Sunday.
In 1911, thanks to the negotiating skills and foresight of ER Halifax and some others, sufficient land was obtained from the local farmers and, with Government approval, a full 18-hole hole golf course was built at Fanling
That was the 'Old Course'.
The New Course was completed in November 1931.
Finally a third 18-hole course, the Eden, was added in 1970.
The 'Royal' nomenclature was dropped in 1996, but it has taken nothing away from the high quality reputation the club has built up over the past Century.
Today it is ranked as one of the finest clubs in the world.
Its championship layouts have been able to attract major winners of the calibre of Peter Thomson (1960, 1965 and 1967), Mr Lu Liang-Huan (1959 and 1974), Nick Faldo (1990), Bernhard Lanager (1991), Tom Watson (1992) and Jose-Maria Olazabal (2001).
The Club has also hosted the Eisenhower and Espirito Santo Trophies (1984), and in recent years was chosen as the site for the Asian Zone qualifying rounds for the Dunhill Cup.
The first Johnnie Walker Classic in Asia was played there in 1990 and won by Faldo after he had posted a course record 62.
Not to be outdone, Bernhard Langer shot a 63 in winning the Hong Kong Open in the following year, but Ian Poulter went three better when he shot a spectacular 60 on his way to victory in the Hong Kong Open in 2010.
The Club celebrated its Centenary in 1989 and has entered its second hundred years recognised as one of the leading golf clubs worldwide.
Its three, full 18-hole courses at Fanling and its 9-hole Par 3 course at Deep Water Bay, along with its swimming pools, tennis courts, excellent restaurants and top class accommodation, have made The Hong Kong Golf Club one of the premier golfing destinations in Asia.
THE COURSE:
The 'New Course' where this week's Hong Kong title is to be fought for, is a beautiful, pristine, par-70 parklands course with only two par fives, the 3rd and the 13th, and with three of it's four par-three holes (the 2nd, 5th and 8th) on the front nine.
Card of the course
(See under hole No; par; yards; metres)
Front Nine
1 4 468 428
2 3 149 136
3 5 551 504
4 4 288 263
5 3 214 195
6 4 436 399
7 4 381 348
8 3 188 172
9 4 474 433
OUT 34 3149 2878
Back Nine
10 4 367 336
11 4 466 426
12 3 144 132
13 5 529 484
14 4 426 389
15 4 426 390
16 4 411 376
17 4 406 371
18 4 410 375
IN 36 3585 3278
TOTAL 70 6734 6157
MAP OF THE COURSE
To see a map of the course where this week's UBS Hong Kong Open is to be played, click here

OTHER FACILITIES:

Apart from it's three 18-hole courses and its 9-hole, par-three course, the club has:

- Practice facilities that includes a 34 Bay Driving Range, pitching and putting practice greens and a teaching academy where six professionals are available.

- a large Swimming Pool

- a Billiard room with two tables

- a men's lounge

- a high-quality Pro Shop where the sports finest equipment and apparel is on sale and where golf clubs, hand carts and golf cars are available for hire

- trained caddies are available for hire

- a card room, a Mahjong room and quiet rooms

- extensive dining facilities offering both Chinese and Western menus.

- a verandah overlooking the courses where drinks and meals are served

VISITORS:

Although the Hong Kong Golf Club has a large membership, Visitors are welcome from Monday to Friday, with the exception of public holidays, and are advised to call after 3.00 p.m. the day before to pre book a starting time.

All the transactions within the Club including catering, halfway houses and caddies should be settled by debit card which can be purchased at Reception. The Club accepts cash and credit cards at the Reception and the Pro shop.

FEES:

Note: The conversion rate of the British pound to the Hong Kong Dollar on 8th December, 2013, was 1 = 12.67106

Greenfee (18 holes) - HK$2,000

Twilight greenfee - HK$1,100*

*Including the use of Driving Range and HK$200 Food & Beverage Debit Card which is non-refundable and valid for the day of play only.

Rental of clubs - HK$450 per set

Rental of shoes - HK$100 per pair

(Available from the Pro Shop)

Hiring of caddies from the Caddie Master

HK$360 per round (Senior)

HK$290 per round (Regular)

HK$225 per round (Bag Carrier)

Compulsory to hire a minimum of 1 caddie for 2 players

An additional HK$30 will be added to the caddie fee as food & beverage halfway house levy for the caddies

Golf Cart (Old and Eden) - HK$270 per cart (for 2 players & 2 sets of clubs)

RULES & REGULATIONS

- Dress Code

Men: Shirts with collars and sleeves, shorts (maximum of 5 inches above knees)and socks or trousers .

Ladies: Shirts with collars with or without sleeves, shorts, trousers or skirts. No tracksuits.

Blue denim wear is not permitted anywhere on the course or in the Clubhouses.

- Clubs - Each golfer to play with a full set of golf clubs.

- Dehydration - Excessive sweating places demands on the body's fluid reserves. It reduces blood volume and creates dehydration. If fluids are not replaced, core temperature may rise to dangerous levels. Therefore please drink plenty of water. Halfway houses will sell drinks at the following holes:

Old course - after 9th hole

New course - after 11th hole

Eden course - after 12th hole

- Mobile Phones - The use of mobile phones is not permitted throughout the Clubhouse or on any of the courses.

- Timer per round (Maximum)

Summer Season (May to September)
2 Ball 3 hours 10 minutes
2/3 Ball 3 hours 35 minutes
3/4 Ball 4 hours

Winter Season (October to April)
2 Ball 3 hours
2/3 Ball 3 hours 25 minutes
3/4 Ball 3 hours 50 minutes

LOCATION:

The Club is served by the KCR train. The nearest station, Sheung Shui, is only a five-minute taxi ride away from the Club. Commuting by road is also convenient. Travelling time is approximately 40 minutes from Tsim Sha Tsui.

Follow the Tolo Highway and only leave the motorway at the exit sign "Shek Kong, Kwu Tung". The Club is about 500 yards from the highway with the car park on your left past the light crossing. Take care when crossing the Fan Kam Road to the Clubhouse.

TO CONTACT THE CLUB

Mailing Address : P0 Box 1, Shek Wu Hui Post Office, N. T. Hong Kong

Email Address: enquiry@hkgolfclub.org

Fanling Courses :

Street Address: Lot No 1 Fan Kam Road, Sheung Shui, N. T. Hong Kong

Tel : (852) 2670 1211 Fax : (852) 2673 6743

Deep Water Bay Course :

Street Address: 19, Island Road, Deep Water Bay, Hong Kong.

Tel : (852) 2812 7070 Fax : (852) 2812 7111




Photo

Galleries

Some choice images from the final round of the Masters at Augusta, as Bubba Watson pulled of a superb repeat victory. Go to Gallery

The movers and shakers at the third round of the US Masters at Augusta National. Go to Gallery

Selected images from second-round action at the 78th US Masters at Augusta National. Go to Gallery
Neville Leck Blog
"The embrace a gleeful Sergio Garcia gave his German caddy after his first victory in 2013 at the Thailand Open on S..."
Courses

Harbour Town Golf Links where this week's RBC Heritage tournament will take place, is a players' favourite.

It would be no exaggeration to describe the Kuala Lumpur G&CC as one of Asia's towering beacons of its kind.
Golf Lessons
Looking For The Perfect Pitch? Visit The Swing Doctor!