Leaderboard
Volvo China Open - R1

| Player | Score | H |
| --- | --- | --- |
| R Jacquelin | -6 | 14 |
| A Quiros | -5 | 18 |
| S Dyson | -5 | 18 |
| T Hatton | -4 | 18 |
| A Otaegui | -4 | 18 |
| D Horsey | -4 | 18 |
| M Hoey | -4 | 14 |
| I Poulter | -3 | 18 |
| S Khan | -3 | 18 |
| J Quesne | -3 | 18 |
Drugs and golf
By Neville Leck Last updated: 27th February 2013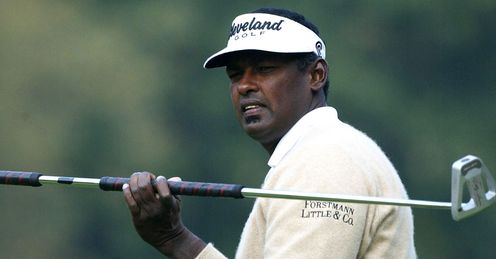 Stunning, but true. Vijay Singh, one of the few men ever to have taken the World No 1 crown away from Tiger Woods, has been caught doing a Lance Armstrong.
Or to put it in more technical terms, he's been regularly spraying under his tongue a supplement made from deer horn that contains not one but two banned substances.
Spelled out on the supplement suppliers website, the spray's list of contents includes "Insulin-like Growth Factor (IGF-1) - a precursor for the production of growth hormone (HGH)" and "Erythropoietin - a hormone product by the kidney for red blood cell production".
Both are banned by the World Anti-Doping Agency. but Singh has said that it was "to his evident horror and surprise" that he discovered that the deer antler spray he'd been using contained these banned substances.
The 49-year-old Fijian multi-major winner said in a statement: "While I have used deer antler spray, at no time was I aware that it may contain a substance that is banned under the PGA Tour Anti-Doping Policy.
"In fact, when I first received the product, I reviewed the list of ingredients and did not see any prohibited substances. I am absolutely shocked that deer antler spray may contain a banned substance and am angry that I have put myself in this position."
An honest mistake? Quite possibly.
In a sport where honesty is the cornerstone of the game, nobody wants to be caught cheating.
But maybe Singh should have been as conscientious about ensuring that the 'Ultimate Sports Spray featuring Liposomal Deer Antler Technology' he'd purchased from a company called SWATS was scrupulously legal as the famed golfaholic was about getting himself down to the driving range and daily hitting hundreds and hundreds of balls as he worked endlessly on developing the most efficient repeating swing possible.
Maybe it was precisely because of all the work he puts into his game, that he passionately believed his aging body needed a booster and like an ostrich, put his head in the sand and carried on spraying regardless.
Big mistake.
With all the publicity that has been given to drug cheats, notably during the terribly sad Armstrong expose, his ears should have pricked up immediately when he noted that SWAT stood for 'Sport With Alternatives To Steroids'.
He should have sought the advice of a knowledgeable drugs specialist instead of trusting his own judgment and the end result is that he is now in the precarious position of facing the possibility that he will become US golf's second known drug offender.
The first was 40 year-old American Doug Barron, who was suspended for 12 months after testing positive for a banned substance that contained testosterone and which he claimed had been prescribed to him by his doctor to boost his libido.
This was shortly after Drug testing on the US PGA and European Tours began in July 2008.
Baron had played eight full seasons on the PGA Tour, most recently in 2006, but had since then competed mainly on the second-tier Nationwide Tour where, before his ban, he had been regularly failing to make the cut.
In the meantime, Singh should also have been aware of Mark Calcavecchia's recent problems with Swats products for it was widely reported in the US media.
Calc, a former Open Champion now in his 50s but still a world-class golfer, had been using Swats' alternatives to steroids and even endorsing them on his website when he was informed by the Champions Tour that the spray contained a growth hormone and was therefore an illegal, banned substance.
"They told me to stop taking it," he is reported to have told Golf Channel's Tim Rosaforte , "and that was that.
"As soon as I found out it wasn't good and didn't conform to the rules, I quit taking it."
Singh must be hoping he'll be as lucky and that he won't be as remorselessly pursued in the way that Armstrong was, but you just never know now that golf is an Olympic sport and the first Olympic golf championship this century is just around the corner in 2016.
Photo

Galleries

Some choice images from the final round of the Masters at Augusta, as Bubba Watson pulled of a superb repeat victory. Go to Gallery

The movers and shakers at the third round of the US Masters at Augusta National. Go to Gallery

Selected images from second-round action at the 78th US Masters at Augusta National. Go to Gallery
Neville Leck Blog
"The embrace a gleeful Sergio Garcia gave his German caddy after his first victory in 2013 at the Thailand Open on S..."
Courses

Nestling on the banks of the Mississippi, TPC Louisiana, scene of the Zurich Classic, is one of Pete Dye's best.

Quail Hollow Club, which next week hosts the Wells Fargo Championship, is one of the finest in Southeast USA.
Golf Lessons
Looking For The Perfect Pitch? Visit The Swing Doctor!