Leaderboard
Maybank Malaysian Open - R1

| Player | Score | H |
| --- | --- | --- |
| L Westwood | -7 | 18 |
| N Colsaerts | -6 | 18 |
| M Hoey | -5 | 18 |
| R Santos | -5 | 18 |
| J Kruger | -4 | 18 |
| J Quesne | -4 | 18 |
| M Kawamura | -4 | 17 |
| S Jamieson | -4 | 16 |
| R Lee | -3 | 18 |
| E Molinari | -3 | 18 |
Scrap the belly putter ban
By Neville Leck Last updated: 26th February 2013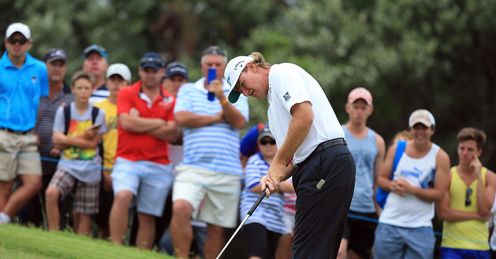 I saw it coming when the long-handled putter ban was first proposed last year - the professional golfers of the PGA Tour have voted against it.
They don't want belly and broom handled putters outlawed in 2016 as has been jointly proposed by the United States Golf Association and the Royal & Ancient Golf Club on the grounds that anchoring putters to the body gives players an unfair advantage.
US PGA Tour boss Tim Finchem made it very clear that the majority of US PGA Tour players are opposed the to ban when he was interviewed by TV commentators during the final round of the WGC-Accenture Match Play Championship on Sunday
Finchem said: "We hold the USGA in highest regard as a key part of the game of golf. We don't attempt to denigrate that position in any way whatsoever.
"It's just on this issue on which they have asked for comment, we think if they were to move forward they would be making a mistake."
The USGA and the R&A announced on November 28 last year that they proposed to prohibit players from anchoring the club to their body as golfers traditionally do when they use belly and broom-handled putters, but said they would allow a 90-day period for comment before making anything final.
The fact that three of the last five major champions had used a belly putter seemed to have had some influence upon that decision, but Fincham said he had subsequently found that opposition to the proposal has been growing ever stronger during the series of meeting he has been holding with his Tour players over the past few months and it reached a head in San Diego when USGA executive director Mike Davis chaired am important meeting of the players in San Diego last week.
Finchem said the up-shot of the meeting had resulted in him sending a letter to the USGA and R&A stating the Tour's position on the subject which echoes the stance of the PGA of America, the body that represents the nation's non-Tour club and teaching professionals who also oppose the ban.
"I think the essential thread that went through the thinking of the players was that in the absence of data or any basis to conclude that there is a competitive advantage to be gained by using anchoring, and given the amount of time that anchoring has been in the game, that there is no overriding reason to go down that road," Finchem said.
The USGA and R&A, initially supported by some like Tiger Woods, claim that an anchored stroke takes too much skill out of the game.
Their goal was a putting stroke that moved freely through the entire swing. They conceded, however that they had no empirical data, to support this supposition, besides the fact that for the first time three of the most recent major had been won by men wielding belly putters
These were Keegan Bradley who won the US PGA Championship in 2011, and Webb Simpson and Ernie Els, who respectively won the US Open and the Open Championship in 2012.
Finchem stressed that his PGA Tour was not in a "donnybrook" situation with the USGA over who sets the rules.
He explained that he was merely responding to USGA/R&A request for comment, but said, yes, he did realise that the stance taken by the Tour did put the USGA and the R&A under pressure
He brushed aside questions about which direction the Tour might go in if the USGA/R&A followed through with their ban plan.
"I haven't spent much time worrying about that," he said. "That would be speculation, and I haven't really thought about it. I've thought more about some areas of bifurcation, whether it would work or not. But I think that the focus here ought to be, if possible, to go down the same road, everybody go down the same road on anchoring, and that's certainly where we are right now.
"We just hope they take our view on it," he said. "We'll see."
In the meantime, USGA has issued a statement saying that they have been listening to "many productive conversations across the golf community" on their proposed rule and indicated that they might not be ready to back down on their intention to implement the ban, saying in a statement: "As we consider the various perspectives on anchoring, it has always been our position that Rule 14-1b aims to clarify and preserve the traditional and essential nature of the golf stroke, which has helped to make golf a unique and enjoyable game of skill and challenge," the statement said.
Finchem that part of the problem facing the game's golfing bodies charged with setting the rules of the game had arisen because of the fact that they had allowed the use of long-handled putters for two decades during which some of the game's finest golfers had grown up with and built their games around these types of putters.
I totally agreed with his suggestion that if the USGA had tried to ban the anchored stroke in 1975 they would have had very little resistance to it, but that now it was far too late to do anything about it.
He said that if anchored putting clearly produced negative results for the game it would be a different matter, adding, "We have to look at it from the standpoint of is it good, bad or indifferent for the game as a whole - professional level, amateur level - and we conclude that it's not (a bad thing)."
Now that the US PGA Tour, the richest and most influential Tour on the Globe, has made its intentions known, don't be too surprised if other tours like the European, Asian, LPGA and Ladies European Tours don't join them and create a situation that will threaten to create a major schism in World Golf if the USGA and R&A ignore the strong objections being voiced and goes ahead and outlaws long-handled putters, regardless..
As things are, long-handled putter are available to everyone and what could be fairer than that?
If they are outlawed, it is going to be very unfair to that group of players who have grown up with them and spent an ocean of sweat and countless hours of toil perfecting the use of them.
As for tradition - phaw! What a load of humbug.
If it was so important, why are golfers not still playing with 'woods' made of wooden shafts and wooden club heads instead of fibre glass shafts and Titanium heads?
And why have featheries been replaced by the modern, hi-tec ball that flies hundreds of yards further than they ever did?
What has always made the human race superior to the other animals that inhabit this planet is their ability to move on - so let's get sensible on this one and not take a step backward.
Photo

Galleries

Some choice images from the final round of the Masters at Augusta, as Bubba Watson pulled of a superb repeat victory. Go to Gallery

The movers and shakers at the third round of the US Masters at Augusta National. Go to Gallery

Selected images from second-round action at the 78th US Masters at Augusta National. Go to Gallery
Neville Leck Blog
"The embrace a gleeful Sergio Garcia gave his German caddy after his first victory in 2013 at the Thailand Open on S..."
Courses

Harbour Town Golf Links where this week's RBC Heritage tournament will take place, is a players' favourite.

It would be no exaggeration to describe the Kuala Lumpur G&CC as one of Asia's towering beacons of its kind.
Golf Lessons
Looking For The Perfect Pitch? Visit The Swing Doctor!