Leaderboard
Maybank Malaysian Open - R2

| Player | Score | H |
| --- | --- | --- |
| A Lascuna | -9 | 17 |
| D Willett | -8 | 17 |
| L Westwood | -8 | 1 |
| J Quesne | -7 | 18 |
| R Santos | -6 | 18 |
| M Kawamura | -6 | 17 |
| S Jamieson | -6 | 16 |
| A Sullivan | -6 | 13 |
| N Colsaerts | -6 | 1 |
| G Mulroy | -5 | 18 |
Donald gave Snedeker the blueprint
By Neville Leck Last updated: 13th February 2013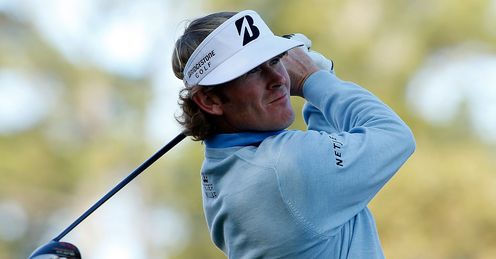 Brandt Snedeker has charged into the No 4 spot on the world rankings list - and right now looks ready to go even higher.
Not only did last year's FedEx Cup champion beat some of the cream of the US PGA Tour at the prestigious AT&T Pebble Beach National Pro-Am on Sunday, but it put the cherry on top of a marvelous run that has seen him finish in the top three five times in his last six starts.
The 32-year-old six-footer's glory march started with his victory in last season's PGA Tour climax, the Tour Championship at the historic East Lake Golf Club which helped him claim the FedEx Cup and with it a massive $10 million bounty.
The streak continued with a third-place finish in the season-opening Tournament of Champions in Hawaii in January and better still, back-to-back second-placed finishes behind 21st century golfing legends Tiger Woods and Phil Mickelson in the two tour events, the Farmers Insurance Open at Torrey Pines and the Phoenix Open at TPC Scottsdale, which immediately preceded his Pebble Beach triumph.
That's an amazing run by any standards and the Nashville-born Snedeker is certainly no Johnny-come-lately upstart.
Golf is in his blood. It has been ever since he was introduced to the game by his maternal grandmother who managed a golf course in Missouri.
Snedeker is a former US Amateur Public Links champion, he was the 2007 PGA Tour Rookie of the Year and is now a five-time Tour winner who has twice finished third in a major (the 2008 Masters and last year's Open). If you add all this to his latest accomplishments, the modest Nashville-born resident, to my mind, looks every bit like joining the long-list of American major winners in the not to distant future.
This especially now that he has learned to live with the fact that he is not one of the games big bangers like Bubba Watson, Nicolas Colsaerts, Dustin Johnson and Tiger Woods and that there are other ways to win majors as men like Jim Furyk and David Toms have clearly illustrated.
Luke Donald and Steve Stricker have yet to win a major, but they are other medium-length hitters who have climbed up into the upper echelons of the golfing world and it was the quality games of players like them and like Furyk and Toms that Snedeker decided to study, having taken the attitude that if they could do it, why couldn't he?
"The more time I spent watching those guys play golf, the more I realized what I needed to do to compete on a worldwide level," Snedeker told the PGA Tour's Helen Ross this weekend. "I give those guys a lot of credit because I watched them do it day-in and day-out for like the last five years.
"You watch those guys pick their way around a golf course ... and what their strengths are and what they need to focus on. So it really kind of inspired me."
It certainly has. Snedeker has been the epitome of consistency this year. He's played a total 19 rounds so far and posted 60s in all but three of them - and that's put him as much as 82 shots under-par for those 19 rounds.
"Yes, it's been pretty unbelievable, the current FedEx Cup points leader admitted, adding that this was especially so in view of the fact that he had dome it "with not very much fanfare and with people thinking, 'I don't hit the ball very long'."
His secret, he believed, was that, "Somehow all my parts have ended up being pretty good at the end of the day."
Snedeker will miss this week's Northern Trust Open at the Riviera Golf Club in Los Angeles to take a break in Hawaii with his family and won't be back until next week's World Golf Championships-Accenture Match Play Championship in Tucson.
In the meantime some tour colleagues have had some encouraging words for him. One of them, former Masters champion Zach Johnson sent a tweet which read, "Congrats Sneds. Dang. Slow down. It's a long season."
Snedeker, never boastful, always modest, has no intention of doing this. Not if he can help it.
He says: "When you start winning and putting stuff on top of stuff, it becomes very, very possible.
"Obviously I have some great guys in front of me that are playing some pretty great golf right now but I'm not in control of that. All I can do is go out there and win and put myself in position like I have the last few weeks."
The curly-headed father of two says Donald has been one of the figures who has inspired him most.
"He did it (topped the world ranking list) by simply being the most consistent player in the world," Snedeker said. "You have to do everything really well and he gave us the blueprint."
While lauding the Donald approach, Snedeker makes a strong point of talking up the key role that Team Snedeker - which consists of coach Todd Anderson, trainer Randy Myers and caddie Scott Vail - have played in his latest march to prominence.
He recalls how they had held a round table conference after he missed the cut at last year's final major, the US PGA Championship and praises them for the way they uplifted his spirit and helped restore his self confidence.
"You need people who believe in you 110 percent, even when you don't see it yourself," he said.
Snedeker feels that in this year's upcoming first major at Augusta, it is this strong team commitment that will help him overcome the miserable memories of how he lost a share of the final-round lead at the 2008 Masters with eight bogies over the final 16 holes
"I know that if I play the way I played the last three weeks that there's very few people in the world that can beat me," he told Ross in a confident and matter-of-fact way.
"I will relish that challenge; relish being there Sunday trying to beat the best player in the world or whoever it may be down the back nine at Augusta.
"That's something I look forward to instead of dreading it as I maybe did four years ago."
This winner or not at the Masters, if Snedeker can avoid injuries and keep playing the kind of golf he has over the past five months or so, it is highly probable he'll earn at least one of this year's major titles, even if he needs to get past the World's Nos 1 and 2, Rory McIlroy and Tiger Woods, to get there.
The golfer he has become is that good.
Photo

Galleries

Some choice images from the final round of the Masters at Augusta, as Bubba Watson pulled of a superb repeat victory. Go to Gallery

The movers and shakers at the third round of the US Masters at Augusta National. Go to Gallery

Selected images from second-round action at the 78th US Masters at Augusta National. Go to Gallery
Neville Leck Blog
"The embrace a gleeful Sergio Garcia gave his German caddy after his first victory in 2013 at the Thailand Open on S..."
Courses

Harbour Town Golf Links where this week's RBC Heritage tournament will take place, is a players' favourite.

It would be no exaggeration to describe the Kuala Lumpur G&CC as one of Asia's towering beacons of its kind.
Golf Lessons
Looking For The Perfect Pitch? Visit The Swing Doctor!