Leaderboard
Maybank Malaysian Open - R2

| Player | Score | H |
| --- | --- | --- |
| L Westwood | -13 | 18 |
| A Lascuna | -9 | 18 |
| N Colsaerts | -9 | 18 |
| D Willett | -8 | 18 |
| E De La Riva | -7 | 18 |
| A Sullivan | -7 | 18 |
| J Quesne | -7 | 18 |
| R Santos | -6 | 18 |
| M Kawamura | -6 | 18 |
| G Mulroy | -5 | 18 |
Let's outlaw slow play
By Neville Leck Last updated: 6th February 2013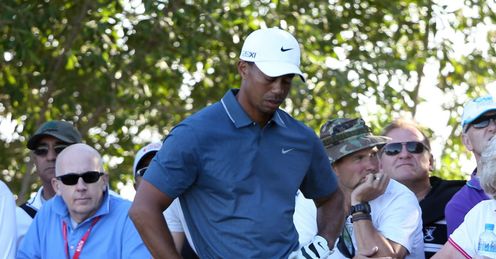 If Tiger Woods got a little steamed up by some slow play on his way to his victory at the Farmer Insurance Open two weekends ago, you can hardly blame him.
According to the World No 2, the field was so slow, his group took more than three hours to play just nine holes on a loop at Torrey Pines that included three short, par-three holes and quite frankly, that is not only ridiculous, it disastrous for the game of golf.
To give you some idea of just how slow that is, I can report having played in a three ball made up of medium to high-handicappers this weekend past that took us no more than three and half hours to conclude - and that included a 20-minute, halfway house stop for snacks and refreshments.
It helped, of course, that we were the second group to tee off and that we played behind a fast-moving group using golf cars.
It also helped that one of our group was also using a golf car, but in spite of this, for players of our calibre, who are clearly more error-prone than a Tour professional, to play 18 holes and come close to matching the time the ultra-slow field Tiger complained about took to play only nine is quite ludicrous.
Being subjected to this kind of crawl not only frustrates the living daylights out of world class professionals like Tiger, it annoys and angers players at every level of the game - especially when it robs them of that all-important part of the sport we call momentum.
In an increasingly faster world where sports spectators are demanding more drama in a shorter space of time and where even your run-of-the-mill weekend warrior is growing tired of standing around and getting cold between shots as they wait for the players ahead of them to move on, slow play is driving people away from golf, notably in the USA which over the past century could rightly claim to be the well-spring of the sport if the numbers of players it has recruited, the numbers of courses it has built and the numbers of major winners it has produced are anything to go by.
The US Golf Association, it seems, is acutely aware of this and for some time now have been seeking "solutions regarding pace of play issues in the game of golf".
"The cry that pace of play has become one of the most significant threats to the game's health has become only louder over the last year," USGA president Glen Nager said recently.
"Industry research clearly shows that slow play and the amount of time it takes to play a round of golf is detracting from the overall experience and threatening to drive players away from the game."
I'm not sure what they are going to do about the professionals apart from looking at more effective and fairer ways of imposing penalties and fines, but I am happily aware that short courses are some of the solutions being considered to get the true-blue amateur club golfer moving along faster.
One thing that has already come out of the USGA investigation is the fact that the longer and longer courses being built to cater for the modern big bombers of the professional game like Bubba Watson and Nicolas Colsaerts are not doing any good for your every day golfer.
If anything they are making the good days much harder to come by and the tougher, ego-hurting bad days much more plentiful.
Shorter courses will help to stem this trend for not only will they speed up the game and help the passionate club golfer spend less time away from home, it will also bring back the fun associated with shooting more pars and birdies.
Some clubs have a zero tolerance approach to slow play. I like that.
After initial warnings about persistent slow play, their snail-paced laggers get sent to the back of the field where they are unable to hold anyone up.
The worst offenders have even been known to be ordered off the course by no-nonsense marshals with the full backing of the club committee.
It's not so at my club.
To my mind, here too many of the worst offenders of slow play get away with murder.
They expect the field to wait for them as they strut around the greens, looking at putting lines from ever conceivable angle like professionals worrying about missing a million dollar putt.
Either this, or with massive delusions of grandeur, they waste more time holding back on approach shots that will never in a million years find the occupied green up ahead.
And all the while, you have to watch these antics and get so steamed up that by the time you do get the chance to play another shot, you have lost momentum and are so frustrated and tense, it is invariably a terrible shot.
As far as I am concerned, slow play is much more important than the long-putter issue and should have been tackled a lot sooner than it has been.
But now that it has, lets hope the USGA and, perhaps after that, the R&A who control the game of golf everywhere outside of the USA and Mexico, can find effective ways and means as well as sufficient will to rid the game of its annoying creepy crawlies.
Photo

Galleries

Some choice images from the final round of the Masters at Augusta, as Bubba Watson pulled of a superb repeat victory. Go to Gallery

The movers and shakers at the third round of the US Masters at Augusta National. Go to Gallery

Selected images from second-round action at the 78th US Masters at Augusta National. Go to Gallery
Neville Leck Blog
"The embrace a gleeful Sergio Garcia gave his German caddy after his first victory in 2013 at the Thailand Open on S..."
Courses

Harbour Town Golf Links where this week's RBC Heritage tournament will take place, is a players' favourite.

It would be no exaggeration to describe the Kuala Lumpur G&CC as one of Asia's towering beacons of its kind.
Golf Lessons
Looking For The Perfect Pitch? Visit The Swing Doctor!