Leaderboard
Maybank Malaysian Open - R4

| Player | Score | H |
| --- | --- | --- |
| L Westwood | -14 | 0 |
| A Sullivan | -13 | 0 |
| J Quesne | -10 | 0 |
| N Colsaerts | -9 | 0 |
| D Willett | -8 | 0 |
| R Karlberg | -8 | 0 |
| G Mulroy | -8 | 0 |
| E De La Riva | -8 | 0 |
| M Kawamura | -8 | 0 |
| R Santos | -8 | 0 |
Tiger getting too expensive
Last updated: 11th January 2013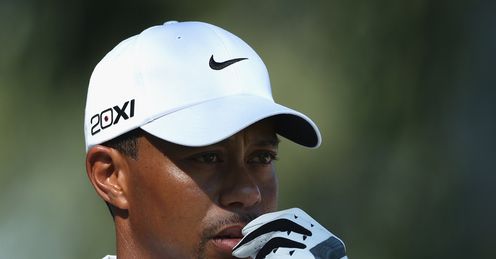 So oil-rich Qatar have given Tiger Woods the thumbs down on the grounds that he's simply not worth the astronomical $3 million he is said to be demanding in appearance fees.
I say good for them.
I don't believe any golfer is worth that kind of appearance fee, including Woods who, since the scandal that wrecked his marriage, seems to have lost a fair bit of the old magic that had seen him win 14 majors and, until a year or two ago, sit on top of the world rankings list for nearly a decade.
He's still one of the best, but he is no longer THE best, hasn't won a major since 2008 and has slipped down the world rankings list to No 3.
And perhaps even worse, he seems to spend so much of his time out on the course these days scowling darkly that he can hardly be described as a public relations dream.
Quatar Golf Association chief Hassan al Nuaimi certainly doesn't think so.
"Tiger Woods demands $3 million just for an appearance - and that's not worth paying for a tournament with $2.5 million in prize money," he told the Doha News this week.
He might have added that in the coming season a man who has just played out of his skin to beat the Globe's very best in a major can, at best, win only half the amount Woods and his agent are asking for him to do no more than show up, sign a few autographs, talk to the media and tee-off without any money-back guarantee that he'll even make the cut.
This year, according to the US PGA 2013 Tour schedule, the top first prize on the US PGA Tour will be the hefty $1,710,00 that will be paid to the winner of The Tour Championship, but no other winners purse on what is widely regarded as the richest Tour in golf will exceed $1,45m, which is of course less than half of what Woods currently expects to be paid in appearance fees.
For the record, that $1.45 million is the amount the winner of the US PGA Championship will receive, with the other Major pay-outs being $1.44 million for the Masters and the US Open and the Euro equivalent of $1,4 million for the Open Championship.
Other top dollar tournaments will be the four FedEx Cup play-off events where the winners of The Barclays, the Deutsche Bank, the BMW and The Tour Championships will each get R1.44 million.
Some years ago Ernie Els once light-heartedly described the prize money available in golf as being "a bit indecent" then added with a smile, "but I'll happily take it for as long as I can".
It would be interested to know what Tiger's comment on the subject would be.
Unlike Ernie, he's not an especially humorous person and I can't imagine him admitting that he is not the draw card he used to be and that the kind of appearance money he's asking for is way over the top.
No one can take away from him the fact that during his most glorious years when he bestrode golf like a Colossus, Tiger played a huge role in growing golf's worldwide profile and substantially increasing its purses - but no single golfer is bigger than the game.
You can be sure that as soon as one big star stops shimmering, starts spluttering and begins to fade, there will be another to take his place and grab the public's imagination.
We saw that when Tiger was forced to sit on the sidelines after knee surgery and the sport sailed happily on without him as a score of exciting new upstarts like Rory McIlroy began to surge to the front.
The US PGA Tour has banned all forms of appearance pay-outs, largely because they dislike the fact that its can considerably reduce the prize money pot that is available to everyone in the field - and they are more than ready to reinforce the ban with stiff penalties for anyone transgressing it.
Yet, having said my piece, I have to admit that not everyone seems to agree with me, the PGA Tour or Qatar's Hassan al Nuaimi.
Abu Dhabi must have met Tiger's demands because he has accepted an invitation to play in the European Tour's Abu Dhabi HSBC Golf Championship next week, an event in which he tied for third last year when you can bet your bottom dollar he was also paid a fortune in appearance money.
And I'm sure Abu Dhabi won't be the last, but I do believe that Tiger had better be careful he doesn't outprice himself. Not unless he gets back on track to winning more majors.
Photo

Galleries

Some choice images from the final round of the Masters at Augusta, as Bubba Watson pulled of a superb repeat victory. Go to Gallery

The movers and shakers at the third round of the US Masters at Augusta National. Go to Gallery

Selected images from second-round action at the 78th US Masters at Augusta National. Go to Gallery
Neville Leck Blog
"The embrace a gleeful Sergio Garcia gave his German caddy after his first victory in 2013 at the Thailand Open on S..."
Courses

Harbour Town Golf Links where this week's RBC Heritage tournament will take place, is a players' favourite.

It would be no exaggeration to describe the Kuala Lumpur G&CC as one of Asia's towering beacons of its kind.
Golf Lessons
Looking For The Perfect Pitch? Visit The Swing Doctor!