Leaderboard
Maybank Malaysian Open - R3

| Player | Score | H |
| --- | --- | --- |
| L Westwood | -14 | 18 |
| A Sullivan | -13 | 18 |
| J Quesne | -10 | 18 |
| N Colsaerts | -9 | 18 |
| D Willett | -8 | 18 |
| R Karlberg | -8 | 18 |
| G Mulroy | -8 | 18 |
| E De La Riva | -8 | 18 |
| M Kawamura | -8 | 18 |
| R Santos | -8 | 18 |
Long putters not dead yet
By Neville Leck Last updated: 4th December 2012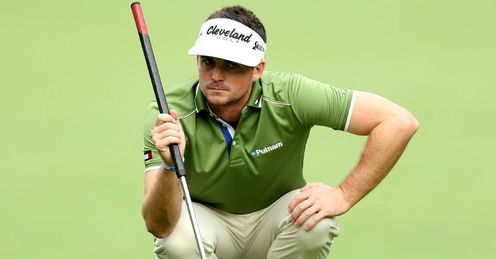 On the face of it, it looks as if the likes of Tiger Woods, Padraig Harrington and Rory McIroy have got their way and anchored putting will be illegal from 2016.
But have they?
2016 is a long way off and if the opposition to the ban that is beginning to build begins to accelerate, anchored broom-stick and belly putting may still be very much part of golf long after the tentative ban proposed by the USGA and Royal & Ancient is set to come into effect.
Most of the support for such a ban comes from golf's traditionalist and perhaps, even more so, from men with the greatest vested interests in seeing long putters go; from the Tigers, Padraigs and Rorys of this world who have most to gain by such a ban.
Long-handled putters as first used by Sam Torrance well over 20 years ago and later adopted by Bernhard Langer in order to save his career when it was threatened by the 'Yips', never seemed to be a problem.
At least not until up-and-coming American young guns Keegan Bradley and Webb Simpson and then South African veteran, Ernie Els, oddly enough a one-time critic of long-handle putters, began to win majors with them, Bradley picking up the 2011 US PGA, Simpson the 2012 US Open and Els The 2012 Open Championship.
There had never been a peep out of Tiger about anchored putting when he was nailing every putt that mattered on his way to winning his 14 majors in the opening decade of this century.
And you could say the same thing about Harrington during the two years he was at the top of his game when he won back-to-back Open Championships in 2007 and 2008 and then tagged on the US PGA title later in 2008.
Padraig hasn't won anything of significance since, either in the USA or in Europe, and while Tiger did come back from knee injuries and a scandal-shadowed divorce to win on the US Tour this year, he has yet to claim another major since capturing his 14th in the US Open at Torrey Pines in 2008.
One of Tiger's problems in the lean spell since Torrey Pines has been the fact that he has lost his old putting magic; his art of finding the hole whenever it really mattered and it may not be a coincidence that only now has he started making noises about anchored putting.
His latest concern, he somewhat pompously told reporters ahead of last week's World Challenge where Bradley beat him into second place behind Northern Ireland winner Graeme McDowell, are the "kids who are just getting started in the game".
"I don't know if there's any statistical data on it ... about whether or not anchoring the putter does help on a certain range of putts, especially the guys who have gotten the twitches a little bit," he said.
"But one of the things that I was concerned about going forward is the kid getting started in the game and starting to putt with an anchoring system.
"There have been some guys who have had success out here, and obviously everyone always copies what we do out here.
"And that's something that I think for the greater good of the game needs to be adjusted."
Pity he and the wise guys of the R&A and the USGA didn't take this view a long time ago before Bradley and Simpson and a hole host of other golfers all around the world were still developing their putting game for I am certainly not alone in feeling strongly that it is grossly unfair to now go out and punish them for quite legitimately winning tournaments with them.
And as for tradition - it's a lot of hooey.
There are a huge number of putters being used at all levels of golf that don't even vaguely resemble the traditional, bladed, flat stick. Some of their new putter heads look mini space stations
And don't tell me that the modern-day driver with its huge titanium head and its gadgets that can change the angle of its face and its weight distribution, looks anything like the simple, wooden-headed driver that served most golfers for the greater part of the 19th and 20th centuries.
But don't get me wrong. I am not against evolution. Evolution is in our nature; it is what has made man the dominant animal he is. The best of us have always attempted to find a way to do things better. So why stop now when we should all be aware of the fact that apart from death, the only thing we can be sure of is that nothing stays the same.
What I am against is the selective and unfair nature of this latest ban, largely because I believe it would punish the growing number of golfers who have been allowed to grow up with long-handled putters.
If it was going to be banned, it should have banned immediately after it was first used - as was the snooker stick that was disallowed after it helped a man putt his way to victory in a professional tournament in the US in the early part of the 20th Century.
And in any case, if long-handled putters do give their users such a big advantage, why have Woods and the rest of their critics not switched to them?
These same golfers don't seem to have had too many objections to adapting to many of the other revolutionary clubs that have come on the market in recent years, so why not the long-handled putter?
Is it perhaps the fact that it didn't work for them as well as it has, both for long-time converts like Bradley and Simpson and recent converts, like Els and Adam Scott?
Perhaps the most recent attention-grabbing feat by a long-handled putting exponent was 14-year-old Guan Tianlang's Asian-Pacific Amateur victory which has earned him a berth in next year's Masters at Augusta
Phil Mickelson is another who has attempted to switch to a belly putter.
In his case the move wasn't as magically successful as he may have hoped it would be and he switched back to a traditional putter, but interestingly, he is not a backer of the ban, perhaps because he has learnt that in the end its still feel and ability that counts the most when getting the ball in the hole.
Almost certainly at this stage, the PGA of America, which represents the USA's club professionals and stages the US PGA Championship, are the strongest opponents of the ban which they believe will put a break on the growth of the game in the US.
PGA of America President Ted Bishop said in response to the announcement of the ban this week: "As our mission is to grow the game, on behalf of our 27,000 men and women PGA Professionals, we are asking (the R&A and USGA) to seriously consider the impact this proposed ban may have on people's enjoyment of the game and the overall growth of the game."
The PGA Tour, meanwhile, made a kind of no-comment statement when they said: "While the USGA and The R&A have kept us updated on this proposed rule change, we only recently have been able to review the final language and have not until now had the opportunity to share it with our Policy Board and membership," they said in a statement.
"As with any rule change, we will go through our normal process of evaluating the potential impact this will have on all our constituents.
"It will be discussed at our next annual player meeting on January 22 in San Diego, and it is anticipated that it will be reviewed by our Policy Board during its March meeting. During this review process, we will provide periodic updates to our stakeholders."
Now that's a pretty lukewarm response that indicates that the Tour is well aware of the many varied opinions at play right now and are not going to rush into anything.
As I said up front, I don't believe anchored putting is dead in the water just yet. There is going to be a lot more water under the bridge before this highly contentious matter is finally settled.
Photo

Galleries

Some choice images from the final round of the Masters at Augusta, as Bubba Watson pulled of a superb repeat victory. Go to Gallery

The movers and shakers at the third round of the US Masters at Augusta National. Go to Gallery

Selected images from second-round action at the 78th US Masters at Augusta National. Go to Gallery
Neville Leck Blog
"The embrace a gleeful Sergio Garcia gave his German caddy after his first victory in 2013 at the Thailand Open on S..."
Courses

Harbour Town Golf Links where this week's RBC Heritage tournament will take place, is a players' favourite.

It would be no exaggeration to describe the Kuala Lumpur G&CC as one of Asia's towering beacons of its kind.
Golf Lessons
Looking For The Perfect Pitch? Visit The Swing Doctor!