Leaderboard
Volvo China Open - R1

| Player | Score | H |
| --- | --- | --- |
| A Quiros | -5 | 18 |
| S Dyson | -5 | 18 |
| T Hatton | -4 | 18 |
| A Otaegui | -4 | 18 |
| D Horsey | -4 | 18 |
| B Rumford | -4 | 18 |
| A Levy | -4 | 17 |
| I Park | -4 | 17 |
| I Poulter | -3 | 18 |
| S Khan | -3 | 18 |
There's more to golf than money
Last updated: 6th November 2012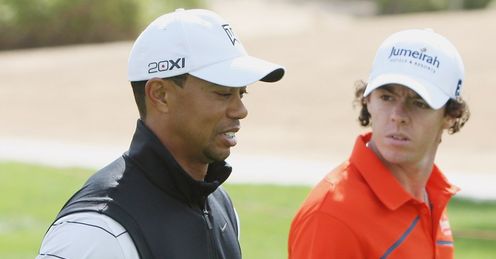 If the organisers of the WGC-HSBC Champions are upset with Rory McIlroy and Tiger Woods, I'm not at all surprised.
The HSBC Champions, one of the handful of events on the World Golf Championship calendar and won on Sunday by 2012 Ryder Cup star Ian Poulter with high-profile major champions Ernie Els and Phil Mickelson among the four in joint second place, is being looked upon in the east as Asia's major.
And why not.
Co-sanctioned by all of the World's professional tours, it is restricted to the winners of selected events on these tours and as such, should bring all of the world's best players to the starting line.
Only it didn't.
McIlroy and Woods, the World Nos 1 and 2, were among the few that were missing from the field when the event teed-off at the famed 12-course Mission Hills Golf Club in Southern China last Thursday.
They had allowed the smell of easy money to persuade them to turn down the HSBC Champions with the excuse that their schedule was overcrowded.
Yet it was not too overcrowded for the duo to instead take part during the past few weeks in two totally irrelevant, made-for-publicity jaunts.
The first was a Turkey-based affair calling itself the Turkish Airlines World Golf Final won by Justin Rose from a handful of invited stars, including McIlroy and Woods, and a nameless, so-called head-to-head confrontation in China between the two that in truth was no more than an 18 hole exhibition romp in which McIlroy and Woods were reported to have shared $3 million dollars for a single afternoon's work.
In the good old days, these types of events were relegated to the closing weeks of the year when all Tours that mattered had ended and were referred to as 'silly season' tournaments. But now organisers, agents and their star players, in pursuit of the fast buck, are going at it willy nilly and scheduling 'silly season' events when ever it suits them, regardless of the collateral damage that this might do to tournaments that really matter.
Perhaps its time the US PGA and the European Tours take a long, hard look at this festering phenomenon.
And if setting up these events isn't bad enough, it is worse still that with seemingly massive delusions of grandeur their organisers and/or advertisers have a knack of giving their tournaments grand names or fancy tags.
For example can someone tell me what the Turkish Airlines World Golf Final finalises? For the life of me I don't know and I am sure they don't know either.
Just as ludicrous is the silly habit of broadcaster M-Net and some other members of the media of constantly referring to the Nedbank Golf Challenge as 'Africa's Major'.
Quite clearly the inventors of this ridiculous misnomer have no idea of what a major is all about.
Anyone, be it an organiser, a sponsor or an advertiser, who describes an event featuring a dozen or so invited players as a major hasn't got a clue and doesn't seem to realise that all four majors insist on strict qualification standards and between them give hundreds of the Globe's best golfers the chance to qualify.
They don't simply invite who ever happens to be available - and these days, with Tiger Woods's end of year, 'silly season' invitational, The Chevron World Challenge, in direct competition to the Nedbank, there is no chance of the World top 12 players ever being available at the same time to play at Sun City.
Don't get me wrong. There is nothing wrong with the Nedbank as it is. Over the years it has certainly succeeded in bringing many of the game's greatest players to Southern Africa. And it should be applauded for that.
It has also provided some spectacular moments and I'm sure has left many of it's famous overseas visitors with warm memories of South African hospitality and lots of respect for the Gary Player Country Club golf course.
But for all that, it cannot and should not ever be described as Africa's major.
If Nedbank and Sun City really want to be associated with an event that could rightly be described as 'Africa's major' they should pool their resources and instead put them into the South African Open, the World's second oldest Open after the Open Championship itself.
It has the tradition and all the makings of a major event, but the kind of prize money it has been offering is no match even for your run-of-the-mill US PGA Tour event and doesn't even compare with some of the other European Tour events now being played in South Africa.
Photo

Galleries

Some choice images from the final round of the Masters at Augusta, as Bubba Watson pulled of a superb repeat victory. Go to Gallery

The movers and shakers at the third round of the US Masters at Augusta National. Go to Gallery

Selected images from second-round action at the 78th US Masters at Augusta National. Go to Gallery
Neville Leck Blog
"The embrace a gleeful Sergio Garcia gave his German caddy after his first victory in 2013 at the Thailand Open on S..."
Courses

Nestling on the banks of the Mississippi, TPC Louisiana, scene of the Zurich Classic, is one of Pete Dye's best.

Quail Hollow Club, which next week hosts the Wells Fargo Championship, is one of the finest in Southeast USA.
Golf Lessons
Looking For The Perfect Pitch? Visit The Swing Doctor!