Leaderboard
Volvo China Open - R1

| Player | Score | H |
| --- | --- | --- |
| A Quiros | -5 | 18 |
| S Dyson | -5 | 18 |
| T Hatton | -4 | 18 |
| A Otaegui | -4 | 18 |
| D Horsey | -4 | 18 |
| B Rumford | -4 | 18 |
| A Levy | -4 | 17 |
| I Park | -4 | 17 |
| I Poulter | -3 | 18 |
| S Khan | -3 | 18 |
Don't blame the Love plan
By Neville Leck Last updated: 2nd October 2012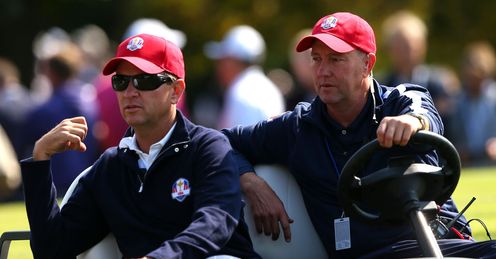 Davis Love III's decision to leave out the hitherto rampant US duo of Phil Mickelson and Keegan Bradley from his Saturday afternoon fourballs squad will almost certainly be criticised.
And so too would have Jose Maria Olazabal's controversial benching of the European team's indomitable firebrand and spearhead Ian Poulter for Friday afternoon's fourballs - had Europe not managed to squeeze home to a breathless, one point-victory in what is being hailed as one of the greatest fight backs in sporting history.
Mistakes are so easily overlooked when you win - and especially in an edge-of-the-seat thriller of the kind that is being called "the Miracle of Medinah".
As things turned out, Poulter, with fire in his eyes and a savage and ready roar for every little victory on his way to his three days of glory, stormed back to become the hero of Europe by first slowing the US charge in Saturday morning's foursomes when he and fellow Englishman Justin Rose finally stopped and beat this year's respective Masters and US Open champions Bubba Watson and Webb Simpson.
And then by birdying the last five holes in his pairings win with Rory McIlroy on Saturday afternoon that helped Europe, for the second day running, to square the fourballs session at 2-all and curtail to some extent what had looked very much like turning into a runaway win for the US.
But even at that stage the hosts, with the backing of a shamelessly loud and aggressive Chicago crowd clearly bent on urging their team onto victory - even if it meant cheering when the Europeans found water or the trees - looked to be the odds on favourites to win.
They were 10-6 up and playing with great aplomb and confidence, especially their four rookies, Bradley, Simpson, Jason Dufner and Brandt Snedeker.
Notably they were nailing all the putts that mattered and smiling to themselves when the Europeans simply were unable to do the same thing - with the notable exception, of course, of their lone rookie Nicolas Coelsarts, who had saved them from a whitewash in Friday morning's foursomes with a brilliant 62.
And all this despite the fact that in Rory McIlroy at No 1, Luke Donald at No 3, Lee Westwood at No 4 and Justin Rose at No 5 Europe were fielding four of the world's five highest ranked players, the US's Tiger Woods at No 2 being the odd man out.
But whatever it was, be it over-overconfidence on the part of the Americans and a loss of their early fire, drive and resolution, or an impassioned plea from Olazabal to his struggling Europeans yo get out there and win for his late, great friend Seve Ballesteros, something extraordinary happened between Saturday and Sunday that brought about the dramatic, and, for luckless Love, the traumatic change that would sweep Europe to their fourth consecutive Ryder Cup victory and perhaps their most glorious win of all time, even if it was only by 14½ points to 13½.
It wasn't the first time a comeback of this nature had been achieved.
The Americans hit back from an identical 10-6 deficit in their highly-charged and controversial victory at Brookline in 1999 when it was Justin Leonard's monster putt and with it, his victory, somewhat ironically, over Olazabal that wrapped things up for the Americans.
The difference is that their Brookline victory was achieved on home soil, Europe's Medinah triumph in a foreign land.
There will, of course, be some bitterly disappointed Americans who will say that in leaving Mickelson and Bradley out of his four fourballs pairings on Saturday, Love effectively ended the great momentum of a team seemingly bent on claiming an avenging victory after three straight defeats.
And there maybe something in such a view, for as things turned out, both Watson and Mickelson were among the eight losers in the 12 singles matches on Sunday when, for some still unexplained reason, the European top guns suddenly found their missing putting touch with Donald, that man Poulter, McIlroy, Rose and veteran Paul Lawrie, ironically playing in his first Ryder Cup since Brookline, all winning their matches to give Europe an all-important, morale-boosting opening sweep that took their overnight score from a 10-6 deficit to an 11-10 lead.
If Mickelson and Watson had not been benched on Saturday, this would not have happened, will be the view of many, but a "stunned" and downcast Love maintained afterwards that his game plan would not have changed. It was good enough to break the US victory drought, he believed - if his players had performed as expected and McIlroy and co had not managed to fight back as magnificently as they did.
This victory on the final day was all about performance and putting, not strategy and tactics.
I have to agree with Love. Nobody could have foreseen what would happen on what, for the Americans, was a shocking and ill-fated final day.
"Yes we're all kind of stunned," Love said after admitting his team may have suffered from overconfidence.
"We know now from the '99 Ryder Cup what it feels like (to win and to lose like this). ..
"It's a little bit shocking. We were playing so well. Everybody on our team was playing so well, we just figured it didn't matter how (in what order) we sent them out there (on Sunday).
"But we nevertheless put who we thought were our hot players up front and we put who we thought were our steady players in the back and believed it would get us the necessary points."
Sadly for Love and his generals, the game plan didn't work.
As is almost always the case in any level of golf, winning is about putting and Europe's key players finally found their missing touch on Medinah Country Club's No 3 Course greens while the USA were losing theirs, among them Tiger Woods.
The two time US PGA Champion at Medinah, but who won nothing there last week and is now the owner of the worst Ryder Cup record in history, missed a putt of no more than five or six feet to halve with Italy's Francisco Molinari at the 18th in the final match of the day and allowed Europe to edge one half-point further ahead.
But in truth, that missed putt didn't matter anything like as much as Martin Kaymer's critical, final winning putt at the 18th in the second last match of the day.
Kaymer's putt was the one that putt Europe one shot clear at 14-13 and famously ensured that his team, as the holders, would retain the cup, even if Woods had managed to reverse his winless record this year with a last-minute win on Sunday and had taken the final score to 14-all.
You can't blame Love for misses like that.
"Anytime you lose a segment that badly, it is going to cost you the Ryder Cup," Love lamented.
"But I have to give them (Europe) a lot of credit; they played very, very well.
"They had a couple hot streaks the first two days that kept them in it. Ian's (Poulter) hot streak at the end there yesterday gave them some confidence, and I know they built on that."
"Our guys that started hot the first couple days did not start hot today," Love said.
"We all thought it would come down to Jason Dufner, and he played very, very well. We just got a couple matches flipped there in the middle that cost us," said an unhappy Love without naming names, but possibly referring to the costly defeats of his numbers five and six, Mickelson to Rose and Snedeker to Lawrie.
"Everything had gone to plan. We were four ahead. The plan worked the first two days, it just didn't work today," said Love, who played for America at Brookline when the boot was on the other foot.
"Quite honestly I wouldn't have done anything different," he added.
And I couldn't agree with him more. There was nothing wrong with his game plan.
If Watson, Simpson, Bradley, Mickelson and Snedeker had managed to recreate their magic of the first two days, especially with their putters, it is unlikely that Europe could have managed to make the stunning comeback which they did.
Here, for the record, are the results of the astonishing final day singles (US names first):Sunday singles:
Bubba Watson lost to Luke Donald 2&1
Webb Simpson lost to Ian Poulter 2up
Keegan Bradley lost to Rory McIlroy 2&1
Phil Mickelson lost to Justin Rose 1-up
Brandt Snedeker lost to Paul Lawrie 5&3
Dustin Johnson beat Nicolas Colsaerts 3&2
Zach Johnson beat Graeme McDowell 2&1
Jim Furyk lost to Sergo Garcia 1-up
Justin Dufner beat Peter Hanson 2up
M Kuchar lost to L Westwood 3&2
Steve Stricker lost to Martin Kaymer 1up
T Woods halved with F Molinari
Singles score:
Europe 8½, USA 3½
Final Tally: Europe 14½ - USA 13½
Photo

Galleries

Some choice images from the final round of the Masters at Augusta, as Bubba Watson pulled of a superb repeat victory. Go to Gallery

The movers and shakers at the third round of the US Masters at Augusta National. Go to Gallery

Selected images from second-round action at the 78th US Masters at Augusta National. Go to Gallery
Neville Leck Blog
"The embrace a gleeful Sergio Garcia gave his German caddy after his first victory in 2013 at the Thailand Open on S..."
Courses

Nestling on the banks of the Mississippi, TPC Louisiana, scene of the Zurich Classic, is one of Pete Dye's best.

Quail Hollow Club, which next week hosts the Wells Fargo Championship, is one of the finest in Southeast USA.
Golf Lessons
Looking For The Perfect Pitch? Visit The Swing Doctor!