Leaderboard
Zurich Classic of New Orleans - R1

| Player | Score | H |
| --- | --- | --- |
| B Martin | -10 | 18 |
| A Svoboda | -8 | 18 |
| P Hanson | -7 | 18 |
| S Noh | -7 | 18 |
| E Compton | -6 | 18 |
| C Collins | -6 | 18 |
| M Thompson | -6 | 18 |
| J Overton | -5 | 18 |
| S Appleby | -5 | 18 |
| R Streb | -5 | 18 |
'Nice guys' do win
By Neville Leck Last updated: 25th September 2012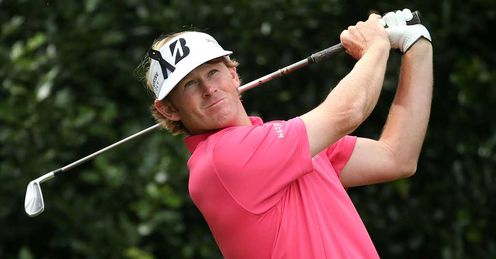 Most people know that Brandt Snedeker has just become one of golf's wealthiest young men via the whopping $11.4 million he picked up on Sunday for winning The Tour Championship ($1.4m) and with it the FedEx Cup ($10m).
If they watch any golf on TV, they will also be able to tell you that he is a blonde, curly-haired six footer with an engaging smile who not too long ago was selected for the first time to represent the USA in this week's Ryder Cup at the Medinah Country Club in Illinois.
They may also have heard that he was the PGA Tour's 'Rookie of the Year' in 2007
So yes, while he was not exactly an invisible man in US golf before his heroics at East Lake Golf Club this past weekend, partly because of his 'Rookie' award, partly because of his subsequent tournament wins at the Heritage in April, 2011 and at the Farmer Insurance Open in January of this year, and partly because his name is not one of those run of mill names you easily forget.
But otherwise not too much is known about him, so here goes with some additional info.
Snedeker, who started the 2012 season at No 38, but this week soared into the World's Top 10 in the No 10 spot, was born in Nashville, Tennessee, 31 years ago on December 8, 1980.
He still lives in Nashville, but rather than making his name as a Country & Western singer in the genre's world capital, it's as a golfer that he has made his name.
This is partly due to his maternal grandmother, who managed a golf course in Missouri and introduced him to the game.
Now 6ft.1 in. (1.85m) tall and weighing 185lbs (84kgs), he was educated at the Harding and Montgomery Bell Academies and then at Vanderbilt University, where he was a member of the Chi Chapter of the Kappa Alpha Order.
Snedeker, now married to Mandy (2008) and with one daughter Lilly, who was born last year, won the US Amateur Public Links title in 2003 before turning professional in the following year.
He starting out life in the hard and unforgiving world of professional golf on the then Nationwide (today Web.Com) Tour where he won twice before earning promotion to the US's premier PGA Tour with his 9th place in the Nationwide Tour's yearly standings at the end of 2006.
Snedeker did not become an instant star in the way that Tiger Woods did, but he did garner some early attention when he shot a sizzling 61 in the first round of the 2007 Buick Open before finishing third.
He won the PGA Tour's 'Rookie of the Year' award thanks to his maiden Tour victory in the Wyndham Championship in North Carolina and a fine run that saw him make 23 cuts in 29 starts. This, alongside his Wyndham win, claim one third place, six top-10 and 13 top-25 finishes to earn a total of $2,836,643 and finish 17th on the 2007 US Money list in his first year in the big league.
He also finished 20th in the FedEx Cup and was able to secure 47th place on the World Rankings list
His best finishes in the majors so far are two tied-for-3rds in the 2008 Masters and in this year's Open Championship, a tie for 8th at the 2007 US Open and a tie for 18th at the 2007 PGA Championship. But of all the exciting young Americans who were beginning to make their mark during this period it was major winners like Keegan Bradley, last year's US PGA Champion, and Webb Simpson, this year's winner of the US Open, who were able to grab the greatest share of the headlines.
The years 2009 and 2010 did not produce any more victories, and while he tended to slip out of the limelight, they did help prepare him for 2011 and 2012 when he was able to establish himself as one if the USA's top dozen golfers and earned him his first Ryder Cup.
His victories at The Heritage and The Farmers Insurance Opens also strengthen his reputation for being a good scrapper under pressure for - like the two titles he picked up on the Nationwide Tour - he was not able to punch the air in triumph until he had won the play-offs.
At the Heritage, he beat unflappable Englishman Luke Donald at the 3rd extra hole and at the Farmers event at Torrey Pines he ousted Kyle Stanley at the second extra hole
Before last week's triumph at East Lake, the Snedeker feat that had most recently put his name in the spotlight was when he holed a drive from the tee on the 336 yard, par-four 16th hole at Royal Lytham & St Annes in a practice round,
In The Open Championship proper he scored a 66 and a 64 in the first two rounds to equal the lowest-ever 36 hole tournament score, but he couldn't keep it up, finished with rounds of 73 and 74 and had to share 3rd place with Tiger Woods at three under par, four shots behind the winner, Ernie Els.
The big question now is this. Can he keep himself on an even keel and use the confidence he must have gained to keep it up when it comes to winning some more - and especially at this week's Ryder Cup?
That's not always very easy - as last year's FedEx Cup winner Bill Haas will tell you. This year he didn't make it into the last 30 who contested the Tour Championship, which serves as the FedEx Cup finale.
Somehow, if what he said in his post-victory interview means anything, I believe we'll hear a lot more of Snedeker. And quite soon.
He seems to be pretty level-headed man - if what he said after his victory on Sunday means anything.
"It's just unbelievable," he told the media. "You don't think about what's going to happen after today, after the round.
"This is what you work your whole life for. I look at all the putts I've hit and all the shots I've hit through my life, it's just unbelievable the ability to stay calm today. It just came through."
"I'm not by any means a flashy guy," he made a point of adding.
"I'm drive the same car I've had since I've been on the PGA Tour. I've had it four-and-a-half years and it's got 24,000 miles on it.
"Of anybody that I know, I don't need US$11 million. So there are going to be things we can do to really help people. That's the way I look at it, I really think we can make a difference and help a lot people out in Tennessee and the surrounding areas.
"I've got a little boy on the way in a month. My life is about to change drastically - but its not because of this money, but rather because I'm going to have two kids."
One of the things, Snedeker disclosed after his East Lake victory was how his weekend visit to Tucker Anderson, 18, the seriously-injured son of his swing coach Todd Anderson, had help inspire him; helped him focus on the shot he was playing and relieved the huge pressure he was under in what was clearly the biggest-ever final round of his career.
Tucker was seriously injured in a car crash near Pensacola two weeks ago and is recuperating at Sheperd Centre in Atlanta.
.
"I went in there thinking the worst," said Snedeker. "And he was awake and alert. I asked him if he thought I was going to beat Rory McIlroy today, and he just gave me a little wink. That's all I needed."
Nice Guys come second, they say.
But not in this case. Brandt Snedeker is clearly an exception.
Photo

Galleries

Some choice images from the final round of the Masters at Augusta, as Bubba Watson pulled of a superb repeat victory. Go to Gallery

The movers and shakers at the third round of the US Masters at Augusta National. Go to Gallery

Selected images from second-round action at the 78th US Masters at Augusta National. Go to Gallery
Neville Leck Blog
"The embrace a gleeful Sergio Garcia gave his German caddy after his first victory in 2013 at the Thailand Open on S..."
Courses

Nestling on the banks of the Mississippi, TPC Louisiana, scene of the Zurich Classic, is one of Pete Dye's best.

Quail Hollow Club, which next week hosts the Wells Fargo Championship, is one of the finest in Southeast USA.
Golf Lessons
Looking For The Perfect Pitch? Visit The Swing Doctor!