Leaderboard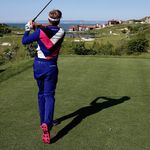 Can Tiger break 'The Pattern'?
Last updated: 2nd July 2012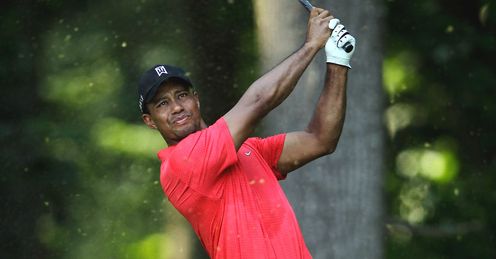 That Tiger Woods once more dominated this weekend's golfing headlines was by no stretch of the imagination a surprise.
I was one of the multitude who suspected he would win his third US PGA Tour title this year at the AT&T National, an event he has been hosting at Washington DC's elite Congressional Country Club in recent years.
And it was no secret that this victory, his 74th on the US PGA Tour, would edge him one ahead of living legend Jack Nicklaus and put him second only to the late, great Sam Snead, who tops the lists of Tour titles with a total of 82.
That Tiger's victory made him the only man in the past two years to win three PGA Tour titles in a season, put him atop the FedEx Cup points standings and strengthened his position at No 4 in the World, were all additional factors that have helped him grab most of the golf media's current attention.
But it says a great deal for the extraordinary influence this 36-year-old Afro-Asian-American has had on world golf that he would have made headlines even if Bo van Pelt, one of the USA's most respected golfing journeyman and his resolute playing partner on Sunday who had been matching him blow for blow when they reached the 16th, not inexplicably stumbled from there on in and allowed Woods to edge clear and finally win by two shots.
Tiger has his fans who love him unreservedly. He also has his detractors who find his often sour face and pious statements somewhat off-putting, but of one thing you can be sure.
Through thick and thin, whether ecstatic and triumphant, whether down in the dumps and losing, he'll always be a man who makes the headlines - and, I believe, will continue to make them until the day he dies.
He's that kind of outlier and he plays that kind of golf
This week it was not all accolades for him, though - as it often hasn't been in the past two years during which scandalous revelations about his private life outside of his former marriage took a heavy toll on his pride and passion and an on-going knee injury served only to worsen his situation
Yet even though his fortunes climbed again this weekend, not all of the headlines about him were glowing ones
For while he was praised by some like Sky Sport who proclaimed, "Woods Silences his doubters", Philly.com who thundered, "Resurgent Woods captures AT&T National", the Desert Sun who claimed "Tiger's back on track; wins again for third title this year' and the Las Vegas Journal Review who said "Tiger tops Nicklaus with 74th tour win", there were others that were less-respectful.
This group included headlines like, "Case closed: Tiger's 14th major will be his last", this on a blog by Ed Graney, also in the Las Vegas Journal-Review, and "Tiger Woods squeaks out a win at Congressional" in Fox News.
Of course there were the inevitable headlines like this one in CBS Sport; "Tiger Woods' win simply shows it's back to measuring in majors" and "Tiger Woods cut for the majors" in "Sportinglife.com which both suggested the 14-time major winner was ready to resume his chase after Nicklaus's record of 18 major wins.
Woods hasn't won a major since the 2008 US Open when he was 31 years old and although he only finished in a 40th place tie at this year's first major, the Masters, and joint 21st at the second, the US Open, he has been doing enough to suggest that he could now be closing in on a 15th major.
Although I have a sneaking suspicion that we might just see this happen later this month at the Open Championship at Royal Lytham & St. Annes in Lancashire, the pattern his game has followed this year suggests otherwise
The pattern? It goes like this.
He get's his first big Tour win since his slip from grace two year's ago at the Arnold Palmer Invitational in late February, but after widespread proclamations that the king is back on the winning track, he followed this up with that disappointment at Augusta National in April.
Then, after another big Tour win at The Memorial in late May and more claims that he was ready to win another major, he followed that up with more disappointment at the US Open in San Francisco in June.
And now its happened again. A couple of weeks ahead of this month's lone British major, the storied Open Championship, he goes and wins the AT&T National!
What does all this say?
It's not great news for him if the pattern continues, but then again breakthroughs are nothing new to Tiger. He's been making them all his life so let's just wait and see what happens at Royal Lytham.
The way he is this year, anything can happen.
Here we compare the majors won by Jack Nicklaus with those won by Tiger Woods.
JACK NICKLAUS (18 majors):
1. 1962 U.S. Open (Age: 22)
2. 1963 Masters (Age: 23)
3. 1963 PGA (Age: 23)
4. 1965 Masters (Age: 25)
5. 1966 Masters (Age: 26)
6. 1966 British Open (Age: 26)
7. 1967 U.S. Open (Age: 27)
8. 1970 British Open (Age: 30)
9. 1971 PGA Championship (Age: 31)
10. 1972 Masters (Age: 32)
11. 1972 U.S. Open (Age: 32)
12. 1973 PGA Championship (Age: 33)
13. 1975 Masters (Age:35 )
14. 1975 PGA Championship (Age: 35)
15. 1978 British Open (Age: 38)
16. 1980 U.S. Open (Age: 40)
17. 1980 PGA Championship (Age: 40)
18. 1986 Masters (Age: 46)
TIGER WOODS (14 MAJORS):
1. 1997 Masters (Age: 21)
2. 1999 PGA (Age: 23)
3. 2000 U.S. Open (Age: 24)
5. 2000 PGA Championship (Age: 24)
6. 2001 Masters (Age: 25)
7. 2002 Masters (Age: 26)
8. 2002 U.S. Open (Age: 26)
9. 2005 Masters (Age: 29)
10. 2005 British Open (Age: 29)
11. 2006 British Open (Age: 30)
12. 2006 PGA Championship (Age: 30)
13. 2007 PGA Championship (Age: 31)
14. 2008 U.S. Open (Age: 31)
Enjoyed this article?
Follow Dave on Twitter
Photo

Galleries

All the best images from the final day of action at Augusta. Go to Gallery

Some pictures from day two of the 2013 US Masters at Augusta. Go to Gallery

All the best pictures from the first day of action at Augusta. Go to Gallery
Neville Leck Blog
"When Adam Scott won at iconic Augusta National on Sunday, he not only took possession of his first Major, he also c..."
Courses

Bulgaria will march boldly into the world of professional golf this week when it hosts the 50th Volvo World Golf Championship.

TPC Four Seasons, home of this week's Byron Nelson Championship, is considered the recreational centre piece of Las Colinas .
Gear

Ping have launched a new putter with an industry-first, new face they believe will produce unmatched distance control.

A shoe that combines the best of old world style with modern world comfort and technology.
Golf365 Mailbox
EnglishTLS says: "...Fernandez-Lobbe.......one moment.....and the best team were undone. ..."
Golf Lessons
Looking For The Perfect Pitch? Visit The Swing Doctor!