Leaderboard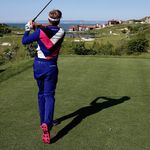 Can Feng do what Pak did?
By Neville Leck Last updated: 11th June 2012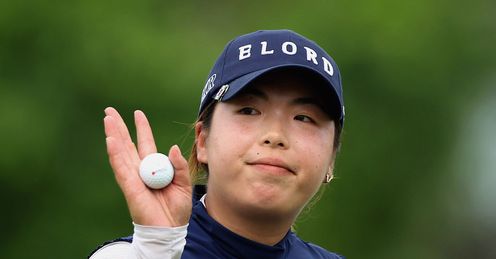 Shanshan Feng may not know it yet, but she could well be held up in the years to come as one of the 21st Century's major forces of sporting change.
The chubby-cheeked 22-year-old Feng made golfing history on Friday when she became the first-ever golfer from China, not only to win an LPGA Tour event, but also to win a women's major.
A crucial, tournament-low 5-under 67 at New York's ultra-tough Locust Hill Country Club in Sunday's final round did the trick for Feng at the Wegman's PGA Championship, earning what might well, in time, come to be seen as one of golf's most influential victories ever.
American hope Stacy Lewis, bidding to win her third straight stroke-play event on the LPGA Tour, shot a 70 to tie for second with Japan's Mika Miyazato, Norway's Suzann Pettersen and third-round leader Eun-Hee Ji of South Korea.
Miyazato shot a 69, Pettersen a 70, and Ji a 72.
Yani Tseng, the World No 1 and defending champion. who finished out of contention this time, is also Chinese, of course, but she is from Taiwan, which continues to consider itself a separate nation from the Republic of China and, that said, it is safe to say that Feng is the only golfer from China who is a member of the LPGA Tour right now.
I say right now for a very good reason, though, for, if Feng's heroics this weekend past make anything like the massive impact on Chinese girls that South Korea's Se Ri Pak's had on the young women of her nation after she won two majors in 1998, Feng certainly won't be her nations sole competitor in top-level professional golf for very long.
In not much more than decade, Pak has inspired an invasion of the American-based LPGA that would not have been dreamed of a few short years ago
Today Korean golfers are one of the most dominating forces on Tour, not only in numbers, but also when it comes to winning and contending for titles.
Not a week goes by without a Kim, a Choi or a Park packing the upper echelons of LPGA leaderboards.
We saw this again this week at the PGA Championship.
Along with second-placed Ji, there were a total of eighty Koreans among Sunday's top 20 finishes, including Se Ri Pak herself. That's one more than the Americans, who, until the last four of five years, had traditionally dominated LPGA golf.
For the record, other nations represented on Sunday's Top-20 leaderboard were Japan with three, and Australia, Norway, Sweden, and Italy with one each.
Genetics? Yes, it is possible that Korean women are genetically engineered to hit the ball well just as the Kenyans tend to be genetically natural middle and long distance athletes.
Environmental factors like top notch golfing schools and dedicated coaches may also have something to do with their golfing prowess, but if you ask me, I would say that an incredible work ethic, initially nurtured, some social scientists insist, in the Asian rice paddy fields of the past centuries, has more to do with it than anything else.
The billion-strong Chinese nation have grown out of a similar culture and as the West will be aware, they too are pretty high up on the list when it comes to work ethic so the women golfers of the USA and Europe could do themselves a great deal of good if they start preparing themselves for another great Asian invasion.
Golf courses and practice facilities in China? Are there enough to help fuel the likely Chinese upsurge?
Right now there might not be, but at the rate at which they are mushrooming, it shouldn't be too long before there are.
There were no more than 20 golf courses in the entire length and breadth of China in the 1980s but already there are more than 300, 12 of them at the Mission Hills in Southern China, currently the largest golf resort complex in the world.
In the next few years as the Chinese middle class explodes and golf comes back as an Olympic sport, you can expect that figure to grow in to many thousands.
The availability of sponsors, keen to use this form of promotion to grow their markets in the most populous region of the world and the prize money that goes along with it will not only further encourage the kind of recruitment and dedicated commitment in China that we have seen in Korea, but could so easily lead to an increase of tournaments in the East at the expense of the financially ravaged West.
Change is always on the horizon. They say that apart from death, the only thing you can be sure of is that nothing stays the same.
The big question now is will China increase the growing Asian domination of golf, or can the west hit back?
Enjoyed this article?
Follow Dave on Twitter
Photo

Galleries

All the best images from the final day of action at Augusta. Go to Gallery

Some pictures from day two of the 2013 US Masters at Augusta. Go to Gallery

All the best pictures from the first day of action at Augusta. Go to Gallery
Neville Leck Blog
"When Adam Scott won at iconic Augusta National on Sunday, he not only took possession of his first Major, he also c..."
Courses

Bulgaria will march boldly into the world of professional golf this week when it hosts the 50th Volvo World Golf Championship.

TPC Four Seasons, home of this week's Byron Nelson Championship, is considered the recreational centre piece of Las Colinas .
Gear

Ping have launched a new putter with an industry-first, new face they believe will produce unmatched distance control.

A shoe that combines the best of old world style with modern world comfort and technology.
Golf365 Mailbox
EnglishTLS says: "...Fernandez-Lobbe.......one moment.....and the best team were undone. ..."
Golf Lessons
Looking For The Perfect Pitch? Visit The Swing Doctor!