Leaderboard
BMW PGA Championship - R1

| Player | Score | H |
| --- | --- | --- |
| P Price | + | |
| G Storm | + | |
| A Dodt | + | |
| C Lee | + | |
| R Gonzalez | + | |
| R Coles | + | |
| S Chowrasia | + | |
| O Fisher | + | |
| T Lewis | + | |
| A Noren | + | |
Augusta on my mind - Part 1
By Dave Tindall Last updated: 8th December 2010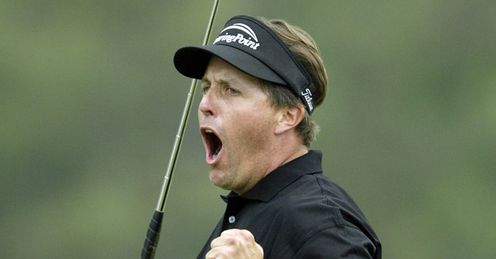 A couple of people on Twitter this week have been asking my opinion on next year's US Masters.
Initially I thought they were jumping the gun a bit - especially with so many golf tournaments, however silly, to bet on at the moment.
But then it slowly dawned on me that my four most memorable Masters bets have all been ante-post wagers struck way in advance of the tournament.
Some of the prices involved seem, quite frankly, bizarre but thankfully they are logged in the bettingzone.co.uk archives to prove that I'm not massively re-writing history.
First let's rewind to January 4th, 2004 and arguably my favourite ever punt - a 33/1 wager on Phil Mickelson to win the 2004 Masters.
I know what you're thinking. How on earth could he have been that price given that single figures is the norm for the left-hander when Augusta approaches?
Well, it really did happen.
The full article and tip is here and the bit that explains how he came to be 33s is here:
"The left-hander took several steps backwards in 2003, finishing the season a modest 38th on the Money List. There were mitigating factors - an equipment furore concerning Tiger, a difficult labour that sent wife Amy to intensive care and even a brief flirtation as a baseball pitcher. But the biggest problem was his driving. Three swing coaches couldn't get Mickelson to hit it straighter and 192nd place on the Driving Accuracy stats had the obvious detrimental effects. There was also his maddening refusal to compromise when courses called for caution. With so many negatives it seems easy to write Mickelson off but we should remember these two words - natural talent. Mickelson has more of it than virtually anyone in the game and let's not forget he finished runner-up on the Money List for three straight years before last year's flop. If we back his talent, the 20/1 looks a big price."
Thankfully, I chose to ignore that 20s and push my chips onto Phil winning at Augusta.
"If Mickelson is to bounce back with a bang in 2004, the most likely place for him to showcase his return to the top is Augusta.
"Even in his poor 2003 season he managed a third place finish and that means he's finished tied seventh or better in seven of the last nine years."
That gamble and faith in Phil was rewarded handsomely when, at long last, he finally won his first major. He celebrated with a massive star jump while I went completely mental in the office before somehow composing myself and writing the report!
Just as daft a price was the 7/1 chalked up about Tiger winning the 2005 Masters as, at the time, everything in Tiger's world appeared fine and dandy.
Well, not quite. He wasn't in great form and hadn't won a Major since 2002 so the bookies were prepared to lay him.
The 7/1 about an Augusta win was available on December 10th, 2004 and thankfully I snapped it up along with the 7/1 about him winning the 2005 Open at St Andrews.
The words/tips are here although it was basically just a case of sticking with the old adage - class is permanent.
By now you'll realise that this could easily be viewed as a thinly veiled excercise in making myself look good after a difficult year punting-wise in 2010.
To balance it out I could just as easily list all my ante-post punts that went horribly wrong. But I won't! No, creating a feeling of optimism and seeing all the possibilities out there is a key part of a successful ante-post punt so let's move forward to the next back-slapping Masters moment.
This didn't produce the champagne corks flying celebrations that the Mickelson/Woods bets did but it showed the value of keeping an eye on the ball and pouncing when the bookies may have dropped their guard.
This bet - Justin Rose e.w. at 125s - was struck even earlier in the year than the other two, with my money going down on November 30th, 2006.
It came just after Rose had ended his four-year wait for a victory by capturing the MasterCard Masters at Huntingdale in Melbourne.
Rose had already displayed his liking for Augusta when he led by two shots on his debut in 2005 so the theory was that he could continue his climb up the world rankings at The Masters in 2007.
When April came around and he stood on the 71st hole just one shot off the lead I was frothing with excitement so it was something of a blow that he made double bogey and blew his chances. A par at the last saw him tie for fifth so I had to settle for a final prize of big adrenaline rush + modest each-way out.
Some ante-posters went up in smoke over the next couple of years but four weeks before the 2009 Masters I read on a golf betting forum that a guy was liking the chances of Angel Cabrera.
I decided to follow him in 150s as I'd backed the big-hitting Argentine several times before at the ante-post stage and watched him play well without ever getting a return for my money.
This time I got lucky though. Kenny Perry folded over the closing two holes, Cabrera made some clutch putts and I was celebrating my biggest ever payout.
Ironically, going into the event I'd written about my four ante-post punts - Garcia at 66s, Woods at 5/2, Cabrera at 150s and Ogilvy at 33s - and next to the Argentine my comment was: 'Why did I bother?'
So, yes, the ante-post punt can be a road to great riches.
To be honest, looking back at the four bets that came off, there was no rocket science involved.
Woods, Mickelson, Rose and Cabrera were all proven performers at Augusta so it was just a case of remembering that and not being distracted by current form (even if 'current' did mean a whole year's worth of indifferent play) or, in Rose's case, believing that he could kick on after a lean spell.
Augusta is very much a horses-for-courses track. If a player has shone there before there's every chance he will do so again.
So, who am I going for this year?
Well, that will come in part two next week. There are loads of prices out there so it's time to put the thinking cap on.
Enjoyed this article?
Follow Dave on Twitter
Photo

Galleries

All the best images from the final day of action at Augusta. Go to Gallery

Some pictures from day two of the 2013 US Masters at Augusta. Go to Gallery

All the best pictures from the first day of action at Augusta. Go to Gallery
Neville Leck Blog
"When Adam Scott won at iconic Augusta National on Sunday, he not only took possession of his first Major, he also c..."
Courses

As the famous Club's website quite correctly boasts, entering Wentworth "is like entering another world".

Colonial CC, home of the Crowne Plaza Invitational, is the brain-child of a man who was obsessed with bent grass greens.
Gear

PING's innovative iPING putter app is now available as a free download on the Google Play store for the Samsung Galaxy S III.

Ping have launched a new putter with an industry-first, new face they believe will produce unmatched distance control.
Golf365 Mailbox
George says: "...And thats what sepearates the men from the boys. if not anderson taking wickets then broad. if not steyn then ..."
Golf Lessons
Looking For The Perfect Pitch? Visit The Swing Doctor!