Leaderboard
BMW PGA Championship - R1

| Player | Score | H |
| --- | --- | --- |
| P Price | + | |
| G Storm | + | |
| A Dodt | + | |
| C Lee | + | |
| R Gonzalez | + | |
| R Coles | + | |
| S Chowrasia | + | |
| O Fisher | + | |
| T Lewis | + | |
| A Noren | + | |
Golf with Judas Priest guitar hero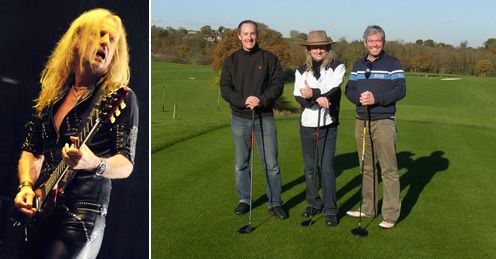 The story of how Matt and I came to be playing on the private golf course of Grammy winner KK Downing appeared on these pages 12 months ago, writes Dave Tindall.
To summarise, KK had purchased Astbury Hall in Shropshire in the mid-80s and after renovation work had decided in recent years to build his own golf course in its magnificent grounds. Not just any old course though; a high quality, jaw droppingly good one to USGA standards.
Two weeks ago Ken got back in touch to say would we like to see his new nine now it had been completed? Naturally we jumped at the chance and once more we were blown away.
Astbury Hall's new nine
Ken's original nine now plays as 10-18 so the first hole of the brand new nine was indeed Hole 1.
A raised tee affords an excellent view of the hole in front - a 435-yard par 4 from the gold tees (the third hardest of the four tee options) which we agreed to play off.
Rather disgracefully I won it with a double bogey six, KK giving me a mulligan after my dud of an opening 'drive' went 20 yards. Some gnarly rough did for KK while Matt found water so it was an inauspicious start all round on an admittedly tough hole (Stroke Index 4).
KK confessed that this was only the third time he had played his new nine but remembering that he'd played a stretch of five holes on his original nine in one-under last year we weren't expecting his hole one struggles to continue.
The second hole is a short par five, running back towards the first tee - its main defence being a tricky three-tiered green. I landed my approach on the top tier leaving a severe downhill putt to the flag on the middle tier. Luckily I judged it well although, as Ken pointed out, in summer with the greens even faster I'd have a serious job to stop it by the hole again.
KK and Matt walked off with pars and then added a pair of threes at the next - a short but eyecatching downhill par three.
The new nine has three par threes and wouldn't you know it KK played them in one-under.
His birdie came at the seventh after finding the green and snaking in a perfectly weighted putt. I paced it out and it was a good 30 feet.
Perhaps the highlight of the new nine is the short par four sixth.
We all love the permutations of a driveable par four and KK's creation is a brilliant hole.
The bold can attempt to cut off the corner and fire over a tree. Most of us will lay up to the corner of the dog-leg and hope a good short iron or wedge will set up a birdie.
But either strategy can result in some big numbers thanks to KK's clever design. The green is set at a 90 degree angle to the tee box so those hoping to drive it have their target narrowed and also have a greenside bunker in their path. That same bunker eats into the side of the green when viewed from the lay-up part of the fairway and will trap plenty of approaches as Matt and I found out.
KK missed the bunker despite leaking his approach to the right but he still walked off with a six. His first chip didn't advance out of the rough while his second, a flop shot which looked perfectly judged, caught the slope and trickled away down the green, some 30 feet away.
Matt, wanting to test his excellent short game skills, dropped his ball in the same spot of rough and also had a go at stopping the ball on the top tier but, again, even though he played a super shot it rolled and rolled and rolled.
All in all my favourite hole on the course.
After draining that 30 footer for birdie at the seventh, surely KK couldn't top that, could he?
Well, maybe his rock star's ability to play to the crowds comes out even when there aren't any.
Even though Matt and I gave KK an audience of just two, his sense of occasion saw him smash an even longer putt into the back of the hole at the last. No wonder he planted both feet and raised his arms in celebration.
After leaving the stage (for a business meeting) and allowing Matt and I to have another knock on his original nine, KK came back for an encore and joined us again on the 15th. Once more he ended in style, hitting a perfect 6 iron over the lake guarding the 18th to about 10 feet from the flag.
The new nine is a joy to play and although only 3,147 yards off the Championship tees don't forget that if one of the three short par threes was replaced with a par five you'd be looking at 3,500+.
The cleverly designed greens are in fantastic condition while the manicured fairways can get really tight in places. All in all a great test for a range of playing abilities.
When I tell people I've been playing golf with a man who has sold over 50 million albums, played Live Aid and won a Grammy, the initial "you're kidding" is quickly followed by an "is he any good?"
Well, after his dodgy start, KK played the final eight holes of his new nine in just four over par, outscored both Matt and I and then reminded us (and he needed to because you'd never for a minute think it) that he'll be celebrating his 60th birthday next year!
With more practice, his balanced swing and strong short game suggests he could easily play off single figures.
It's about finding the time though. KK and his fellow members of Judas Priest have a worldwide tour planned for 2011.
And, as for KK the golf fanatic, he's not content to rest on his laurels now he has a full 18 holes. He has more plans. Much, much bigger plans. Matt Cooper explains...
Astbury Hall - the future
After our visit last year we knew that KK had big plans for the golf course, but since then recognition of the quality of his course - and the possibilities of his long-term vision - has arrived in the form of a partnership with one of the world leaders in golf course administration.
Troon Golf are a worldwide management group whose British portfolio includes Turnberry, Prince's, Bearwood Lakes and The Grove (which Golf365 also recently, and coincidentally, visited).
They heard on the golfing grapevine about a mysterious course in the Severn Valley near Bridgnorth, Shropshire that confounded expectations: built by a rock star, to exacting standards, with high aspirations and big hopes. They liked what they heard, investigated and soon they signed a partnership with KK that will help him complete his plans - and those plans are pretty significant.
Standing behind the stunning 18th hole, looking down into a beautiful valley that runs alongside the northern edge of the property I idly suggested it looked the perfect place for a third nine.
"That's the idea, man," grinned KK. "It's wonderful down there and it's not a hard walk either. There are going to be some great holes there. It's perfect golfing land."
He has planning permission for those extra holes and consent to extend the main house; his grand scheme would include hotel accommodation plus a standalone clubhouse.
In the meantime the current on-site Troon Golf manager Scott Christenson showed us round the golf wing of the house. The interior decoration is yet to be completed, but one aspect stands out: every room has a view.
Whether you are in the changing rooms, the bar or the bridal suite (yes, there is one, Dave even suggested I keep it in mind "for when you finally tie the knot") there is always a window that looks out across a dramatic scene with the 18th green to the left, the lake in the middle and the 10th tee to the right.
KK explains that the western side of the Midlands has a gap in the market for a course, and a club, like Astbury Hall. On the other side of Birmingham there are the likes of the Belfry, Little Aston and the Forest of Arden, but nothing in the other direction.
He foresees a limited membership of about 300 which will enjoy relaxed golf on a great course, bolstered by corporate days and societies. Astbury Hall will never undersell itself, but it wants golfer who will appreciate the quality of the challenge they are presented with.
Playing the new nine only enhances the impression we gained last year that KK is devoted to his creation.
Take the greens, for example. "I've played loads of courses when I've felt every green was pretty much the same," he told us. "So I wanted to really vary the experience here."
Consequently there are raised greens and flat greens, greens with subtly contours and greens with big contours, greens with two tiers and greens with three tiers.
Then, on the par-three third hole, there is a putting surface he is particularly proud of: "It's a reverse MacKenzie, sloping front to back which is quite unusual. It's only a short hole but that slope will be hard to hold in the summer. I stood there when we built it and it just seemed right."
Those are not the words of a course designer who left the job to someone else and later put his name to it. Which begged the question of how exactly the contours of the greens were honed and crafted. Was it all done with paperwork - with plans and diagrams?
"I got out there, man," KK laughs. "You've got to be to there every day, working with the guys, moving and shaping the land. You do plan it but then it takes time and care to create the contours."
Perhaps coming from an artistic background helps KK because he reveals that he had the ability to visualise the course before it was built. A bit like the experts on property shows who urge buyers to "see the potential" in a new house, he would walk the field and see his new holes.
It is the least-well-kept-secret in golf that when most courses are said to be "designed by major winner Joe Bloggs", Joe Bloggs didn't have much to do with it. In fact there are many tales of Joe Bloggs seeing the course for the first time when he opened it.
KK is not a major winner - he's one of heavy metal's greatest guitarists - but he is not a pretend golf architect; he's created this course with care, attention and a perfectionist's eye (every tee is lasered, for example, to guarantee it is perfectly flat).
If you want to see Astbury Hall for yourself, it is now open for preview play Thursday through Sunday during the winter months.
And on 5th December it will host Skirtgolf, a charity tournament organised by the young touring professional Jon Gidney.
It is a remarkable event that started as a joke on Twitter. "If I get 1000 followers," Gidney flippantly announced, "I will play golf in a skirt."
Before he knew it, he had created something of a stir with LPGA star Christina Kim and 2009 Open Champion Stewart Cink urging their followers to push him beyond the magic number and into a skirt.
Taking advantage of that stir, Jon and Astbury Hall have transformed Skirtgolf from one man's minor humiliation into a charity golf day with 24 teams raising thousands of pounds for Breast Cancer Research.
Let's hope Skirtgolf enjoys the good weather Golf365 enjoyed!
For more information on Astbury Hall go to the official website.
For more information about Skirtgolf go to Jon Gidney's website.




Enjoyed this article?
Follow Dave on Twitter
Photo

Galleries

All the best images from the final day of action at Augusta. Go to Gallery

Some pictures from day two of the 2013 US Masters at Augusta. Go to Gallery

All the best pictures from the first day of action at Augusta. Go to Gallery
Neville Leck Blog
"When Adam Scott won at iconic Augusta National on Sunday, he not only took possession of his first Major, he also c..."
Courses

As the famous Club's website quite correctly boasts, entering Wentworth "is like entering another world".

Colonial CC, home of the Crowne Plaza Invitational, is the brain-child of a man who was obsessed with bent grass greens.
Gear

PING's innovative iPING putter app is now available as a free download on the Google Play store for the Samsung Galaxy S III.

Ping have launched a new putter with an industry-first, new face they believe will produce unmatched distance control.
Golf365 Mailbox
George says: "...And thats what sepearates the men from the boys. if not anderson taking wickets then broad. if not steyn then ..."
Golf Lessons
Looking For The Perfect Pitch? Visit The Swing Doctor!