Leaderboard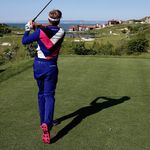 Matt in Wales
Last updated: 14th August 2010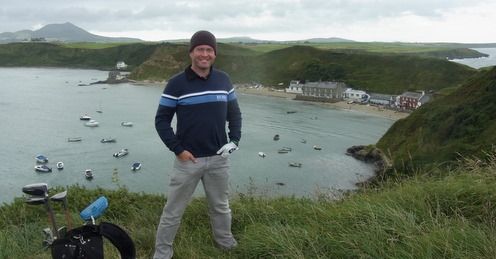 SATURDAY
Sight-seeing
There is lots to see and do in this neck of the woods. On my way up here on Wednesday I popped into Portmeirion, the bizarre Italianate village that was the location for original Prisoner television series.
I thought of the catch phrase of that series today when I heard Linda Wessberg leave a green and an official ask what her number she was. She answered, "five over," but I was secretly urging her to say, "I am not a number, I am a free (wo)man."
The Conwy course sits beneath the small town of Conwy itself which is full of tight roads that bend in and out of the castle walls and arches. The castle looms large over everyone and down by the estuary there is the smallest house in Britain and a lovely little pub.
Many players are staying in Conwy, but plenty more are in Llandudno, the larger seaside town the other side of the estuary. The promenade there is quite extraordinary and makes you feel like you have stepped back in time to the glory days of the British seaside.
Perhaps that is why it is so crowded with old people - I have never seen so many in one place. I discussed as much with the Swiss player Frederique Seeholzer last night as she giving us a recommendation for somewhere to eat. To be honest she was less awe-struck by the old people than by the wedding reception her hotel had hosted the night before. I'd better not repeat her words, but let's say she was a bit gob smacked by some of the outfits.
Third round
Today the action on the course has seen more birdies as the players were greeted by distinctly less ferocious wind.
For a long period the leaders seemed to be unaware of the fact that birdies were there to be made and only England's Flory Parker was taking advantage.
She claimed six birdies in her first 14 holes and looked calm and at ease with her mum on the bag. But by the 16th green she was beginning to look a little tight, as if she was now expecting to go low instead of letting it happen.
Having knocked her approach shots close all day, she left herself long two-putts on 16 and 17, before finding sand on 18 and failing to get out first time. The double bogey six that resulted ruined her card.
Laura Davies seemed to have drifted out of the reckoning on the front nine, but she was four-under on the back nine and has an outside chance at three-over par.
One shot better off is the defending champion Karen Stupples who birdied 16 and 18 to give herself a glimpse.
Mel Reid and Carin Koch were both in red numbers for the tournament at some point during the day, but they drifted away on the final three holes to finish at one-over-par.
The secret Cooper logarithm suggest that it is effectively a two-horse race from now on though: Holland's Christel Boeljon and South Africa's Lee-Anne Pace were superb all day and are now the only two players under par for the 54 holes.
Boeljon played in the last group and held the lead for much of the day. Meanwhile Pace, one group ahead sneaked up the leaderboard on the back nine.
Pace's first move was to chip-in for eagle on the par-five 14th hole, a superb follow-up to her birdie two on the 13th.
Boeljon failed to birdie the final par-five but did then birdie the par-three 15th to pull level with the South African on three-under-par.
The turning point of the round came on the 17th. Pace found the left fringe but her ball was lying below her feet, resting against a thick fringe, with a bush close in front of her. She executed a beautiful draw approach that found the front edge and then holed out from 25 feet for birdie.
Behind her Boeljon found a similar spot from the tee but than pulled her approach into a greenside bunker which she couldn't get up and down from.
Both girls parred the final hole so Pace is now four-under par with Bolejon two behind. If anyone does defeat them it might be the defending champ Stupples who read a tweet of mine which suggested it is a two-horse race and who I have now layed a 10p bet at 80/1 ...
FRIDAY
Pernilla Lindberg
One of the most impressive under-that-radar performances two weeks ago at the Ricoh Women's British Open was that of Pernilla Lindberg.
The young Swede turned pro at the start of the year having qualified for both the LET and LPGA tours.
She has been able to split her time between the two easily because of the slightly fractured nature of the LPGA schedule, but has enjoyed the benefits of being able to be a rookie on both, learning her trade.
"I think I've also been able to see some differences," she told me after her round today. "The LPGA plays slightly tougher courses, the standard is a little higher, the challenge more tough. But I also had experience of the LET as an amateur which makes me a little more at home."
She played college golf in the States and has little doubt it helped her. "For sure. It meant to play a lot of competitive golf, in the States, on great courses, getting excellent coaching. It was great preparation for this life and I feel I've got used to being a rookie really quickly as a consequence."
Talking about her effort in Birkdale she said she felt she was playing well but one very bad hole ruined her first round which contributed to an 86 and then she had a double bogey on the second hole.
She then determined to prove she was better than she was playing and promptly reeled off six birdies in the next ten holes.
"I really didn't want the 86 to my memory of that day. I was playing better than I had scored. And I don't like to quit. I really wanted to bounce back and head to Ireland thinking good thoughts."
She did just that used the experience to play well at Killen Castle, well enough to play in the penultimate group of the final round in a high quality field.
She's clearly a determined and gritty player, but she also has plenty of talent.
Windy again - but less so
Once more the wind has whipped the Conwy course, but conditions on Friday were not as brutal as Thursday morning.
England's Melissa Reid took advantage to post some early birdies and move up the leaderboard. She revealed in a recent feature on Golf365 that she and caddie Lee analyse every round, aiming to improve on shot selection and execution. She proved as much today, explaining that she had changed the clubs she had used for some shots and totally changed her game plan on some holes. The result was a four-under par round of 68.
She joined Scotland's Vikki Laing on level par for the tournament, one shot behind the morning leader Christel Boeljon from Holland.
All three players were striking the ball superbly on a course that fully tests the ability of players to cope with wind, given that holes track in all directions.
South Africa's Lee-Anne Pace is alone in fifth place which is interesting given that, like the Open Champion Louis Oosthuizen, she grew up playing golf in Mossel Bay, a very blustery venue. She's had a great 2010 season and will be worth watching closely at the weekend if it continues to blow.
Early on in the day the young amateur Amy Boulden was playing well but her round slowly unravelled leaving Sahra Hassan as the leading local challenger. A first year LET professional she has played on the Ladies Asian Tour to gain experience and this is her best performance to date in Europe. Her level par round of 72 left her in a tie for sixth as she signed her card.
The Welsh challenge is quite strong this year with Becky Brewerton and Becky Morgan right in the mix.
But the rounds of the day were completed late in the day by playing partners Carin Koch and Anja Monke. Swede Koch equalled Reid's figure to take sole lead of the tournament on two-under par whilst the German Monke scored a flawless five-birdie effort of 67 to finish in a tie for sixth.
Ryder Cup Wales
It was quite a busy day at Nefyn yesterday. Not only was there a mixed fourball competition plus a challenge match between myself and the man from the Daily Mirror (see below), but there was also the launch of a new driving range at the course, funded by the Ryder Cup Wales Legacy Fund.
The new covered driving range and short game facility will allow the iconic club to attract more people in the area to the game and is typical of what the fund, financed by the Welsh Assembly, has been able to do since the principality won the rights to the 2010 Ryder Cup.
28 clubs have received funding for over 200 new holes and 32 new chipping and putting greens which has helped introduce 750,000 youngster to the game.
In addition to the work achieved within Wales the Ryder Cup has also seen Welsh golf highlighted across the world, as Simon Dennis, secretary-manager of Nefyn, explained.
"The results have been more than we could have hoped for in some ways. We have seen a terrific increase in the footfall and visitors from North America and Europe, even from Japan, and that is the result of the imagery of the course being publicised at events outside Wales.
"That can only be positive, but in a way we cannot judge the short term impact because this is the beginning of what the Legacy Fund is aiming to achieve and the results will really be seen over three to five years."
THURSDAY
Windy Wales
Twelve months ago the windy roads of north Wales were a big talking point amongst the players, especially the continental contingent who were a little flabbergasted by the B roads and Welsh Language.
They all had satnavs but that was little help as they tried to navigate from Manchester airport to Harlech via the Snowdonian Mountains.
This year it is easier to find the course - we are all at Conwy GC which sits at the end of the A55 and is an easy ride from north-west England.
But the windy problem this week is going to be the gutsy, blustery kind.
This part of the world usually has a south-westerly wind, but today the course was buffeted by a north-westerly that local girl Becky Brewerton thought was the strongest and toughest she has encountered on this course.
The club professional Peter Lees is an amateur weatherman and he tells me that tomorrow the wind will again have gusts of up to 36mph, but will have moved to a northerly direction.
English hope
Late in the day only two players had recorded under par total. One was the steady Dutchwoman Christel Boeljon and the other the English girl Henni Zuel.
A few years ago Henni was one of the brightest hopes of ladies English golf but her early professional career didn't go to plan. However she has quietly buckled down and the improvements have come.
She played some superb golf in the bad weather at Royal Birkdale and has maintained that form this week.
It is interesting that she, like many professionals, rates the putts she holes for par as much as the birdie efforts. She holed some longish par putts early in her round to prevent a poor start.
She also completed her round with eight straight pars, but by this stage she was making life a little easier, leaving herself putts she would expect to hole - but is encouraged that she did exactly that.
Welsh hope
The home crowd aren't without someone to cheer either. 17-year-old Amy Boulden plays at nearby Maesdu GC and knows the conditions around here as well as anyone.
Keep an eye on her, in the short- and long-term.
Today she shot a round of level par, but she is good looking, smart and has a canny game; she could be a future star on tour.
Wales' Pebble Beach
Although I ended my day at Conwy, catching up with the players and caddies, some of whom were looking a little shell-shocked by the wind ("mate, it was unbelievable early on, absolutely brutal," one caddie told me), I started my day with an early drive to Nefyn GC on the Lleyn Peninsular.
I have long desired a round on this little gem. It is a cliff top course that slightly resembles Pebble Beach but is also strikingly like the Old head of Kinsale course in Ireland - with one huge difference: the latter is expensive and difficult to get a tee-time on; Nefyn is an incredibly welcoming place, much easier to get to and a bargain price.
I played with Nic Brook of the Daily Mirror and after a lovely chat with the Simon Dennis, the secretary manager, we set off into the wind and towards the sea.
I will be writing a fuller review of our day and the course, but I can't help myself telling you that the day was easily one of my top ten golfing experiences.
Not just the friendly welcome, but the drive there which is breathtaking, the course which was in fine condition, the views which are sensational in all directions, the cliff top tees which are a little scary and the drives which needed to be hit in the direction of Ireland before the wind blew them back onto dry land.
The final eight holes are played on a peninsula that is known as 'The Point' and those holes are a little tricksy, but boy are they fun to play. Every shot threatens to disappear into the ocean and so does the golfer if he isn't careful.
And even better, nestled amongst the bottom of the cliffs near the 12th tee, there is a cost pub, very like the Jigger Inn, where you can grab a pint and watch the boats bobbing about on the sea.
A wonderful day and a golfing day (or weekend) I totally recommend.
Enjoyed this article?
Follow Dave on Twitter
Photo

Galleries

All the best images from the final day of action at Augusta. Go to Gallery

Some pictures from day two of the 2013 US Masters at Augusta. Go to Gallery

All the best pictures from the first day of action at Augusta. Go to Gallery
Neville Leck Blog
"When Adam Scott won at iconic Augusta National on Sunday, he not only took possession of his first Major, he also c..."
Courses

As the famous Club's website quite correctly boasts, entering Wentworth "is like entering another world".

Colonial CC, home of the Crowne Plaza Invitational, is the brain-child of a man who was obsessed with bent grass greens.
Gear

Ping have launched a new putter with an industry-first, new face they believe will produce unmatched distance control.

A shoe that combines the best of old world style with modern world comfort and technology.
Golf365 Mailbox
EnglishTLS says: "...Fernandez-Lobbe.......one moment.....and the best team were undone. ..."
Golf Lessons
Looking For The Perfect Pitch? Visit The Swing Doctor!